Tyson Araujo had a stomach bug.
He went to school in the morning on Wednesday and left early, but not because of illness. Instead, he boarded the bus and headed to Fall River with his varsity hockey teammates. The Vineyarders were playing Eastern Athletic Conference opponent Somerset, whom they'd narrowly defeated in their last match.
Araujo scored once and set up four other goals, and the Vineyard won 7-0.
•
The senior co-captain leads Massachusetts division two hockey in overall points (62) and is currently tied for first in the state. He entered the season already a member of hockey's hundred-point club, and last week was named to the Shriner's All-Star Hockey Classic, the first player from the Vineyard to be chosen.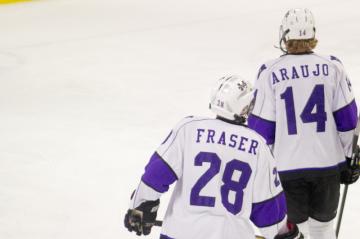 The individual accomplishments shine, but there's no doubt where Araujo's focus is: on his team. It's not his goals that put him at the top of the pack (although he's scored 19 so far). Araujo leads the stats because nobody else has had more assists. Other players in the top 25 statewide have anywhere from 14 to 29. Araujo has 38.
Put simply, Tyson Araujo is a setup sensation.
Hockey is a system, he said in an interview this week. There's a flow to everything that happens on the ice — pass forward, pass back, guard the goalie. Every goal scored is a full team effort.
"Everybody has a part, but there's no part that's bigger than any other part," Araujo said. Still, it takes time to crack the hockey code. Araujo has been playing hockey since he was a tiny Mite in the youth leagues. He recalled when he was younger, he could be "a little bit selfish" on the ice. Moving up to high school hockey, he made varsity as a freshman and played on a squad where his older brother Tyler was a captain. The younger Araujo was "a sponge," head coach Matt Mincone said, soaking up everything from the veterans and gaining deeper understanding of the game.
At the beginning of the season, Araujo set a simple goal for his team.
"I just wanted our team to do well," he said. "And I wanted to set a goal for the team to win the EAC."
With three games left in the regular season, the Vineyard is 12-3-1 and has already qualified for the postseason tournament. They're at the top of the EAC, having bumped 10-time defending champion Coyle & Cassidy in a 6-3 defeat last week. Araujo's face lit up describing how that game was won. After a back-and-forth fight to a 3-3 tied, the Vineyard started surging in the third period.
"Alexander [Vukota] scored, bar down, to make it 4-3, and then Brian Fraser got a shorthanded goal to make it 5-3, and then I got an empty-netter to make it 6-3," he said. Then a pause. "So that was a great game."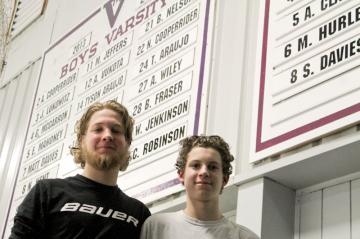 Even Araujo's individual goal — achieve his best plus/minus on the team — involves commitment to the squad. That metric gives a player one point for every goal his team scores while he's on the ice, and subtracts one for goals against. You can't have a high plus/minus without a strong core around you. Araujo's is plus 29, five shy of the Vineyard all-time record.
Fittingly, he shares that number with Brian Fraser, team cocaptain.
If Araujo is a setup man, Fraser is a shotmaker. Fourth in division two with 25 goals and 12 assists, Fraser's deadly accurate aim is a major contributor to Araujo's extraordinary assist statistic. The two have played on the same line for years (their third linemate, Sam Burke, has been out for much of the season with injuries), and it shows when they're on the ice. Both devoted considerable time to honing certain skills — for Araujo, it was puck possession, for Fraser, it was his shot.
"They're just fun to watch," Coach Mincone said. "Our team's playing well right now, but they're the leaders and when they're out there working as hard as they work . . . it's contagious."
When the Araujo-Fraser tandem opens up scoring leads and wears down opposing teams, they open the gates for other players to see ice time.
"It's providing experience for everybody," the coach said. "There's such a bigger picture here for me as a coach — they're providing experience for guys who don't usually get it."
Together, they're helping bring up the next generation of hockey players. This year's team is "wicked young," Araujo said. There are just four seniors on the team, and six freshmen, including Tyson's younger brother Tristan (the Araujos are one of four pairs of brothers on the squad).
The two Araujos grew up playing pond hockey, street hockey and floor hockey ("basement hockey," Tristan said), and have a friendly rivalry, as brothers do. But because of their age difference they were never on the same squads in youth leagues.
No matter.
Early in the season, when Sam Burke got hurt midway through a game, Mincone put Tristan Araujo on the line with Tyson and Brian Fraser.
"It was a lot of pressure going in with my brother on the same line; I didn't know if he was going to yell at me or what," Tristan said. "But he helped me out. He set me up for a goal, my first one, and the second one [too], he set me up."
Coach Mincone remembered the moment too. "When Tristan got that first goal, I think Tyson jumped higher than he did," he said. He said Tristan made the roster as a defender, but has been a forward ever since that game. The coach wasn't surprised by the easy transition.
"It's a quality that all of the Araujos have had," he said. "They'll do what the team needs for them to do."
The 17th Annual Fairleigh S. Dickinson Jr. Tournament takes place Saturday and Sunday at the Martha's Vineyard Arena. The Vineyard plays Lynnfield at 7 p.m. Saturday and will play Westwood or Dennis-Yarmouth on Sunday.
This weekend the hockey teams celebrate Military Appreciation Weekend as part of an effort to raise $5,000 for the Wounded Warrior Project. Donations are welcome.