It was the final girls' hockey game of the season and Bill Davies stood in the media balcony cueing up entrance music for the Vineyarders. Daughter Sydney, a junior forward on the squad, skated below with her teammates. Mr. Davies' wife Robin sat on a ladder near the Vineyard end zone, photographing the game, as she's done for nearly every varsity hockey contest this season—girls and boys. Never mind that the Davies' son Max graduated last year.
In the booth below, Peter and Julie Hatt kept score and announced the game. Their daughter Kylie is a freshman on the varsity team; sons Kenny and Kaleb play at the Peewee and Squirt levels in youth hockey, where the Hatts also man the booth.
The Island hockey program, like other youth sports on the Vineyard, is managed by parent volunteers. But the season of a hockey parent is unique in that it is extraordinarily long — youth hockey begins in September and continues through April. Most games are played off-Island, meaning hours of travel and countless nights spent in hotels during weekend tournaments.
The length of the season and the frequent travel foster connections to the hockey world that last for years. Kids in the youth hockey program play with the same squads for their entire career as they move from Mites to Squirts to Peewees, making for a tight-knit group of players — and of parents.
"It's a community thing," Mr. Davies said. "It's a blast. Max will play a game, even today, and he'll run into a kid he played with when he was 12, and we'll see the parents again." Max, now 19, plays hockey at Bridgton Academy in Maine.
"With the travel and everything, a lot of people will say Geez, how do you do that?" Mr. Davies said. "But the fact is I spend so much time with the kids . . . it's really awesome, really rewarding."
"The travel isn't as bad as people think it is," Mrs. Hatt said. There are levels within the youth program that don't involve the off-Island trips. The Island league for older players was established two years ago, and the younger House Mites play on home ice. Travel Mites play in a Falmouth-based league, making for an easier transition to the on-the-go life.
And yet the travel is an integral part of the program itself. Mrs. Hatt said it's given her three kids more than just a chance to play sports.
"All these kids from travel Mites up have to know how to behave on a boat, on a bus, so they're learning these life skills that are so much bigger," she said. This youth sports lifestyle is unique to the Island. On the mainland parents drive their kids to games and meet up at the rink. No bus, no boat.
"It is so much more than just playing hockey," Mrs. Hatt said.
There's no one path to becoming a hockey parent or a hockey player. Sometimes it runs in the family. Sydney Davies followed her brother Max right through the youth leagues, and Max started playing because his older cousins did. Kylie Hatt chose hockey over dance when she was in third grade, and her brothers came up behind her. Mrs. Hatt's father was a hockey coach, and she grew up around an ice rink, one of the younger kids often spotted playing floor hockey during siblings' games.
"I just ran around the rink," she said. "My brothers all played, and that's how I got into it."
Youth hockey board president Kris Lukowitz had no connection to hockey at all when his youngest son Jonas, now a freshman on the varsity team, started playing. But Jonas's friends from baseball were from hockey families, and they wanted Jonas to play, too. At age 10, he gave it a shot.
"He just tried instructionals and fell in love with it right away," Mr. Lukowitz said. Skating clinics, Squirts games, and some local camps followed.
"Before we knew it we were driving out to Minnesota to take him to a hockey camp out there," Mr. Lukowitz said. "He really drove it, though, because he got so hooked into it."
And that's the one common thread to the hockey life.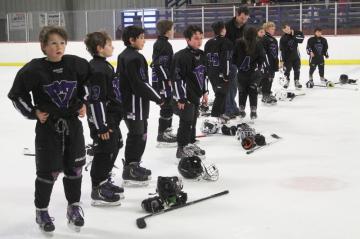 "The passion and the commitment level happens so quickly, like with my son and other kids, they get hooked, that's it," Mr. Lukowitz said. "They're committed, there's no real kind of halfway deal."
In the early years, it's the same for parents.
"When they were little, you go in, tie the skates, get them dressed, they bring their gear home, it smells up the house," Mr. Davies said, laughing. During weekend tournaments, Mr. Lukowitz said, nearly every kid has at least one parent along for the ride.
"It's a huge commitment, but it's definitely worth it in the end," Mrs. Hatt said. Because the Hatts have players in three different levels of hockey, they're at the rink every night of the week for practice times.
"But basically you just make it work, you fit it in," she said.
Moving to high school from youth hockey brings a transition. In high school, Mr. Davies said, "You're less of a hockey parent and more of a hockey fan." But the commitment remains. "There's always little things you can do to help out the team.
"Going through the whole program from the time [the kids] were little to now is just special," he said. "We're really grateful."
Registration for the 2014-2015 youth hockey season begins March 17 and March 19 for Mites and Squirts. Registration for Peewees and Bantams takes place March 25 and March 26. Please visit this site for more information.