The snowy owls are still hanging around. The following sightings are from the most reliable places to find these majestic owls this winter. Rebecca Brown saw one at Norton Point Beach on March 2, which Jeff Bernier also observed on March 3. Susan Whiting, Flip Harrington, Pat Hughes and Hal Minis found two at Quansoo on Feb. 23, while Penny Uhlendorf and Scott Stephens found only one of those two the same day. And Michael Ditchfield found one at the West Basin on Feb. 28. It is interesting that we do not have sightings from other parts of the Island. I know that State Beach has been birded by many people in the past few weeks, but there has been only one snowy owl sighting from there, on Feb. 27 by Tim and Sheila Baird. They also report three snowies from unusual locations this past weekend, two on East Chop and one at Ocean Park in downtown Oak Bluffs.
Perhaps the northward migration of these owls has begun, as they start heading back toward their breeding grounds on the tundra. A quick perusal of the data on the ebird website for the Cape and Islands area shows many more sightings in early February than in late February. However, Norman Smith, the director of Mass Audubon's Blue Hills Trailside Museum, has been studying snowy owls since 1981 and he reports that the owls tend to leave these parts in early April and that the latest stayed until July 7. Either there are fewer snowy owls around now or the novelty of seeing them has worn off.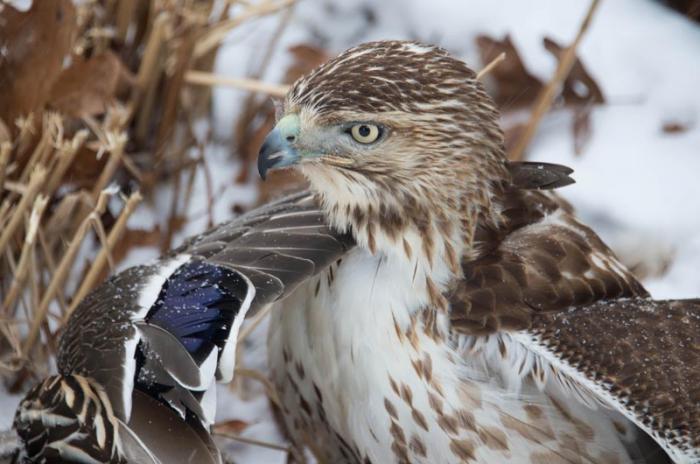 Bird Sightings
Sheila and Tim Baird observed a pintail in the Sengekontacket Pond marsh on Feb. 20. Their feeders had both yellow-rumped warblers and red-winged blackbirds on Feb. 25, and a common grackle was present on Feb. 27. On Feb. 26 they observed two peregrine falcons, one at the Little Bridge and another at Atlantic Drive a short while later.
At long last, northern bobwhites are back in the news! Sheila Muldaur observed two females crossing Old Farm Road in Chilmark on Feb. 26. This is the first sighting of bobwhites since last fall; it is nice to know they are still around. The Old Farm Road and Waskosim's Rock area seems to be a good place for them, as they were reported to us in the late summer or early fall. Please let us know if you have had them at your feeder this past (I am an optimist) winter.
Sarah Carr had a male hairy woodpecker, American goldfinch and an eastern bluebird near Lambert's Cove Road in Vineyard Haven on Feb. 26.
Ken Magnuson reports that a robin has been eating seeds at his feeder, which is odd since there were berries — their more typical food — less than 50 yards from the feeder. Wayne Smith also reports robins, between two and three dozen of them, in his West Tisbury yard in late February and early March. This flock was finishing off holly berries and plucking worms from the lawn. These are still our over-wintering birds; our breeding robins will announce their return from their southern wintering grounds by pairing up (rather than in flocks) and singing and hunting for worms and other goodies in our yards.
Susan Straight saw six common loons fishing at the west end of Quitsa Pond on Feb. 25 and 26. The 10 to 15 hooded mergansers are still fishing on a daily basis in the early mornings. She also observed a northern flicker on Chocker's Lane on Feb. 23 and 24, and one at Felix Neck on Feb. 22.
On March 1, Lanny McDowell and Ken Magnuson both observed great cormorants in full breeding dress, complete with their white flanks and the rarely observed white wispy plumes on their heads.
Laura Wainright observed a catbird drinking from her bird bath on March 3, as did Jessica Townes. These are survivors of all our winter weather. Red-winged blackbirds were supposed to be back by now. We can tell when our breeding red-wings return because they will be in marshes and other breeding territories rather than in woodland flocks. They will also be singing and flashing their red epaulettes. They usually return in February, but why would they come back to this snowy freezing weather? They will be here soon.
There are lots of birds around, so please get out looking for them and be sure to report your bird sightings here.
Robert Culbert leads guided birding tours and is an ecological consultant living in Vineyard Haven.