Diane Morgan, owner of Time Skin Care and Wellness Studio, feels it's important to see beauty as more than just physical appearance, and encourages mental and physical well-being.
"Wellness is from inside out," she said. "How we feel reflects on how we look."
Twelve years ago Mrs. Morgan opened her Chilmark studio and is now known Island-wide for her facials. Her treatments help revitalize the skin, especially during the dry winter season, as well as encourage relaxation.
Mrs. Morgan works with her clients to make treatments a comfortable and personalized experience. "I like to see what your skin tells me, and then we decide what to do as we go along," she said. Regardless of the type of facial, clients walk out of the studio feeling refreshed, healthy and relaxed.
During treatments clients have the option to lie on a BioMat, which inspires relaxation. The mat uses infrared light and positive ions which penetrate three to five inches into the skin. Aside from comfort and warmth, the BioMat encourages stress relief and helps to improve the immune system. Additionally, Mrs. Morgan uses aromatherapy to ensure her clients feel comfortable and serene.
"I like to make sure it's nice and cozy and inviting for everyone," she said. "I want everyone to de-stress."
To those hesitant about getting a facial, Mrs. Morgan is welcoming. She believes facials should be gentle and relaxing. Often clients come to her studio with horror stories about painfully aggressive treatments. "One of the biggest things I hear is, 'I had a facial and I was blotchy for days,'" she said. "I always tell my clients, if anything feels uncomfortable, let me know. Every person is different."
For her basic facial, she begins by cleansing the face, then moves on to steaming, which helps open pores and prepare the skin for treatment. The facial continues with vacuuming and extraction to clear the skin of bacteria. Next, Mrs. Morgan uses a high-frequency machine, which aids in calming the skin and helps products better penetrate into the skin. Finally, she applies a mask to hydrate, calm or balance. Although the process sounds complicated, Mrs. Morgan carefully explains each step to her clients.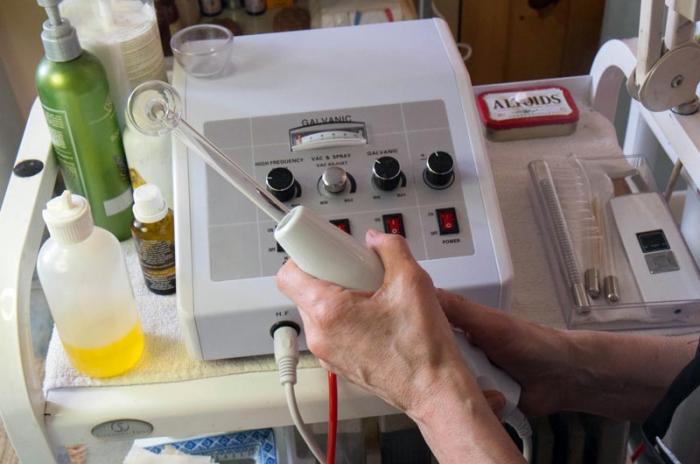 Mrs. Morgan offers a variety of facials, including an oxygen facial, LED light therapy facial, gemstone facial, herbal facial and a teen facial.
The oxygen facial is especially popular with brides or for special occasions. The teen facial is meant to be relaxing and informative. Mrs. Morgan loves to see teenagers at her studio, and she has two teenagers of her own. Starting a skin-care routine early paves the way for lifelong healthy skin, she said.
Mrs. Morgan offers a complimentary brow wax with every facial, and all products used during her treatments are made with organic ingredients.
Outside of her work in skin care, Mrs. Morgan practices spiritual healing. A certified hypnotherapist and healer, she offers services in energy healing, hypnotherapy, crystal clearing and bio-energetic healing.
She recommends hypnotherapy to anyone who is ready to make a change in their life, such as quitting smoking.
"Hypnosis is about letting go of what's holding you back, a fear," she said. "It's about putting people into a natural state of relaxation."
Her energy healing service is hands-on and involves a lot of moving the body around. Crystal clearing focuses on balancing and clearing the chakras. The goal is to help release negative energy and find inner balance and peace. Bio-energetic healing uses Reiki, a Japanese technique for healing and stress-relief, and the BioMat to restore balance and energy.
Mrs. Morgan recommends getting a facial at least once per season, and as often as every month. "Our skin changes all the time due to stress, diet and weather," she said. Facials help to establish a skin-care regimen, and Mrs. Morgan tries to educate her clients about how to care for their skin at home.
"I enjoy what I do. I love to educate people," she said. "I like to see people relax and take time for themselves, to nurture themselves. I just enjoy educating and helping people."
Time Skin Care and Wellness Studio is located at 5 North Tabor Farm Road in Chilmark. Treatments are by appointment only.
Diane Morgan can be reached at 508-645-9200 or by email through her website, timeskincareandwellnessstudio.com.