The winter sports season has ended for Vineyard teams, but several individual athletes will compete in all-star games in the coming weeks. Girls' hockey sent three players to the Southeastern Massachusetts Girls Hockey League All-Star Game last month, with senior co-captain Callie Jackson and juniors Aubrey Ashmun and Olivia Ogden taking the ice for the Vineyard.
The Cape Cod All-Star Basketball Game takes place this Sunday, March 16, in Hyannis. Each of the Cape games features 28 players from around the region.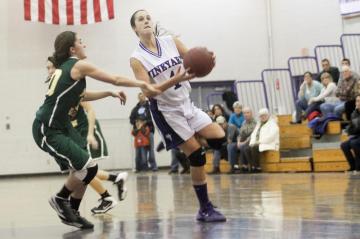 Senior co-captain Kat deBettencourt, junior Taija Browne and freshman Erin Hill represent the Vineyard in the girls' lineup, competing for the Lower Cape squad. Browne and Hill made her varsity debut this year, with Brown a crucial part of the Vineyard passing game. Hill dominated the boards throughout the season and was second in team scoring. deBettencourt, a three-year starter, captained the golf team in the fall and was the team's leading scorer this season.
The boys' leading scorer, senior Deshawn James, represents the Vineyard on the boys' Lower Cape roster. James averaged nearly 20 points per game before the postseason began, and 14 points in the tournament.
Hockey senior co-captain Tyson Araujo competes in the Shriners All-Star Hockey Classic on March 22 in Worcester. The game features 50 of the top senior players in Massachusetts. Araujo, who will play on the Southern Massachusetts roster, is the first Vineyard player to be named to the team. He closed the season the leading scorer in the state, with 71 points.
The starting six for the hockey classic will be determined by text votes. Fans can vote for Araujo by texting his last name to 74499. Voting ends March 16.