Inside her light-filled Yoga Haven studio, Sherry Sidoti leads a small group of students in a vinyasa yoga rhythm class. She counts repetitions in a strong, clear voice and the sound of breath is her chorus. And yet at this particular hour there is no actual class taking place in the yoga studio. This class was filmed last October but it can now be accessed online from anywhere and at any time.
Ms. Sidoti is the owner of Yoga Haven in Vineyard Haven and the director and lead teacher of Fly Yoga School. She was approached by a representative of StudioLiveTV who had connected with the musings and teachings Ms. Sidoti had posted on Facebook. StudioLiveTV partners with yoga and fitness studios to offer classes online. Each studio develops their own packages and pricing and decides which classes to upload to the website.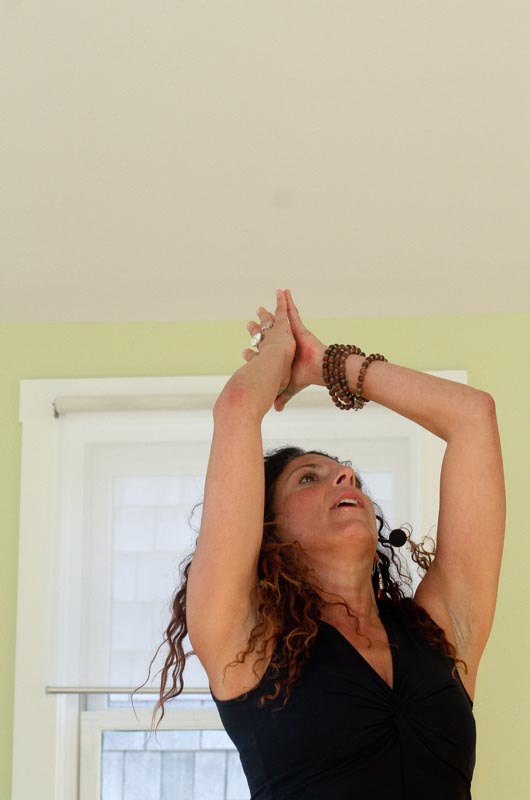 The Yoga Haven videos on StudioLiveTV are filmed from a fly-on-the-wall perspective. Ms. Sidoti doesn't teach to the camera but to the class that is present in the room. Currently, more than 20 of Ms. Sidoti's classes are available online. In addition to classes, the video library includes posture clinics where Ms. Sidoti highlights particular poses in order to focus on proper body alignment.
On Martha's Vineyard, where seasons split the year, there are challenges to running a year-round business, Ms. Sidoti said. During the offseason, StudioLiveTV will help connect Yoga Haven to the summer community as well as create an affordable alternative for year-round residents. And during the busy summer months it will provide more class options for working people, as one can access a class any time and anywhere.
Ms. Sidoti believes that "the teachings want to find as many people as possible," and this technology helps expand the audience. A single class online is $4.99 and a monthly unlimited pass is $9.99.
Currently only Ms. Sidoti's classes are available on StudioLiveTV, but the next step will be to offer classes by the other regular teachers at Yoga Haven. Ms. Sidoti plans to offer a special membership for Fly Yoga School alumni so that they can fulfill their continuing education credits. She also imagines offering conversations about yoga philosophy.
Ms. Sidoti invites individuals and groups whose work focuses on the healing arts, community, health and fitness, or growth and transformation, to contact her about using the Yoga Haven space. Eventually she hopes to offer StudioLiveTV as a way for the entire Yoga Haven community to expand the reach of their teachings.
StudioLiveTV classes can also be accessed through the Yoga Haven website. Students can preview any class for two minutes before purchasing, and search for classes by the instructor's name, class name, style, intensity and pace.
For Ms. Sidoti, the opportunity presented by StudioLiveTV technology fits seamlessly with her work. "The more people doing yoga in the world the better. As far as I'm concerned to have access online feels very yogic."