A Haitian voodoo priest, a notorious gangster, a motherless Cambodian child, a teenage sailor and an eccentric beekeeper were just a few of the characters presented this weekend at the 14th annual Martha's Vineyard Film Festival.
During the four-day festival audience members watched over 20 documentary and feature films.
Many of Saturday's films sold out early, including the documentaries Shored Up, These Birds Walk, Room to Breathe, Whitey: United States of America v. James J. Bulger and Monsieur le President, directed by Island resident Victoria Campbell.
Shored Up, a documentary about sea level rise and beach engineering, was followed by a discussion with director Ben Kalina, Richard Houghton, acting president of the Woods Hole Research Center, and Dr. Ben Horton, professor of Earth and Environmental Science.
The documentary focused on coastal communities in New Jersey and North Carolina and hit close to home for Islanders who participated in a thoughtful question-and-answer session afterwards. A trailer for Kathy Rose's documentary The Breach was also screened.
Several other films included post-screening discussions with film directors and subjects. Sunday morning's Vineyard Shorts program featured six films whose directors or subjects were Island residents. After the shorts were screened, Conor Hagan, Holly and Henry Stephenson, Danielle Iannotti, Brian Ditchfield, Mara Ditchfield, Jaiden Edelman and Dana Edelman fielded questions from audience members.
Jaiden, along with his father Dana, became a YouTube sensation after they posted a music video of The Massachusetts Song (You Athol) filmed at the Yard. Jaiden said being a YouTube star feels "weird at first, but then you just get used to it."
Maya Ditchfield shared a preview of her upcoming film 90 Days, a dramatic feature film which she shot on the Vineyard. The film is set to be released later this year.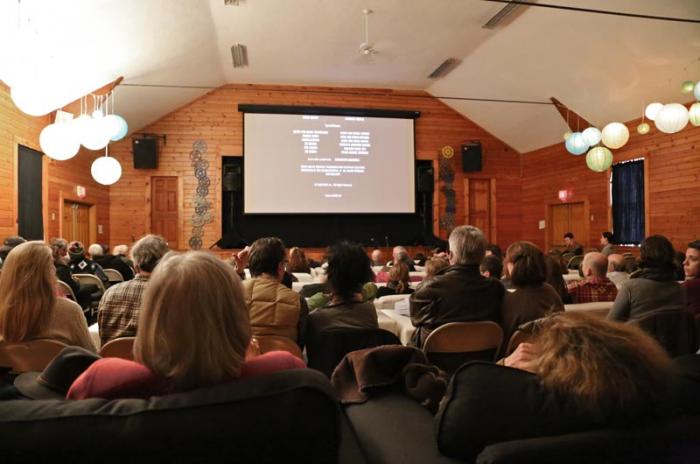 Discussions after both screenings of the sold-out Whitey Bulger film included a question-and-answer session with Mr. Bulger's defense attorney Hank Brennan, and Steve Davis, whose sister Debra was allegedly killed by Mr. Bulger and his associate, Steve Flemmi.
"I'm not crying in the film because I am a sissy," Mr. Davis said to the audience. "Those are tears of anger."
The festival has always been a place where discussion after the film is as important as the film itself.
"When I hear that going on, I think we are achieving our mission," said festival program director Brian Ditchfield. "There were people who huddled around the director of Alive Inside asking 'What can we do?'"
In between screenings, filmgoers enjoyed meals prepared by Chris Fischer, stayed caffeinated thanks to Todd Christy's Chilmark Coffee Company and sat at long tables to eat and catch up with friends.
On Sunday evening, the Chilmark library screened a documentary film made by children during the festival. It was just one of several free children's events this year, which included workshops and screenings for kids of all ages.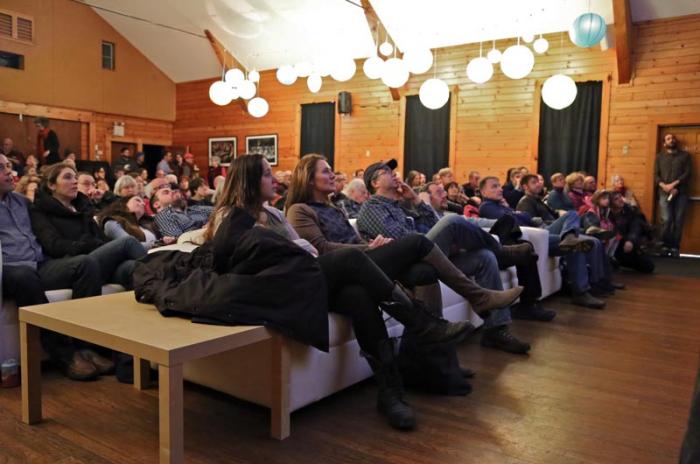 "I could not be more pleased," said film festival founder and program director Thomas Bena. "There's something magical that happened this year which was a fusion of young energy. There was even a mixing of ages with the filmmaking classes, so we had from infants and toddlers up to people in their 90s."
Sunday night, following the screening of Maidentrip, filmgoers and festival staff celebrated the end of the four-day festival with a closing party at the Hay Cafe.
"It seems to be the truth every year when I say, this is the best year ever," said Mr. Ditchfield. "It just keeps getting better and better, which I am very proud of."
Monday morning, as festival staff and volunteers cleaned up the venues, Mr. Bena looked at stacks of hay bales and piles of electrical cords.
"Everything is disassembled in a matter of hours," he said. "It's a little heartbreaking, but what's not heartbreaking is we can continue building it. It really became clear this weekend that it's not even about the films...the films are just one element. It's so much more than that."