More than five years after a nationwide recession, Island realtors and the Martha's Vineyard Land Bank are reporting that real estate sales are on the rise on the Vineyard.
Realtors say there has been an upward trend in sales over the last seven months or so, including some large real estate transactions, and an increase in beachfront sales — an indicator of a healthy market.
The Martha's Vineyard Land Bank, which is funded by a two per cent fee charged on most real estate transactions on the Island, has seen a correlating increase in revenue.
For fiscal year 2014, which ends in July, the land bank is on pace to receive revenue of almost $10.8 million, according to executive director James Lengyel. This is almost $2 million more than the previous year.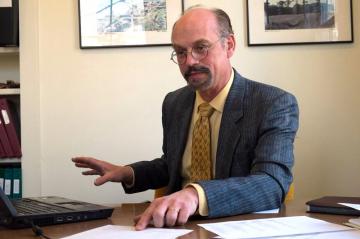 Revenues also received a bump in fiscal year 2013, thanks to national politics. Concern over the so-called fiscal cliff and impending tax changes led to a flurry of real estate activity in December 2012, and land bank coffers received a corresponding boost. Before that, revenues had been flat at about $7.5 million for three years.
Prior to the recession, revenues reached a peak of $13 million in fiscal year 2006, later falling more than half to a low of $5.8 million in fiscal year 2009.
For qualifying transactions, revenues per transaction are also up the last two years, particularly in the upper two-thirds of the housing market.
"We are definitely seeing an upswing," said Deb Blair, the president of real estate listing company LINK. She attributed the increase to "renewed confidence in the market, a stronger economy in Massachusetts, and that the Vineyard and Nantucket continue to attract second home buyers," she said. "And because property values have held reasonably well in the recession I think people feel like it's just a great long-term investment." Island realtors said they, too, have noticed a trend.
Jean Kelleher of Kelleher Real Estate said 2013 started off a bit slow, but around August "it got really, really busy."
She noticed sales particularly in Katama, "which is a very desirable vacation rental area." The trend continued, as the year went on, she said, though it is hard to predict whether it will continue. "We're finding that people feel that we've bottomed out finally."
For the first time in a long time, she said, two people purchased homes this year without even seeing them first.
"People have been watching the market for years," Ms. Kelleher said. "The Wall Street crash really hurt our market...it took a bit to recover from that." Now, she said, housing inventory is getting down to 2006 levels. "That's very telling right there."
Others see the same signs of optimism.
Elaine Miller with Sandpiper Realty Inc., said that in a declining market, waterfront and Edgartown village sales are usually the last to rebound. Sales in those areas are picking up, she said, which is a good sign.
"We're very cautious but it's looking a lot more positive," she said.
Julie Flanders of Flanders Up-Island Real Estate said the fall is when the company does most of their sales. Land bank data bears this out as September, October and January bring in the most revenue.
"Since last September it's been steady," Ms. Flanders said, noting that the increase has been in sales volume and not dollar volume. She said it's been back to pre-2008 numbers.
"I think you'll see that trend continuing, too," she said. "Rentals are strong, that's a good indicator of a strong summer season."
At LandVest Real Estate, Gerry Conover said it's been the best year in the last five years.
"If anything, it's the first time in a long time there's almost a lack of inventory when it comes to real quality properties," he said. "That's always a good sign on the market."
He said buyers are enthusiastic and there is a renewed comfort level in investing in projects. "A lot of money is being spent on doing terrific fix-ups," he added.
Jill Napior with Tea Lane Associates focuses on up-Island sales. "I feel as though there is an upswing in the market," she said. "We've been very busy through the fall and winter and are continuing to feel busy in the spring."
"I don't think we're going to see what we saw in the mid-2000s," Ms. Napior added. "That was sort of an exceptional situation, with the stock market driving things the way it did, and prices were really heightened then." She said Tea Lane weathered the downswing well because buyers realized it was a good time to buy.
Ms. Napior said the impact on the land bank is a win-win. "It's a great cause and I like to see their bank account fill up," she said.
With the increase in revenue, "the land bank is liberated to look at more than it had looked at in the past," Mr. Lengyel said. But he's noticed an interesting phenomenon. During recessions, he said, people assume prices are lower, but when the market goes down, sellers disappear.
"As the market appears to be reshaping and revising, will people become sellers again or will they wait longer? So that's the big question for the land bank," Mr. Lengyel said.
"The land bank is doing everything month by month," he said, noting that it's always hard to predict the state of the real estate market. It's all about timing. Recent land bank purchases have been of properties the land bank had long been interested in that finally became available when cash was also on-hand.
The land bank recently purchased 30 acres in the Wapatequa Woods Reservation for $1.5 million. "The land bank had been pursuing the property for nearly 15 years," Mr. Lengyel said. At last, he said, "the revenue was there, the sellers were willing to sell. It worked out so beautifully."