In 1910, when the Vineyard was about to get its first A&P grocery store, three independent Vineyard Haven merchants, all grocers and grain vendors, decided to check their New England individuality at the door and merge together as a way to fight this new off-Island threat. The merchants were Arthur L. Smith, William P. Bodfish and William S. Swift, and they called their new business Smith, Bodfish and Swift — better known today as SBS.
"Being Yankees they did their own thing and said, if we don't get together, A&P will put us under," current SBS owner Liz Packer said in her office one morning this spring. "The way my dad talks about it, this was not a characteristic thing. Yankees don't do that sort of thing. But they did and they were thriving. They had everything. We try to stay true to that."
Purveyors in grain, dry goods, and garden needs, SBS still sells a little bit of everything: bird seed, pet food and livestock grain, rubber boots and foul weather gear, cotton dish towels and childrens books. Customers range from home gardeners to commercial farmers and everything in between.
Ms. Packer's father, Ralph E. Packer Jr., purchased the business in 1971 with two partners, David Flanders and Philip J. Norton. They ran the store out of its original space down by the Steamship Authority in Vineyard Haven, and hired Ralph and Ethel Sherman to run the store for nearly 15 years. In 1986, the store moved up to the business district on State Road to its present day location because of congestion and much needed expansion.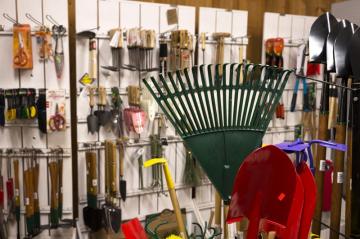 Ms. Packer has run SBS since 2004. She splits her time between the store and her family's Spring Moon Farm on Lambert's Cove Road. She said she has tried to stay true to the legacy and follow the path of SBS traditions.
"We try to listen to people, learn and grow with the community," she said. "It's been a nice partnership with the community, we feel a lot of support as an independent retailer. Our biggest competition is the big off-Island world and Amazon. I think people appreciate it."
Ms. Packer and her team choose every item, from non-GMO feed to seeds to dog food. Some of the products can be more expensive than ordering from Amazon, but Ms. Packer said she is okay with that if it means a higher quality product.
"You're not going to come back with a broken shovel," she said. "Yes, it costs a little bit more, but I try to turn around and give back to the community. Support us and we support you."
She said the store reflects the changing interests of Islanders over the years.
"The biggest change I've seen is going from the big growers and big livestock guys to somebody with a couple of rabbits or chickens, maybe three or four whiskey barrels of tomatoes," she said. "People just want to have a little hands-on experience."
"People walk in every spring and say, I've never grown anything and this year I want to try it," she continued. "I tell them, all you need is a flower pot and you're gardening."
Ms. Packer encourages customers to find their own love of gardening and the land, as she has in her own life.
"I told a friend the other day, you need to prune your tomatoes. Why? So that you can go out and observe that and be part of their day. Why do you grow tomatoes, just for the tomato? No, you need to go out there and be part of their existence because it's good for you."
Wearing jeans and boots, she moves around the store checking on things inside and out. Cases of jelly jars are stacked along one wall. Hand-knitted items made from Island wool cover a table. A small freezer is stocked with broiler chickens from Spring Moon Farm. A large display of Johnny's Seeds occupies the space near the front counter, alongside books on gardening, bags of seed potatoes and onions and tiny grow kits for kid gardeners. It's spring and the store is a small beehive of customers coming and going.
"The first day of spring is New Year's day for us," Ms. Packer said. "We start our year now . . . it's everything from the seeds that you can grow all the way through the cooking stuff and jelly jars. The whole experience can happen right here. The book to tell you how to grow it, the seeds, the soil, all the way up to the tools and harvesting. It's a synergy."
Outside, she passed stacks of flower pots and fence supplies and ducked into the greenhouse to check on spring peas she had planted.
"You could smell spring last night when I went out to the barn to check on the lambs," she said. She opened the plastic cover to reveal the bright pea greens. "There they are."