There are many ways to measure the length, toughness and ultimate reward of the life of Francis E. (Sandy) Fisher Jr., the oldest known commercial fisherman on Martha's Vineyard, who died on May 1 at the age of 98.
It was remarkable to note on the day of his death, for instance, that the memories of Mr. Fisher spanned epochs: Even in the last months of his life, he could recall attending Memorial Day ceremonies during his boyhood in which he saw a Civil War veteran who had spoken with Abraham Lincoln while serving as a drummer boy a century and a half ago.
Nearing 100 years of age, Mr. Fisher spoke vividly of growing up in an Edgartown whose daily life lay considerably closer to the whaling era of the middle 1800s than it did to the modern period of resorthood that we now know. Mr. Fisher recalled the working Edgartown of his youth with a wide scope and vivid detail.
With his father, he watched as lamplighters walked the town at dusk, igniting those streetlights that had not yet been changed over to electric power. He saw Arthur Norton grading the dirt streets with a horse and drag in the springtime and laying down a fresh surface of ash, oil and scallop shells that turned brilliantly white during the summer. He took the lines when schooners landed at the wharf now occupied by the Seafood Shanty, where they unloaded coal into a shed by way of an elevator over the pier.
Francis Fisher was born in Edgartown on April 14, 1916, to Francis and Agnes Laughlin Fisher. The family lived on a one-acre farm near where the Edgartown Yacht Club tennis club stands today. He began work at age 10, helping Capt. Zebulon Tilton unload bricks from the schooner Alice S. Wentworth in Edgartown for 25 cents a load, and he marveled at the strength of Cap'n Zeb, who could bring up six bricks at a time, pressed between his hands.
On July 23, 1924, his father Francis Elliot Fisher Sr. was swordfishing in a catboat some 30 miles south of the Vineyard with his wife Agnes. Sandy, age eight, was aboard too. The senior Mr. Fisher was aloft at the mast top looking for swords, and Mrs. Fisher was at the helm. A wire stay supporting the mast parted and Mr. Fisher fell overboard.
Blowing the fog whistle, his mother desperately circled the area where her husband had vanished. Capt. Frank Prada of the sloop Defiance came to her assistance and put aboard a crewman, Lawrence Jeffers of Chappaquiddick, to help them. After a hopeless search, Mr. Jeffers skippered the catboat on the long voyage home.
Sandy, still a boy and helping the family earn income, would harvest three or four pecks of scallops from Eel Pond, wheel them home in a wagon and shuck them by the light of candles salvaged from the wreck of the Port Hunter, a freighter sunk in Vineyard Sound at the end of World War I.
He remembered Edgartown as a village of gathering places — the boatbuilding shop of Manuel Swartz Roberts (now the Old Sculpin Gallery) and Orin Norton's blacksmith shop (near the corner of Mayhew Lane and Dock street). Tall tales, card games and practical jokes were the order of the day, such as dragging whole fleets of rental sailboats from the wharves into a town parking lot on the Fourth of July, or kids slinging lit firecrackers off the roof of the Harbor View Hotel at the night watchman below.
It was also a village acutely conscious of the passing of eras, and older residents were revered for what they had seen and done in their lifetimes. Sometime before the spring of 1923, Mr. Fisher, who could not have been more than seven, stood with his father at Memorial Day exercises on Main street in Edgartown. There he remembered seeing Richard Shute, a village storekeeper and photographer who had served as a drummer boy in the 40th Massachusetts Infantry during the Civil War.
This meant that anyone who met Mr. Fisher 14 years into the 21st century stood in the presence of a man who had seen someone who had spoken with President Lincoln in 1862. (Dick Shute was at the head of a column at Minor's Hill, Va., when the president, reviewing the infantry from a carriage, asked the 17-year-old drummer: "Well, my boy, do they give you enough to eat?" In old age, Mr. Shute told the Gazette that he remembered thinking, "If I'd been starving, I'd have said yes.")
Though he began work in childhood to help the family, Mr. Fisher's career as a commercial shellfisherman began officially at 16 when he went out for the first time with his uncle, Everett (Evie) Fisher. It was a time of plenty on the coastal bays and ponds — the statewide daily limit for scallops when he started was 10 bushels and scores of skilled men could reliably fill their quotas in a morning. The season began Nov. 15 and it was "cold as hell at Cape Pogue," he recalled. "And then coming back, sometimes, that cursed northwest wind — sometimes I wondered if we'd ever make it. Those catboats are good boats, but boy, they'd sure take a beating."
Oak Bluffs was the place to go for entertainment in the 1930s, Mr. Fisher said. He and his friends bummed a ride from Edgartown or walked the five or six miles each way when necessary. A favorite haunt was the old Tivoli building in the heart of town. The dance hall was upstairs, where many mainland bands played. There were three bowling alleys in town, boxing and wrestling exhibitions on the weekends, and sometimes Sandy would go to Oak Bluffs with his mother just to have a Sunday off with family.
In another facet of his life, Mr. Fisher was a professional entertainer himself. With Richard (Hinky) Pease, Archie Gallant and Buddy (Yuke) Minstrel, all residents of Edgartown, he took up the accordion and formed a group called the Pine Ridge Boys, which specialized in what he called "hillbilly music."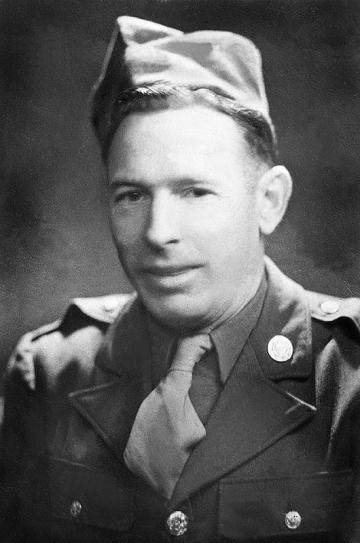 The group played at the Edgartown Yacht Club, Red Men's Hall and cocktail parties around town. Then they landed a regular Sunday morning gig on WOCB, the first commercial radio station on Cape Cod, with a playlist that included Let Me Call You Sweetheart, When Irish Eyes Are Smiling and I Want A Girl Just Like The Girl That Married Dear Old Dad. Soon they were playing bars and nightclubs up and down the Cape and as far away as Providence.
While playing with the Pine Ridge Boys in Edgartown one night in the late 1930s, Mr. Fisher met the woman who would become his wife, Julianne Duchesne, a native of Cap-a-l'Aigle Quebec. But Mr. Fisher enlisted before Pearl Harbor and served seven years in the Army before he and his fiancee married.
In training with the artillery, he was involved in maneuvers that took him back to the Vineyard for practice landings ahead of D-Day. "My lieutenant said to me, 'Fisher, you're landing in your own hometown!'" he recalled. Mr. Fisher marched across the blasted apple orchards of northern France after the invasion and wound up in Antwerp as V-2 rockets crashed into the city. One nearly took his life.
"What happens is, when it hits, it explodes three times: on contact, and again, and again. The one that hit us, the shrapnel went by me — I was some lucky, boy. Wasn't meant to die. Went through a steel door. If I'd moved two inches it would've gone right through me."
Mr. Fisher returned to the Island a technical sergeant and married Julianne in 1949. They had five children. He came to love his postwar life on the water as a shellfisherman and the time he could spend with his wife and children on the ponds around Edgartown. "The Eel Pond was such a beautiful pond, plenty of quahaugs but Caleb's Pond was the best. I don't know how many thousands of bushels I must have dug there. Beautiful 'necks — those littlenecks. They're right blue."
Hard-working though he was, there were afternoons he could take off with the family and he reveled in them.
"We used to go down-harbor, over to Chappy, have a big lunch, and we'd all sit back for the day, returning home around seven o'clock. You can't beat that for a life. Right down to Wasque, we'd go, where the tidal current was breaking through the opening there. We'd drive right to the water, and we'd have a little table, and all our food and we ate both meals right there," Mr. Fisher said. "How lucky can you be? You don't realize it for a little while. You have to think about it for a bit. Then it dawns on you. I've been pretty lucky."
Julianne, his beloved wife of 50 years, died in 1999 and his daughter Nancy died in 1956. He was also predeceased by his siblings Walter Fisher, Marshall Fisher, Elizabeth Blankenship, Lillian Grogan and Grace Gross.
He is survived by daughters Madeline Fisher of Edgartown, Julianne Fisher of Edgartown, Louise Fragosa and her husband Jon of West Tisbury, son Francis E. Fisher 3rd and his wife Lori of Edgartown, 12 grandchildren, 15 great-grandchildren, and many nieces and nephews.
A graveside service with military honors provided by the veterans of Martha's Vineyard will be held on Saturday at 11 a.m. at the New Westside Cemetery in Edgartown. Donations may be made in Mr. Fisher's memory to the charity of one's choice.