They arrived in groups. Some wore Bruins baseball caps, most wore sunglasses.
On Saturday, friends, family and former classmates of David D. Furino and Kevin H. Johnson 2nd, best friends who died in an automobile accident at Katama on May 7, 2004, gathered at the regional high school to honor and remember them by dedicating a bench in their names. Parents of the boys, Kevin and Anne Johnson and Tom and Barbara Furino, attended.
The dedication ceremony came at the 10-year anniversary of the accident.
Megan Leland, former classmate who had traveled to Spain with Kevin weeks before his death, organized the event. "This is something we as a class have always wanted to do. We planted two trees when they died in 2004 and we always wanted to put a bench between the trees to bring awareness to people on why the trees were planted," Ms. Leland told the Gazette before the ceremony. She said the ceremony was planned on Saturday so that former classmates of the boys who work during the week could attend.
Under cool, cloudy skies, around 60 people gathered at 11 a.m. in front of the new bench between the two crabapple trees.
Former principal Margaret (Peg) Regan made opening remarks. "I want to say that I am so proud of the class of 2005 for this beautiful bench. It really finishes off what we started 10 years ago," she said.
"And like all of you, Kevin and David have contributed to this Island," she said. The crowd stood mostly quiet; some wiped away tears.
"We have suffered a great deal of grief and sometimes we think we're alone. Today is a real testament to our own community," said Mr. Johnson. "This gives me a great deal of support because after 10 years, the feeling hasn't gone away."
Mr. Furino echoed the same thoughts. "When someone told me after a few years that the feeling won't go away, I was skeptical. But I'll tell you, it's the 10-year anniversary and it's been harder than the last two or three years," he said.
For the past decade, the deaths of David, who was 17, and Kevin, who was 16, have been honored through scholarships, campus memorials, an annual 5K and the sale and posting of bumper stickers that read: Buckle Up for K.J. and Deebo. But nothing has been more significant than the establishment of Martha's Vineyard Drive for Life, a nonprofit organization founded by Tom and Barbara Furino. Drive for Life's mission has been to reinstate the driver's education program at the regional high school. In June 2008 the high school committee unanimously approved the plan to add driver's education as an elective, effective the following year. Today, driver's education is offered on a regular basis at the high school — and it's popular. "Now we have it during the day like a regular class. It's in the school and we have everyone taking it. That's a big, big deal," Mr. Furino said.
The sweeping changes made to the driver's education program are good developments for the Island, Mr. Furino said, but there remains work to do. "There are 43,000 people who die in car crashes a year and three and a half million are injured. And you know what? It rips people apart."
On Saturday he thanked the many members of the community who helped put the bench dedication ceremony together. He recognized the school and acknowledged Mark Crossland for maintaining the crabapple trees. He praised Ms. Leland for finishing the memorial project for the class of 2005. "Everyone who dedicated their time and money, thank you," he said.
At the conclusion of the 20-minute ceremony, Jimmy Baird, a friend of both boys, handed out flowers to Ms. Leland, Ms. Johnson and Ms. Furino.
Planning for the small service started just a month ago, Ms. Leland said. But she said people were quick to respond. "I wanted to make sure we got the okay. I had to go through the process of making sure I could do a bench on campus. I had to make sure the materials I wanted to use were okay, then I got in touch with Joe Schroeder, the cross country coach — Kevin ran cross country — and he really helped me get it started," she said.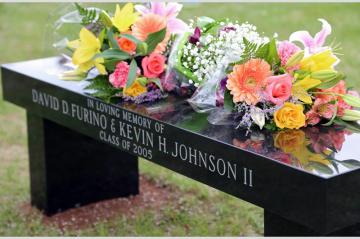 Using Gofundme.com, a crowdfunding website Mr. Schroeder recommended, Ms. Leland set up an account to raise money for the bench. She promoted it on Facebook. "So many people responded. We got enough money to do the bench plus $1,000 to set up a scholarship in both their names as well," she said. And the number keeps growing, she said. "All the money will be going toward remembering Kevin and David."
Following the ceremony, people gathered for about an hour inside the school cafeteria. "I wish they had the opportunity to be here today," Mr. Johnson told the Gazette. "But maybe they do. Maybe they do because they have a presence here today," he added.
And as shared memories were punctuated by moments of silence inside, outside a car turned into the school parking lot. The dark gray Toyota Camry had a blue bumper sticker on the trunk that read: Student Driver.