John Tiernan's dream job was always to be a concierge.
"If I won the lottery and had any job I wanted it would be a concierge," Mr. Tiernan said standing on the porch of the Dockside Inn in Oak Bluffs. "I love to talk, I love to give my opinion and I love the Vineyard. I'm very passionate about Oak Bluffs."
Mr. Tiernan has the talk of a salesman, the walk of a local and the passion and energy to dream big for Oak Bluffs, which is perhaps why the Dockside Inn has flourished since he bought it in 2012. But the Dockside is part of a larger vision Mr. Tiernan has for his hometown.
"I have a vision that Oak Bluffs should be that grand seaside resort it once was, with welcoming arms," he said.
"People love to come to my hometown, they save up for years to come here," he added. "I could live in Nashua, New Hampshire. No one is saving up for three years to go to Nashua for the summer. So for me, this is it."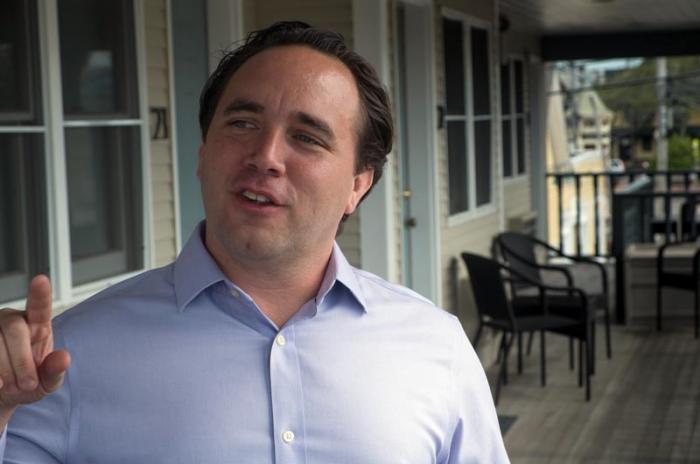 In the last two years the hotel has won awards from the Massachusetts Lodging Association, Yankee Magazine, Best of Boston and Travel and Leisure. The key to success for Mr. Tiernan has been to under-promise and over-deliver.
"I want to develop a connection with every single person who stays here, I want to know that everyone is taken care of. I mean look at these pillow cases," he said picking up a plump, white checkered pillow in a harbor view room. "This is an expensive pillowcase that you won't even see in the high-end hotels."
The Dockside Inn, located on Circuit avenue extension, is sandwiched between the harbor and Vineyard Sound. There's a beach gear shed with chairs, umbrellas, boogie boards, the works; and an outdoor shower built for two. And then there's the designated snack room. The solarium is open every day and includes mint and chocolate malt ball dispensary machines (always set to free) and three mini-fridges — one with yogurt, a freezer with popsicles and a fridge stocked with beer that guests left behind, unopened of course.
"People ravage it all day," he said.
Mr. Tiernan's family roots run deep in Oak Bluffs. His great-grandfather was Manuel Spinola deBettencourt. His grandfather Nelson deBettencourt opened the Mobil station on New York avenue in Oak Bluffs and his mother was born and raised here. Mr. Tiernan grew up in Londonderry, N.H. but visited the Island frequently.
"I grew up dirt poor, and I think it made me hungrier," he said. "I went to school with holes in my shoes, and this was the 1980s, not the Great Depression. It was brutal getting picked on for being poor."
Mr. Tiernan graduated from Louisiana State University and moved to Dallas, Tex. to work for an oil company as a salesman "hawking different petroleum products" and driving 5,000 miles a month. After finally convincing his girlfriend Erin he was the real deal, Mr. Tiernan talked her into moving to the Vineyard, sight unseen, in 2002.
On the Island Mr. Tiernan managed the Seastreak, the then year-round ferry service from New Bedford. He worked there for eight years until the company changed hands. Erin got a job working for Basics on Circuit avenue, the store she now owns along with Eastaway, also on Circuit avenue. The couple married and have a son, Griffin. Mr. Tiernan also fixed up the family home, which had been vacant for 10 years until he bought it from his mother.
In January of 2012, with help from business partner Caleb Caldwell, Mr. Tiernan bought the Dockside Inn. The Victorian-style building was originally built in 1988 by Marc Hanover and was last owned by hotelier Leo Convery. Four months and $300,000 later, the hotel opened for its first season.
"Caleb is the brains and I'm the beauty," Mr. Tiernan said. "I like the marketing challenge of something and I have this vision. This is the way I see this working. I want it young and hip and trendy."
At every turn, Mr. Tiernan tries to keep it local, a slogan that starts at the front door and moves out into the streets. The hotel recently won the technology innovation award of the year from Massachusetts Lodging Association for their virtual concierge service known as Loomis. Guests can text a 508 number with concierge-type questions. The questions are answered by Islanders for the scoop on Vineyard hot spots.
"You feel like a local here because you're asking real people," Mr. Tiernan said. Loomis, named after a caddy in Caddyshack, is attended to by a group of different people who remain anonymous. They are called the Loomi.
The invention is now pending patent approval, but got a special nod on the Today Show last week.
"I'm passionate about what I do," Mr. Tiernan said. "I can get passionate about lettuce, though."
Mr. Tiernan's latest venture is a bag cab, registered under the name Oak Bluffs Land and Wharf Company. The company went bankrupt in the 1900s and was available for a new incorporation. The idea is to have porters pick up luggage at the ferry and deliver the bags to hotels in town, and not just to the Dockside.
"I'm not doing it because I'm going to make a million dollars bringing bags to competing hotels, but because it's the right thing to do," Mr. Tiernan said. "Back in the day when the steamers rolled in from the New Bedford-Fall River line, there were porters there waiting for your bags."
Mr. Tiernan wants to continue to push the envelope for his business and for the Island as a destination.
"We used to welcome business and welcome tourists and somewhere we've lost our way," he said. "You have to embrace tourism and you have to make it a town that people want to come to."
So far numbers are up and business is busier than last year, Mr. Tiernan said. Last weekend the hotel was fully booked and Mr. Tiernan spent Sunday stripping down sheets and making beds.
"I stopped in front of that picture window," he said. "It was a clear day and you could see straight to Falmouth and I looked out that window and said, oh man. I find myself a minute later breaking away from the window. I see the sun beaming on all these little houses on the harbor and think, wow, we live where people save up to come. That's awesome."