More than 250 guests packed into the Agriculture Hall Thursday night to celebrate the opening of the 25th annual Friends of Family Planning Art Show. During the opening gala, artists mingled with the public and unveiled their work for all to see.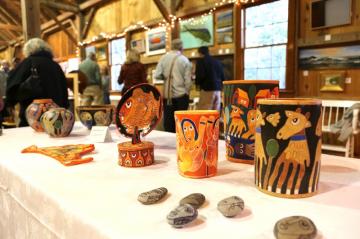 All of the art, which will be on display at the Agriculture Hall Friday through Sunday from 10 a.m to 6 p.m., is on sale to benefit Family Planning of Martha's Vineyard. Artists are required to donate a minimum of 40 per cent of each sale to the charity, but some artists have gone above and beyond, many donating 100% of the proceeds.
Guests were treated to appetizers and desserts from Herring Run Kitchens Thursday night while Jeremy Berlin played soft background music on the piano. The atmosphere was upbeat and festive as visitors admired the artwork and celebrated the beginning of the show.
As in years past, there is artwork from all media, including traditional paintings and photographs, hand crafted journals, pottery, sculptures and furniture. The show features a number of well-known Vineyard artists, such as sculptor Jay Lagemann. The show also showcases work from unrecognized local talent.
Some of the work hanging on the walls of the Agriculture Hall is dark and serious, while others are lighthearted and whimsical. Several had a focus on Island landmarks. The artwork ranges in price from less than $50 to more than $30,000.
Many of the artists featured in this year's show have contributed before. Linda Thompson, who has two paintings for sale this year, has been a part of the show for ten years and said she has always successfully sold something. For other artists, such as Kate Feiffer, this is the first time showing work in the event. "I've been coming to the show for a long time," Ms. Feiffer said. "Then last year I started showing my own doodles."
Daniel Pesch, a member of the board of trustees at the Friends of Family Planning of Martha's Vineyard, was delighted by the large turnout at the gala Thursday. As the primary fundraiser for the organization, the art show is crucial to keeping the clinic running and maintaining the space. "Most of the funding that we get for the year comes from this art show," Mr. Pesch said.