There are times when the complications of living on an Island are most acutely felt.
For Ed and Maryanne Jerome of Edgartown, that time came during their many trips to Children's Hospital in Boston with their oldest son, Joseph. Diagnosed with a chronic illness as a teenager, Joseph's medical needs required regular attention and trips to Boston became frequent.
It is challenging enough to cope with an illness in the family, but the financial burden is not small and presents its own set of difficulties. The costs of specialist care quickly add up, even with health insurance, and things such as Steamship Authority fares and hotel rooms in Boston are not covered at all.
"Those costs can be enormous," Mrs. Jerome said. "From our experiences up at Children's, we ran into several Vineyard families that were struggling in the same way to get the best medical care for our children.
"We became aware of this when we were on the journey with Joseph," she said. "We actually talked about it with [him], to create a scholarship . . . that it would be so nice to give back."
After more than 12 years coping with his illness, Joseph died in September. Surrounded by an immense network of support on the Island and beyond, from family members to friends to pediatricians and teachers, the Jeromes are continuing their journey.
"It's just amazing, the support we've had," Mrs. Jerome said. "We want to be able to help other families."
The inaugural Joseph Jerome Memorial Golf Tournament takes place Saturday, June 14, at the Royal and Ancient Chappaquiddick Links. The tournament features both a silent and live auction in addition to the golf, with all proceeds going to benefit Island families whose children have chronic illnesses.
The event is a natural extension of efforts the Jeromes have already been making to assist other families, thanks to a memorial fund created in the fall. They are now working with the hospital, school guidance departments and Martha's Vineyard Community Services to determine how gifts will be made, and have applied for 501(c)3 status with the federal government. The board of the nascent nonprofit realized early on that they would need to have at least one major fundraiser a year in order to achieve their goals.
Brad Woodger, owner of the Chappy Links, is helping coordinate the daylong event.
"He came up with the idea of coming out to the golf course and using his facilities and his wonderful camp," Mr. Jerome said. "A lot of people don't even know there's a course out there. And most people that do know want to play it and never have."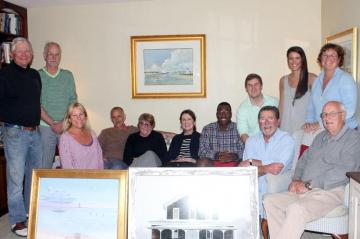 The nine-hole seaside course has views of the outer Edgartown harbor and the Cape Pogue Gut. The course is fairly short, Mr. Woodger said, but fairly challenging. The course has been in his family for more than 120 years, and is built "within the natural landscape, not against it."
The tournament will be manned by Doug DeBettencourt, who coaches golf at the regional high school. Shotgun starts are at 9 a.m. and 12 p.m. Pastries and coffee will be served for morning participants, and the grill will be fired up for lunch. Refreshments will also be served at the awards ceremony and auctions in the afternoon.
Entrance fee for the tournament is $125 per person, or $600 for a team of five. Each player is allowed only four clubs, "so they really have to strategize," Mr. Jerome said.
Transportation will be provided to and from the golf course, and fare on the Chappy ferry has been waived, thanks to a donation from ferry owner Peter Wells.
The auction is scheduled to begin at 4 p.m. and, as with the golf tournament, transportation will be provided.
"People can come for both of them or just one," Mr. Jerome said. There is no fee to participate in the auctions, which feature original artwork by Christopher Cross Atkins, a stay at the Chappaquiddick Links camp house, and a linguini-and-clams dinner prepared by Mr. Jerome. The board was still working to add more items to the mix as of Wednesday, however.
"We've already been able to help a couple of families so far," Mr. Jerome said. "This fundraiser — annually, we hope — will be a real important part of that."
To participate in the Joseph Jerome Memorial Golf Tournament, please contact Ed and Maryanne Jerome at 508-627-8510. Spaces are still available for single players and for teams.