State and local officials announced this week that 742,000 acres of ocean south of Martha's Vineyard will soon be available for commercial wind energy leases.
The project would be the largest wind energy project in federal waters. A public meeting about commercial offshore wind energy leases is scheduled for Monday on the Vineyard.
Gov. Deval Patrick, Secretary of the Interior Sally Jewell and Bureau of Ocean Energy Management acting director Walter Cruickshank announced Tuesday that the Massachusetts Wind Energy Area will be available for commercial wind energy leasing. The area is about 12 nautical miles south of the Vineyard, extends 33 miles south and is 47 nautical miles east to west. The Bureau of Ocean Management is proposing to auction the area as four leases. The project would nearly double federal offshore areas available for wind energy projects.
The Bureau of Ocean Management has also awarded a non-competitive lease to Cape Wind in Nantucket Sound and two competitive leases for an offshore area between Massachusetts and Rhode Island, in addition to leases off Delaware and Virginia.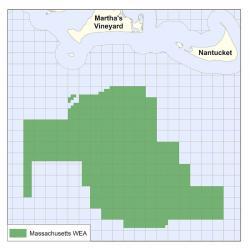 "Today's announcement is a momentous occasion and the culmination of years of cooperation and hard work between the commonwealth and federal officials," Governor Patrick said in a press release. "Through our investments and proactive planning, Massachusetts is poised to lead the charge in offshore wind energy development, with the economic and environmental benefits that come with it."
The announcement of the proposed sale has triggered a 60-day public comment period. Any companies that wish to participate in the wind area also have 60 days to submit their qualification packages. That period ends August 18.
Richard Andre, president of Vineyard Power, an Island energy cooperative, said he expected the wind area will be leased in the next three to six months. "It's happening and it's going to be happening quickly," he told the Gazette Thursday. Vineyard Power is among those interested in the leases.
Mr. Andre said Vineyard Power has a lot of information about the potential lease and what is in the proposed sale notice, and is happy to provide more information for those with questions.
Vineyard Power has been working since 2009 with members of a federal task force that includes representatives from each Island town. The cooperative has been working on an agreement with the federal government to recognize community-based organizations such as Vineyard Power. "Here we are a community-based organization against other large developers," Mr. Andre said, noting that the federal government has said that it will recognize developers with a community benefits agreement.
"So we were very successful with that," Mr. Andre said. The community benefits agreement means a group like Vineyard Power will receive a five per cent credit to level the playing field on lease bids. In other words, if another company bids $100 and Vineyard Power bids $95, Vineyard Power would receive a $5 credit to make the bids equal.
Mr. Andre said the next step is for Vineyard Power to ask the federal government to raise the five per cent amount. "We think that five per cent is too low," he said. "We hope that gets raised."
According to the press release, the state has collected a variety of information about the wind area and the potential impact from offshore wind farms on mammals, birds, geology, commercial fish traffic and boating. There have also been many public meetings, including one on the Vineyard. There was a finding of no significant impact for the area, meaning the Bureau of Ocean Energy Management determined there is no reasonable foreseeable significant impacts from issuing the leases.
Before any decisions about construction are made, the bureau will conduct site-specific National Environmental Policy Act reviews, including more public comment, the press release said.
The Bureau of Ocean Management excluded some areas from the original proposed wind energy area, including an area with a high sea duck concentration, and an area of high value fisheries.
On Monday the state Executive Office of Energy and Environmental Affairs and the Massachusetts Clean Energy Center will host officials from the Bureau of Ocean Energy Management at the Katharine Cornell Theatre in Vineyard Haven. The meeting is scheduled from 5 to 7 p.m. and officials will explain the next steps in the commercial leasing process and provide updates on a transmission study findings and what the next steps are when it comes to planning and siting. There will be an opportunity for public comment.