A rare tribute to a theatre giant took place Sunday at the Martha's Vineyard Hebrew Center.
"It goes without saying, this is probably the most thrilling day of my life," said Robert Brustein, donning a laurel wreath gifted by Vineyard Playhouse director MJ Bruder-Munafo. "It is extraordinary. I have never quite had anything like this before. It resembles an obituary, but I am glad to have . . . one gala day."
The event was a shower of gratitude, gifts and admiration for Mr. Brustein, a director, teacher and playwright who founded both the Yale Repertory Theatre and the American Repertory Theater.
Actor Tony Shalhoub, perhaps best known for his role in the television series Monk, acted in the very first company at the Harvard-based American Repertory Theater (ART). On Sunday, he spoke of his personal relationship with Mr. Brustein, who has mentored Mr. Shalhoub throughout his career.
"Very simply put, I owe him my life," Mr. Shalhoub said. "Without him, I would have been lost at sea." He went on to describe Mr. Brustein as a teacher, mentor, friend and father figure.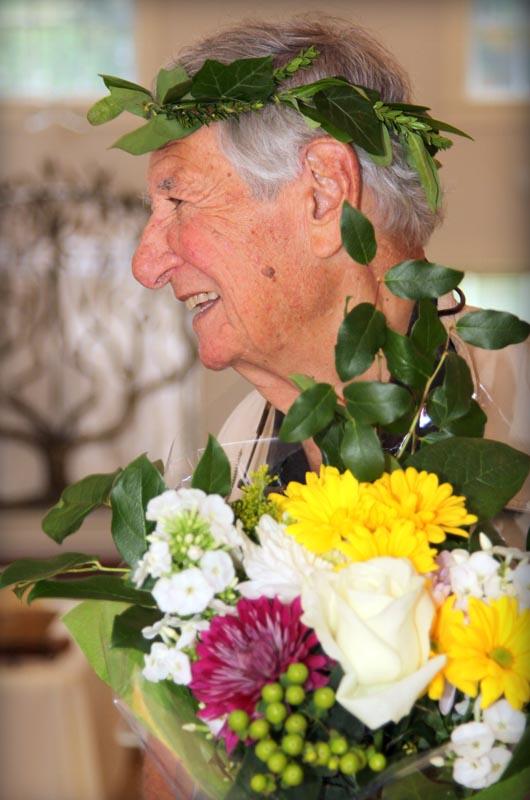 "He became my conscience for which I am very resentful," Mr. Shalhoub said, inciting laughter from the audience.
Some 114 people gathered in Mr. Brustein's honor, among them members of the acting family he said makes him tick.
Days later, sitting in a dressing room at the renovated playhouse that will soon bear his name, Mr. Brustein reflected on the legacy he continues to shape in the field of theatre.
Throughout his career, Mr. Brustein has participated in theatrical productions from nearly every angle; writing, directing, acting, even reviewing. His theatre criticism appeared in the New Republic magazine for more than five decades, and he has written 12 books.
These days, he continues to work on several writing projects, and to teach theatre at ART and Suffolk University, where he offers a class on Shakespeare for actors. It was Shakespeare that first captivated Mr. Brustein, back when he was growing up in New York city.
The first play Mr. Brustein saw was Swingin' the Dream, a jazz version of A Midsummer Night's Dream, which starred Louis Armstrong as Nick Bottom and Maxine Sullivan as Titania. The play opened in late November of 1939 and closed shortly thereafter, after taking a hard beating from the critics. Mr. Brustein was playing clarinet at the time, and while his hero was Artie Shaw, clarinetist Benny Goodman, who performed in the play's orchestra pit, was a close second.
"I was absolutely floored by it," he said. "It left an indelible print on my mind."
A Midsummer Night's Dream continued to play a part in Mr. Brustein's life, resurfacing several times in his career. Mr. Brustein was the dean of the Yale School of Drama from 1966 to 1979. He founded the Yale Repertory Theatre in 1966 to give students the opportunity to assume small or featured roles in a professional company.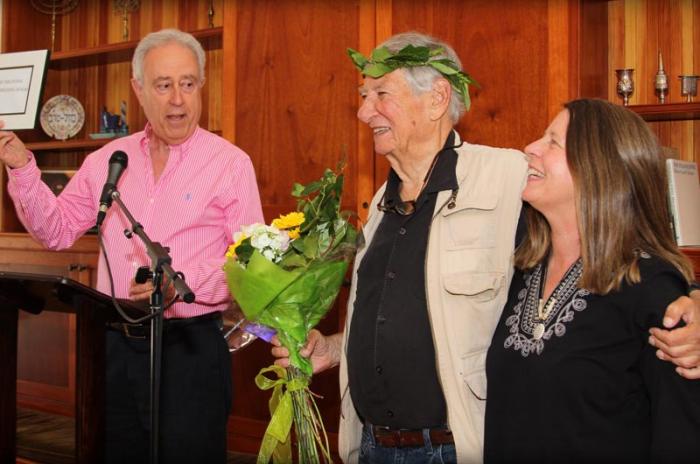 "That way a student would know what he or she was training for, instead of being thrown out into the world to look for a job," Mr. Brustein said.
Perhaps his most famous student, Meryl Streep, earned several roles in the company while at Yale, including playing the role of Helena in A Midsummer Night's Dream. When Mr. Brustein founded ART in 1979, almost the entire company was made up of his last graduating class at Yale. The first play he put on there was A Midsummer Night's Dream. "I have had the privilege to help train some of the most glorious human beings and some of the most glorious artists in our country, and that is my testament, that is what I hope to live by and to be remembered for," Mr. Brustein told the audience at the Hebrew Center. It was at Harvard that he crossed paths with Caryn Broitman, then a freshman in college and now the rabbi of the Martha's Vineyard Hebrew Center. During freshman orientation, she remembered hearing about the new ART.
"There was a buzz for two reasons," Ms. Broitman said Sunday in her tribute to Mr. Brustein. "One, we stole him from Yale and that was gratifying to everyone, and two, there was a real excitement about what Bob would bring, what theatre he would bring."
Mr. Brustein is a longtime member of the Hebrew Center, which presented him with a Passover Haggadah and seder plate at the event in honor of the theatrical nature of the Passover holiday.
Mr. Brustein bought his house on Lambert's Cove Road in 1963, at the bargain price of $18,500.
From the beginning, "the notion of having a playhouse on Martha's Vineyard was very exciting to me," Mr. Brustein said.
In her speech Sunday, playhouse artistic director MJ Bruder-Munafo thanked Mr. Brustein for his support over the years.
"I remember standing out in front of the theatre, this was years ago, on that patch of grass that is still there, and Bob saying to me, 'look what you are doing with this theatre,' and his words of encouragement that day have meant the absolute world to me."
When he's on the Vineyard, Mr. Brustein usually works in the morning before exploring the outdoors in the afternoon. He visits the beach and likes to kayak at Nashaquitsa Pond. His current writing projects include a collection of essays on theatre and society, and a collection of 10-minute plays he wrote for the Boston Theatre Marathon. He is also working on a sexual biography of Shakespeare. Mr. Brustein said that Shakespeare had two lovers that he profiled in his sonnets, one female and one male, in addition to his wife, Anne Hathaway.
In May, Mr. Brustein served as chairman of the inaugural Wuzhen Theatre Festival, in northern Zhejiang Province, China.
This past year, he finished a new musical he's calling Exposed, which is based on the French play, Tartuffe. Exposed stars a televangelist who is running for Congress. There will be a staged reading of the play at the Vineyard Playhouse on August 4.
Mr. Brustein said it's probably the best play he's written so far. In one scene in the second act, God, spelled G-d in this play, comes down in an elevator to resolve the plot. "Instead of Deus ex machina, we have God out of an elevator," Mr. Brustein said.
In Tartuffe, by contrast, it's Louis XIV who has the honors.
"It's not just a polemical play, it's certainly a comedy," Mr. Brustein said.
While the play offers criticism of the extreme political and religious right, Mr. Brustein said he doesn't think any writer or artist expects his or her work to affect the political process.
"The best you can do is give people the capacity to evacuate their pent-up feelings, because they had no other way to do it except through art," he said. "And art kind of replaces rage. It is a kind of purge."
At 87, Mr. Brustein has no plans to slow down.
"I wouldn't dream of retiring," he said. "That is nonsense."