Tisbury's 343rd birthday party was a hit for all those invited, and that included the whole Island.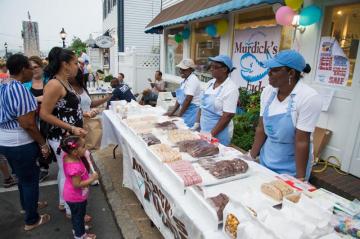 On Tuesday night Vineyard Haven's Main street was flooded with residents and tourists coming from every entrance possible. People poured out of crowded buses while others circled around them to find places to park their bicycles. No matter how they got there, fair attendees were not let down by the countless tables and attractions that composed the birthday party.
There were tables manned by stores, restaurants and businesses. Policemen and women walked the fair with smiles on their faces, being stopped every few feet to hear praises from the people they work to protect.
A rock climbing wall was followed by a mile-long line that exploded into cheers every time someone got to the top. Children held balloon animals high above their heads in triumph, and searched through hundreds of handmade bracelets, screaming with excitement when they found the perfect one.
The food, of course, was one of the most sought-after attractions. Whether it was quiche, ice cream, lobster mac n' cheese, or cotton candy, lines spiraled out into the streets and those manning the tables worked as quickly and efficiently as possible.
"This is the first time I've ever been to Martha's Vineyard, but now I know I have to come back every year for the fudge," one young tourist explained as he clutched a bag filled with assorted Murdick's flavors.
The United Methodist Church handed out fresh-squeezed lemon and limeade to hundreds of families, and alpacas stood calmly on the outskirts of the fair as people took turns touching their fur. The Martha's Vineyard Family Center prompted fairgoers with a simple request: "Tell us what love is," and the Vineyard Gazette passed out magazines and newspapers for free in celebration of the town of Tisbury.
"I've been coming to the Vineyard in the summers for 32 years now, and I've made it to the fair 30 of those years," said one Tisbury summer resident. "It never gets old," he added. Whether it was for the food, the attractions or the celebration in general, the love of Tisbury as a town and home was undeniable. Happy birthday, Tisbury!