An unusual south shore property in West Tisbury that is the site of the former Watcha Club has been put up for sale. The 7.5-acre property and old gunning club, rebuilt as a summer home in the mid-1960s, has been held by the same family for more than 50 years.
The asking price is $11.5 million. The owners are the family of Collister (Coddy) Johnson of Far Hills, N.J., and Edgartown. Conover Real Estate in Edgartown has the listing.
Situated near Watcha Pond and extending to the sandy Atlantic shoreline, the property has a rich history and was formerly part of a vast tract of land that at one time spanned Edgartown and West Tisbury. Today the area includes Long Point Wildlife Refuge, owned by the Trustees of Reservations.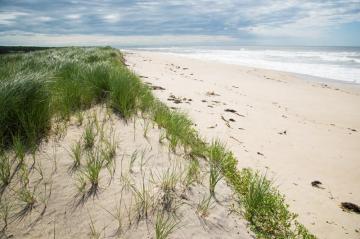 The Watcha Club was one of a handful of gunning clubs that were built along the Great Ponds that are a unique feature of the Island's south shore. The freshwater and brackish marshlands that surround the ponds were once prized for hunting migratory waterfowl.
Built in 1903, the Watcha Club was the first and reportedly one of the most famous clubs of that era. There are many accounts of rivalry between the clubs, whose members were wealthy industrialists and came to the Vineyard in the early 1900s for recreation and a break from city life. They hunted, fished, ate off the land and played pranks on each other such as blowing cigar smoke across property lines to scare away the ducks.
"Watcha was a cherished refuge for its members, not only for the gunning but also for the beauty and bracing nature of the whole terrain among the ponds and along the ocean beach," a story in the Gazette recounted in 1960 when the property changed hands.
The history of human habitation on the land dates back thousands of years to when Native Americans lived around the Great Ponds. After that the earliest English settlers made their homes there.
"The name Athearn has always been associated with the Watcha and Scrubby Neck country, and it was in that region that James Athearn Jones, the Vineyard poet, had his home," one old account in the Gazette reported.
In the 1920s the Watcha Club property was the subject of drawn-out litigation over of a number of parcels which had multiple but undivided ownership. In 1954 Richard Keeler bought the property by assembling parcels, some from the estates of former club members. In 1960 Roger Fisher, a Harvard law professor, bought the property and owned it briefly.
The Collister Johnson family bought the old gunning club in 1962 and still owns it today.
According to the Island mulitple listing service LINK, the property was assessed at $6.49 million in 2014, with estimated annual property taxes of $9,088.