The annual Feast of the Holy Ghost parade began at 11:30 a.m. on Sunday outside the Steamship Authority terminal and then headed up Circuit avenue. The Oak Bluffs police department was led by police chief Erik Blake, and town firemen paraded in, on and around their fire trucks. There were ambulances, a Portuguese American Club float and even Queen Isabella of Aragon, played by Jenna Hathaway, with Nikeyn Tankard and Caroline Bettencourt acting as members of the queen's court.
Ninety-three-year-old Anita Combra did not walk in the parade this year, but she was very much a part of the festivities.
Ms. Combra has seen the Feast of the Holy Ghost parade about 80 times, she said on Sunday. But sometimes, she said, in her "earlier years," she only caught the end of it, because she was hard at work making vats of traditional Portuguese sopa for "anyone and everyone."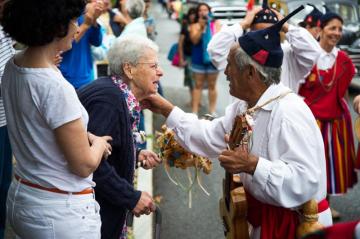 "I was the biggest cook up there," she recalled.
For the past 15 years, though, a tradition has been created because Ms. Combra had "grown older and could not continue working in the kitchen up the street." Now the parade comes to her, stopping along the route at her porch to both serenade her and to be sung to by her.
"Now the band spies me outside my house and they stop and bring the band over and sing to me," Ms. Combra said. "You'd think the feast was here!"
Although she's no longer cooking, Ms. Combra certainly gets her fill of kale soup. Her daughter cooks up the traditional sopa (Ms. Combra's recipe) for the 30 or so friends and family members who watch the parade with her.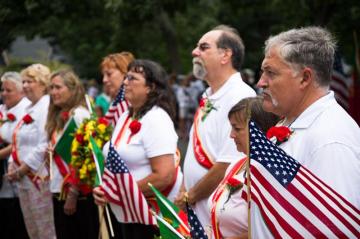 "Everyone comes back inside and eats the soup after the parade leaves our house," Gail Combra Landers said.
When the parade arrived at the porch, Ms. Combra's children and grandchildren helped her outside. She walked onto the porch and down to the sidewalk with a walking cane in one hand and her brinquinho in the other. A brinquinho is a Portuguese instrument with five wooden dolls dressed in traditional clothing, and all carrying castanets that move up and down on their backs.
Ms. Combra shook her brinquinho and sang Portuguese songs, while her family waved a Portuguese flag. In the middle of the street the band formed a semi-circle around Ms. Combra for a special serenade.
"This is the tradition," her family members shouted. "Tradition!"
Ms. Combra sang along and shook her brinquinho to the beat. When the band finished singing, they continued on up the street and Ms. Combra became teary-eyed. As the parade was ending, she watched her great-grandson, Josh Billings, drive by on an old Oak Bluffs fire truck. She shook her brinquinho one last time and then headed back inside to eat sopa with her family.
"I love it. I love it. I love it," she said as she walked back to the house.
Back inside, sitting in her chair and surrounded by family, Ms. Combra put her brinquinho down and picked up a spoon to eat some soup.
"I've got a good family, nothing like it," she said. "A good family in a small little town with a little parade. And I've had a good little life as you can see."