Charlie Baker's resume includes stints as former CEO of Harvard Pilgrim Health Care and state secretary of finance and administration. But making a swing through the Vineyard this weekend in his second bid to become governor of Massachusetts, the Republican candidate told the Gazette he learned important political lessons in a more modest realm, as a selectman in Swampscott.
"The biggest thing you learn when you are a selectman is there is no place to hide," the Republican candidate said in an interview. "Everyone knows where you live, they know your phone number, they know where you get coffee on a Saturday morning, and when. They know what sports your kids play and what fields you'll be on.
"Part of what makes me so passionate about state and local government is that I think it's a lot closer to the people," he added, "and therefore a little more pragmatic and a little less nuts than some of the stuff that goes on in Washington."
In an interview at the Gazette offices Saturday, Mr. Baker talked about his hopes to bring his passion for state and local governing to the governor's office, and some of the policy positions that would define his administration.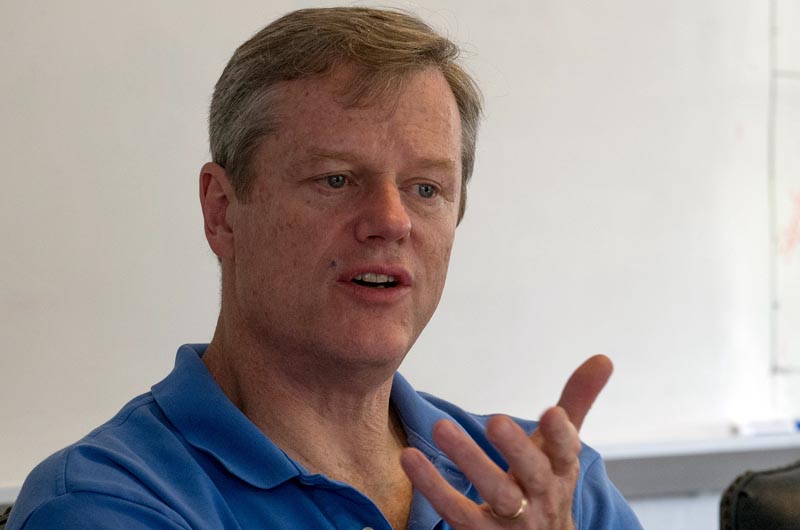 The primary elections are Sept. 9; Mr. Baker will face businessman Mark Fisher in that race. The gubernatorial election is Nov. 4.
Mr. Baker made his first run for governor in 2010, and focused mainly on job creation, but failed to unseat incumbent Deval Patrick.
This time around, his priorities are to foster political and economic competition, to improve the relationship between municipalities and the state, and to build community, he said.
Over the last seven years, Mr. Baker said, state spending grew by about $6 billion, but local aid fell by about $500 million. He said that as governor, he would commit to growing local aid at the same rate as the state tax revenue, which would benefit public schools and other town services.
When it comes to education, Mr. Baker opposed the Common Core curriculum in 2010, partly because he felt the state already had a strong education strategy. He supports the MCAS and state-guided curriculum frameworks since they provide some leeway for towns and cities, but he opposes unfunded state mandates.
"If the state thinks something is a good idea, that's great," he said. "But the state's got to come figure out how to pay for it."
He is also an advocate for charter schools, he said, and supports increasing the cap on charter school numbers, especially where school performance is below average.
During his 2010 run for governor, Mr. Baker opposed the Cape Wind project, which he said had three major shortcomings. "The first was that it was a no-bid contract," he said. "The second was it was an off-market price. The third issue is that it doesn't generate that much electricity." He was also troubled by Cape Wind's plans to have some of its equipment built in Rhode Island and not Massachusetts.
But Mr. Baker said he is interested doing "what we can to reduce our carbon footprint. He was an early supporter of the efforts to establish long-term contracts with Canadian hydropower companies, which he said generate "a ton of sustainable, renewable, clean energy."
"That's a more significant opportunity to generate power at a price that's competitive not just with other sources of energy in the region, but with other sources of energy nationally," he said.
Mr. Baker was joined by his wife Lauren during his visit to the Vineyard Saturday, He said he planned to attend a few private events, and he also met with police and emergency personnel to discuss the growing use of heroin and other opiates in the state. He expected his policy team to finalize an official position on the issue soon.
"I want to try to talk to as many folks who touch this issue as I can," Mr. Baker said. He said one problem is that the state does not keep adequate records on overdoses. "One of the things we need to do is create some kind of a registry around this stuff so we have a better idea about what's going on not just year over year, but region by region," he said.
Mr. Baker said pain medication is often a gateway to heroin use, and noted that only 40 per cent or so of state doctors use a prescription monitoring system. The main challenge in treating heroin addiction, he said, is that it requires a lifelong commitment. He pointed out that recovering addicts are most successful when they have access to group therapy or other resources that offer continued support.
"Everybody we've talked to has said that we should be talking to kids about this stuff really early, like literally elementary school, and that the more you can do to just bake this into people's consciousness early, the better off you are going to be," he said. But he added that the increase in opioid prescriptions over the last five years sends a mixed message. "It's going to be complicated for people to figure out what the right answer is there," he said.
Having run for governor once before, Mr. Baker said he does not take anything for granted. "I know everybody who is running," he said, "and I have a tremendous amount of respect for anyone who's willing to put themselves in the middle of this."
He said his decision to run again was a result of his natural political drive. His mother was a liberal Democrat active in town politics, and his father was a conservative Republican who served in two positions in the Nixon administration. Political discussion "flew around our dinner table with a lot of regularity," he said. "And I always knew I would do something in it."
He said the sense of local responsibility inherent in town politics informed his role in business and in state government. At Health and Human Services, for example, he would often hold office hours at different locations around the community, so that people would encounter places and people they otherwise might not have.
He said he is concerned Massachusetts is not "playing to a high level as we should," citing problems with the health care connector, the Department of Children and Family Services and the scandal at a state crime lab. The medical marijuana roll out "wasn't exactly well done," he added.
In the 1990s, Mr. Baker served under Gov. William Weld. He said the Weld administration was an example of successful politics: "Republicans, Democrats raising each other's game, forcing each other into difficult conversations and for the most part getting stuff done in a productive and positive way," he said.
"I worry that in a one-party government you lose some of that edge," he said. "And I don't really care what party it is, I just think generally speaking you lose some of the focus, some of the drive that comes when you have both teams on the field."
Competition in all areas, he said, "forces people to play to a higher level."