They wanted to celebrate her, so they threw a party. But not just any party would do for Della Louise Brown Hardman.
It was July 2005 and a group of Mrs. Hardman's former students, some of whom she had taught some 40 years before at West Virginia State College, thought the time was right for honoring their art professor, mentor and friend. They had kept in touch with Mrs. Hardman over the years, throughout her decades-long teaching tenure and her retirement, and on learning that she had a heart attack at the age of 83, they decided to tell her in person how much of an impact she'd made on their lives. As Mrs. Hardman herself wrote at the end of each of her Oak Bluffs columns for the Gazette, savor the moment.
None were from the Vineyard, or were seasonal residents, but it was decided that the Vineyard, where Mrs. Hardman had retired, would be a good place for the celebration. The students each made a piece of art for Mrs. Hardman, which they presented to her during a private party on a Thursday. They had a dinner party at Lola's on Friday, inviting the entire Island to attend.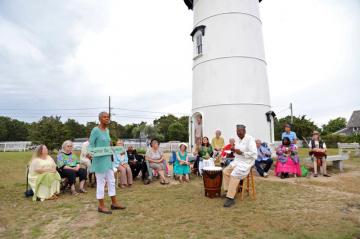 Mrs. Hardman's daughter Andrea Taylor described the events as "a huge collective hug." And while the outpouring of love and support was little surprise to Ms. Taylor, the turnout and passion had an impact on Mrs. Hardman's Vineyard friends who had come.
"They were sort of stunned," Ms. Taylor said earlier this week. "These people had crossed paths with her 40 years before — they were just amazed that after such a long time span, all these people still cared."
"She had a gift for bringing people together, whether to work for a common cause or simply to enjoy thoughtful conversation," the Gazette wrote in Mrs. Hardman's obituary. Mrs. Hardman died in December 2005, just five months after the celebration. Her legacy continues, as does Della Hardman Day, which takes place every year on the last Saturday in July.
"Somewhere along the line several people said well, maybe we should continue Della Hardman Day in her memory and her spirit," Ms. Taylor said. "Not as a perpetual memorial service, but as a celebration of the arts and the Island that she loved, and the people who she loved and who in return adored her."
This weekend marks the 10th Della Hardman Day, which begins Friday with the opening of a Featherstone exhibition. In honor of the milestone anniversary, Mrs. Hardman's students are returning to the Island, new artwork in tow. The exhibit also features work by Mrs. Hardman herself: an exquisite watercolor of Menemsha, three sketches of her three children, a painting of the East Chop Lighthouse. Mrs. Hardman painted the lighthouse in the 1940s, while she was studying at the Massachusetts College of Art. Her family found it only after she had died. The lighthouse is painted brown, as it was during World War II, to hide it from potential enemy strikes.
Mrs. Hardman would return to the lighthouse later in life, first as a lighthouse keeper, giving tours to visitors, and later as a student. A lifelong learner, she earned a doctorate from Kent State University at the age of 72. She wrote her dissertation at the top of the East Chop Lighthouse, having decided that would be the perfect place to write, and successfully acquired a key of her own.
"We feel there's a spiritual connection [to the lighthouse]," Ms. Taylor said. A sunset concert featuring the Martha's Vineyard Spirituals Choir, directed by Jim Thomas, will be held Sunday evening at the lighthouse.
The centerpiece of the celebrations, however, is Della Hardman Day itself, which takes place at Ocean Park on Saturday and has "become part of the fabric of the community," Ms. Taylor said. People begin calling her in January to find out who will be speaking at the program each year.
This year, there are three speakers: Harvard professor Henry Louis (Skip) Gates Jr., a fellow West Virginian; storyteller Susan Klein, Mrs. Hardman's neighbor of many years, and Julieanna
Richardson, founder of The HistoryMakers, a video project that has collected more than 2,500 oral histories of African Americans. Mrs. Hardman was interviewed for The HistoryMakers in August 2004, and Ms. Taylor has also been interviewed for the project.
Another crucial component of Della Hardman Day was started eight years ago: an essay contest for students at the high school. This year there were more than 160 entries, all on the topic of adolescent stress. Three winners and three honorable mentions each receive scholarships, which are provided with support from the Rotary Club.
"They were very thoughtful, very personal, and they were very intense and evocative," Ms. Taylor said.
She added that the contest is truly in the Della spirit.
"She would love the idea of encouraging young people to write and to document their experiences, and to express themselves," Ms. Taylor said.
"We're just delighted that her spirit continues — that kind of lifelong pursuit of learning, a belief that every day was a gift, and you really needed to savor the moment," she said. "We're trying to perpetuate her interests in culture and beauty and life and joy."
Della Hardman Day events begin at 4 p.m. on Saturday, July 26, at Ocean Park. A cake reception will follow, sponsored by the town of Oak Bluffs. For more information visit dellahardmanday.com.