August is a fabulous month for bird watching on Martha's Vineyard. The shorebirds are moving south and stop to feed on the sand flats Islandwide. Terns and gull adults and fledglings are moving and joining shorebirds on the flats. Passerines (song birds) have finished nesting and are introducing their young to their environments. Hawks are fledging and learning to hunt, and a few are inward bound from the north. There are passerines beginning to arrive to fatten up on-Island before setting off to points south.
So, perhaps a few pointers on bird watching are in order. A good pair of binoculars is important. Get to know your binoculars — how to use them and how to adjust them. Look at an inanimate object first and make sure you know how to find and focus on it. Then try with a bird in your backyard.
A field guide that shows only the birds of the United States is helpful. This book should include maps showing the bird's distribution, along with the various plumages of the different sexes and ages of the bird. Next, find a nice trail, reserve, sanctuary, beach or forest to scout for birds. Work on finding a bird with your binoculars. I tell people to find the bird with your eyes and then, without taking your eyes off the bird, slowly move your binoculars up to your eyes. You should be right on the feathered friend if you haven't moved your eyes!
The bird is now in view. Here is what to do next, and this depends on what habitat you are visiting. If you are on the beach, for example, look to see if the bird is long-legged (herons and egrets), or small and short-legged, running along the water's edge (sandpipers). It is important, no matter what size or shape the bird in question, to observe and remember or write down the following information: What color is the bird? (try to get all parts — head, back, breast, rump, etc.) What color is the bill? What shape is the bill — short, thin, down-curved, up-curved? What color are the legs? Then go to your field guide and look in the section that covers shorebirds, and, with the field marks you have observed, try to find what matches. Read the whole description of the bird because behavioral information is frequently included in a guide, and that can make or break a final ID.
Woodland birds are more difficult to start with as although their songs and calls are distinctive, they are tough to see amongst the leaves. If you have a good tape recorder or can record the call with an iPad or iPhone, do so. There are several sites online to hear bird songs or calls, and a CD of bird calls and songs is available, but you really should have a general idea if the bird in question is a hawk or a warbler. Try to figure out where the sound is coming from, and then scan to find the bird with your eyes. Again, slowly move your binoculars to your eyes without taking your eyes off the bird. Once again make note of colors, bill shape, wing bars, rump, head and eye markings. You will find a diagram in the front of all bird guides giving you the names of these markings, which include crown stripe, eye stripe, ear coverts, supercilium, lores and so forth. Don't panic — you will not be tested, just understand that to make a proper ID all these characteristics have to be observed as they are all the parts of a bird.
Identification can be as easy as a red bird with a thick horn-colored bill and a crest — a northern cardinal — or as difficult as separating the various sparrows, especially the look-a-likes such as the winter plumage chipping sparrow and the clay-colored sparrow, where only a rump color and eye line can be used to separate them.
Birding is a great hobby and a terrific way to explore the many habitats of Martha's Vineyard.
Bird Sightings:
The bird of the week was heard and not seen. Matt Pelikan heard a yellow-billed cuckoo in Edgartown on July 25.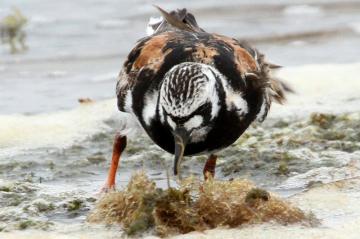 Other birds of note include a black vulture seen by David Stanwood on July 27 at the Tashmoo Water Works in Tisbury. Dick Jennings spotted two whimbrels at Little Neck on Chappaquiddick on July 24 and added that he also saw a black skimmer skimming along Cape Pogue Pond the day before.
Ken Magnuson was given a nice birthday present, a Cory's shearwater that he saw and photographed from a boat just off Chappaquiddick on July 26.
Nat Woodruff spotted and photographed a snowy egret at Sengekontacket Pond on July 25.
Penny Uhlendorf and Scott Stephens emailed that they found a Cooper's hawk nest at the Phillips Preserve in Tisbury on July 16. The clue that led them to look for a nest overhead was the whitewash on the plants at ground level. Penny and Scott watched the nest frequently and found initially three young Cooper's hawks.
On July 23 there were at least four and maybe five Cooper's hawks wandering around branches near the nest. Then there was silence as on July 25, the Cooper's hawks fledged and were not seen by Penny or Scott. Penny's comment was "It was another great raptor experience in the Phillips Preserve." Lanny McDowell was able to take photos of a couple of the fledgling Cooper's hawks.
The Hudsonian godwit continues to feed on the flats of Quansoo. Lanny McDowell, Warren Woessner, Flip Harrington and I spotted it on July 25, along with an amazing number of semipalmated plover; we guessed around 350 and 300 sanderlings! Shorebirds are definitely moving. We also found a single female white-winged scoter in winter plumage in Tisbury Great Pond — I do hope winter is not coming this soon! And speaking of numbers, Warren Woessner, Pete Gilmore and I estimated 2,050 common terns and 96 roseate terns, along with the two black terns at Norton Point on July 28.
Great blue herons are appearing in various locations on-Island and the number of great and snowy egrets are increasing as well. Donald and Dotty Gonson counted four great egrets and two great blue herons on Big Sandy on July 27.
Tara Whiting and Flip Harrington have been watching spotted sandpipers along the shore of Tisbury Great Pond this week.
Please report your bird sightings to birds@mvgazette.com.
Susan B. Whiting is the coauthor of Vineyard Birds and Vineyard Birds II. Her website is vineyardbirds2.com.