Sharon Simonin was taking pictures of American oystercatchers and what she called a young gull, resting along the shore at Lagoon Pond on August 3. To Sharon's benefit she shared the photograph, which was clear enough so that we were able to identify the bird as a non-breeding, or winter plumage, on a black-legged kittiwake. This member of the gull family is an unusual bird for the Vineyard at this time of year. Normally seen during the winter months, there was one other summer sighting by Deborah Swanson on July 15, 1990.
Black-legged kittiwakes have an interesting life cycle. They breed on cliffs in the far northern islands and mainland in April and May and then head south to winter offshore of both the East and West Coasts of the United States. We usually don't start seeing black-legged kittiwakes from the Island beaches until October, unless we have a storm from the north prior to that month. It seems that there are now records of non-breeding black-legged kittiwakes spending part of the summer into New England and California, but primarily offshore.
How would you like to be a female black-legged kittiwake and have to choose between male kittiwakes that make the best "choking" motion? If a male jerks its head up and down and slowly opens its bill in a certain way, the female kittiwake construes that as sexy and takes him as a mate. Once the female chooses a mate, she nods to the male and crosses his neck. Hmmm, I think I am glad I used another method to select my mate!
Then the pair vies with other kittiwakes on the cliffs where there are nesting colonies. There are fights over nest sights and much stealing of nesting material. The nest finally built, the female lays only two eggs, the first being larger than the second. This egg hatches first and produces a very aggressive chick, which often results in siblicide — the ejection of a sibling from the nest. This chick stays in the nest until it is ready to fly, unlike other gulls.
Sounding a bit like a broken record I would like to reiterate that the use of photography is very helpful in bird identification. Sharon is an excellent example of this. I always say if you don't know what it is, take a picture with a camera, cell phone, iPad or whatever device works to save the image! Don't forget when you do take a photo of your mystery bird, be careful to avoid disturbing the birds, their nests and, in particular, their chicks. This means don't get so close as to make the bird fly, the adults or chicks to leave their nests, and try not to "bump" the birds off their feeding area.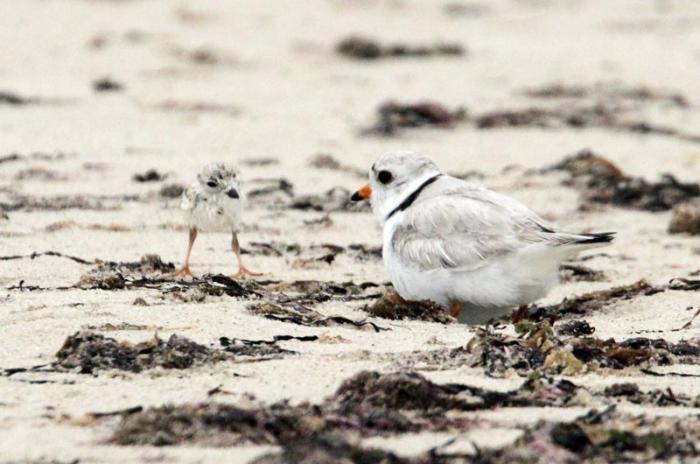 Bird Sightings:
There and Back Again, Satellite Studies of Juvenile and Adult Osprey Migration between North and South America is a presentation by Rob Bierregaard to be given at the Chilmark library at 6 p.m. on August 7. Admission is free.
The bird of the week is the black-legged kittiwake described above. Other birds of note are a yellow-crowned night heron seen by Jeff Bernier at Eel Pond on July 28, red knots seen by Jeff the same day at Little Beach, and five red knots seen by Ken Magnuson, Lanny McDowell and myself at Norton Point on July 31.
A royal tern spotted by Pam Sowizral flying north from Menemsha along the shore on July 28 and close to a dozen bobwhites that wandered across Penny Uhlendorf and Scott Stephens' Pilot Hill yard on August 1. Warren Woessner spotted an American golden plover at Herring Creek Farm on August 4.
Sarah Mayhew counted five northern harriers near the Quansoo Beach parking lot. We all were hoping that this nest would be productive and it seems it was!
Philip J Edmundson has been birding between Stonewall and Quitsa Ponds and picked up spotted sandpiper, great blue and green herons and American oystercatchers on August 1. Pam Sowrizral counted ten osprey fishing around Menemsha on July 28. Saskia Vanderhoop spotted three black-crowned night herons feeding along the shore of West Basin the week of July 21. Jeff Bernier sent several fabulous shots of green herons taken on August 2 at Little Beach as well as photos of immature black skimmers at the same location on August 4. Ken Magnuson reported a northern flicker at the Edgartown Golf Club on August 4.
Rob Culbert's August 3 bird tour went to Little Beach, Herring Creek at the Matatakesett Bay end, and the Farm Institute. They were able to see all of the shorebirds that are visiting the Island presently. Rob and crew added laughing gulls and killdeer to the list of birds arriving on-Island after breeding elsewhere. Rob also commented on what he considers an increase in house wrens on-Island. Other Vineyard birders agree that in the last 10 to 15 years there has been an increase in nesting house wrens on the Vineyard.
I am leading bird walks for the Chilmark Community Center at 8 a.m. for the next few Tuesdays in August. August 5 a small group went to Red Beach and West Basin. We counted eight great egrets, one great blue heron, a spotted sandpiper, two piping plovers, four laughing gulls in various plumages, and a plethora of semipalmated plovers, a few ruddy turnstones, sanderlings, semipalmated sandpipers and one least sandpiper, to name a few.
Please report your bird sightings to birds@mvgazette.com.
Susan B. Whiting is the co-author of Vineyard Birds and Vineyard Birds II. Her website is vineyardbirds2.com.