Two wins stand between the Martha's Vineyard Sharks and a repeat championship title.
The team powered to a 7-3 win over the visiting Torrington Titans on Monday night to secure their spot in the final round of the playoffs. The Sharks, seeded second in the Futures Collegiate Baseball League, will play the top-seeded Worcester Bravehearts in a three-game series beginning tonight at home.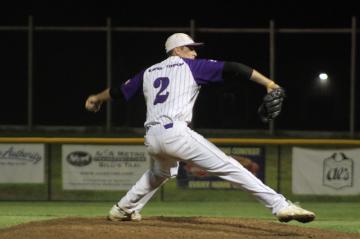 Game time is at 7 p.m. at the regional high school field. It is the last home game for the Sharks this season. They will continue the championship series in Worcester with games Wednesday and, if needed, Thursday.
The Sharks played the Bravehearts six times during the regular season, winning every contest.
Monday's game drew a large crowd of fans to the Shark Tank, with cars lining Stephenson Drive on both sides of the road. Pitcher Nick Fuller (University of Massachusetts Dartmouth) went six innings against Torrington, allowing just one run and striking out nine. Torrington managed two more runs before the game ended, but it was not enough to overcome the Sharks' early lead. The team exploded for six runs in the second inning, taking advantage of two Torrington errors. Vineyarder Jack Roberts had two hits and two RBIs to earn Player of the Game.
Fuller earned Pitcher of the Game, capping his performance on the mound with the news that he had been signed by the Miami Marlins.
Fuller is the fourth Shark to be drafted this season. Pitcher Austin deCarr and infielder Will Toffey were taken by the New York Yankees and outfielder Luke Bonfield went to the New York Mets. Sharks alum Tad Gold was also drafted, and now plays in the Baltimore Orioles system.