Classic vintage automobiles, custom trucks and and polished hot rods lined Main street on Sunday for the Tisbury Firefighter Association's Annual Car Show, now in its eighth year.
A committee of five firefighters and two volunteers hosted the four hour show with help from the Tisbury fire department and the Rotary Club of Martha's Vineyard.
Ken Maciel, chairman of the committee and a Tisbury fire captain, said about 90 cars were expected to show up this year for the annual event, which raises money for the Tisbury Fallen Firefighter Fund.
For a $10 fee participants enter their car, truck or motorcycle for a chance to show off their wheels with the possibility of taking home one of the five trophies awarded for best in show. The organization also raised money at the event by selling burgers and hot dogs at a barbecue stand, as well as T-shirts.
Mr. Maciel said the fundraiser brought about 3,500 people to downtown Vineyard Haven this year. "I'm a car guy," he said. He even entered his own yellow and black 2010 Camaro SS into the show.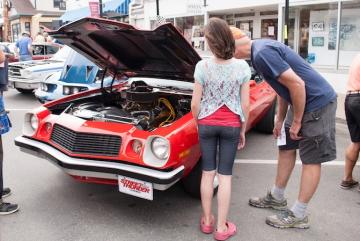 "We do this to raise money for the firefighter fund but also because we've got quite a few car guys on the department," he added.
Most of the vehicle owners roamed Main street, checking out the competition or grabbing a hot dog.
But some stuck around and educated people about the history of their unique automobile. Parked in front of the Bunch of Grapes Bookstore, David Pritchard of Oak Bluffs sat in his 1931 Chevrolet Panel Truck. He waved to people passing by. "Oh, I love this. It's the one show that gets me to take the truck out and wax it up," Mr. Pritchard said.
He has entered his Chevrolet at the annual show since 2010, he said, with the exception of last year, when the starter in the car broke en route to Main street.
This year he had a plan. "This morning I went to church and prayed it would start and it did," he said. "I arrived here just after 1 p.m. today. My prayers were answered."