In August of 2012, a chance meeting with Bacio, Roberto and Marco during a trip to the Agricultural Fair changed everything for Marc and Mary Beth Daniels.
"We fell in love with them," said Mrs. Daniels, referring to the three friendly Huacayas from Island Alpaca.
A month later, the Daniels bought three alpacas for their West Tisbury property, which they named The Farm at Lotus Pond.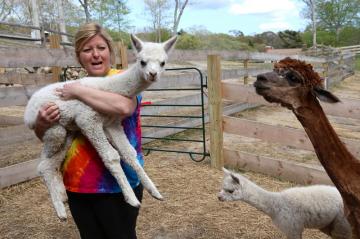 "We're from New Jersey and there is an alpaca farm in the next town, so we'd bike by it all the time, but we never thought we'd have them," Mrs. Daniels said.
Now the Daniels have a total of 36 alpaca. "We are a working, breeding alpaca farm. We're really spending a lot of time selecting incredible animals," said Mr. Daniels.
Some of the alpaca in their herd come from as far as Washington, Oregon and Arizona.
Although the journey can be a long one, the relaxed temperament of alpacas seems to help them adjust once they arrive at the farm.
"I tell them that they hit the jackpot because from the top of our pasture you can see South Beach," said Mr. Daniels.
He also noted that because the Island's climate is so similar to the alpaca's native environment, they usually adapt quite well to their new home.
"The climate in South America is 20 to 61 degrees, low to high, and the average mean temperature in Martha's Vineyard is 21 to 71, so if you think about it, this is really an ideal place," he said.
This spring, members of the Daniels' herd won several awards including one color championship banner, one reserve color championship banner and 26 ribbons, which included nine first place and eight second place ribbons.
"We did really well for a new farm," said Mrs. Daniels.
With the arrival of 10 new alpaca, the Daniels have more reasons to celebrate. The first cria (newborn alpaca) of the season, born on Earth Day, was named Gaia which means goddess of the earth. Mrs. Daniels delivered Gaia herself.
"From when I called until he [veterinarian Steven Atwood] got here, I just kept massaging the mother and I eventually got a foot out and another one . . ." she recalled. "They say 95 per cent of the time they have no problems and they can do it themselves."
So far, Mrs. Daniels has delivered three cria.
Aside from being an alpaca farmer, Mrs. Daniels is also a chaplain for Hospice MV. She has also attended a workshop facilitated through Paws for People, an organization that trains both animals and their handlers in how to facilitate therapeutic animal visitations. Having seen the positive effect that alpaca have on hospice patients she has brought to the farm, Mrs. Daniels wanted to become certified to do pet therapy with her alpacas.
"They have a very calm nature to them," she said. "They are just very tranquil, peaceful animals. They're really good with people that are sick. You can't have a bad day if you come out here with them."