Ninth grader Emily Hewson had just finished reading her peers the plaque outside the Overton House, the former home of a civil rights political leader and one of the stops on the African American Heritage Trail, when the field trip took an unusual turn.
"It seems we have lost the principal!" Elaine Weintraub, history teacher and a founder of the African American Heritage Trail, announced. The high school freshmen craned their heads around one another to see if, in fact, the principal was missing. He was.
"I think I saw him talking to a neighbor back at Nashawena Park," Ms. Weintraub told the class. "That's your new principal. He's so social. He's so friendly."
A minute later Gilbert Traverso came around the corner of Narragansett avenue, slowly jog trotting toward the class.
"You're back! You found us!" Ms. Weintraub said. "We were just discussing the history of this home."
The Overton House was one of a dozen historical landmarks on the African American Heritage Trail that ninth graders from the regional high school visited this week. In all, the trail has over two dozen sites, each one telling a different story of African American history on the Island.
The heritage trail field trip, a staple of the high school's history curriculum introduced by Ms. Weintraub nearly two decades ago, teaches students African American history both inside the classroom and out. In history class this year, each ninth grader will select a person or place featured on the trail for a research project that they will present to their class later in the year. Half the freshmen class went on the field trip on Oct. 8 and the other half on Oct. 9.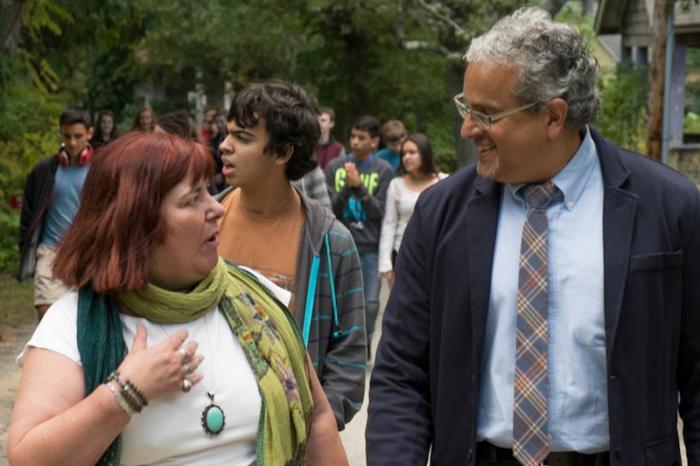 This year was the first time in school history that the principal tagged along. "No administrator has ever been on this trip," said Ms. Weintraub. She added:"Mr. Traverso was really interested in it and I think he likes being around the kids and getting to know them. He never just says hello to somebody, he always wants to know more. As everyone can see, he really enjoys having conversations."
Mr. Traverso, who recently moved to the Island and is in his first year as principal, said the trip intrigued him because he wanted to get to know the ninth grade class. It would also serve as a good guide for the Island, as he is still getting used to his new home. "I haven't had a chance to see Martha's Vineyard," he said. "What better way to see it than through the heritage trail?"
For the remainder of the trip, Mr. Traverso stayed with the group and didn't get lost.
The trail tour also included a trip to Shearer Cottage where Lee Jackson Van Allen greeted students and invited them inside the historical Oak Bluffs inn. Ms. Van Allen is the great granddaughter of Charles Shearer, a former slave. She spoke to students about her family's history and their unique connection to the Island. Then she gave a tour of her backyard and students roamed around and took pictures with their iPhones.
"How wonderful is it that our kids are invited inside as part of a field trip?" Mr. Traverso said. The good hospitality gave him an idea.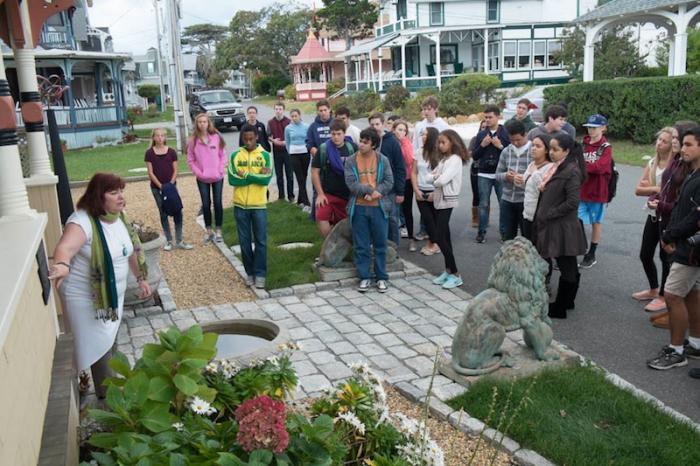 "Wouldn't it be great if our horticulture students came here in the spring and fixed up the grounds? It would really be cool for us to give back a bit of reciprocation," he said. "I'll have to talk with more people and follow up on that for the spring."
Walking back to the bus, Ms. Weintraub reflected on Mr. Traverso's idea. "This idea of his, this idea of giving back to Shearer Cottage, it's just wonderful. He's building community. That is the whole point of the heritage trail. Learning history and giving back," she said. "That's how the trail works."
"I'm so happy he wanted to come and I'm so happy he came," said Ms. Weintraub. "And not everyone has the patience for a bus full of ninth graders, but he certainly does."
The students were happy he came too.
Malick Burke, 14, of Edgartown, said he had no idea the heritage trail existed, or that principals went on field trips. "I came to school a couple days early this year and the principal was there and someone introduced me to him so I met him then," he said. "But I didn't know he would be here too. It's cool."
Tiffany Freitas, 14, of Vineyard Haven, agreed. She had never been on a field trip with her school principal before, but thought it was cool. "I like taking pictures," she said, while snapping a photo of the school principal.
And Destiney Berninger, 14, of Oak Bluffs, said she wouldn't mind going on the trip next year too – especially if the principal was going to ride the bus again. At the beginning of the day, Destiney wasn't sure what topic she would want to research for her project, but by the end it was a no-brainer. "The Isabell Powell Cottage because it's also called the Bunny Cottage and I like bunnies. I think they're cute," she said.
Destiney said walking by the Bunny Cottage and eating French fries at lunch were her "third and second favorite parts of the day."
Her first favorite part was being with the principal. "He's funny," she said, "and nice."