The sound of bagpipes greeted guests as they arrived at the Grange Hall Thursday evening for the presentation of the 32nd Creative Living Award. Only the strains of Scotland the Brave (as played by Tony Peak) would do for the award's recipient, Steve Ewing. Mr. Ewing, in addition to being poet laureate of Edgartown, is a dock builder, a conservationist, a public servant, and, as nearly every speaker pointed out, a Scotsman.
But it was Mr. Ewing's contributions to the Island that were celebrated Thursday.
"I could not have survived the harbor master position without Steve Ewing's help for the last 20 years," Edgartown harbor master Charlie Blair said. They talked daily, he said, usually about the weather. It used to be just via radio, Mr. Blair said.
"Steve has email now," he said, to knowing laughter from the audience. People who live on the Island for a long time have learned to adapt, Mr. Blair said. He noted Mr. Ewing's adaptability, his common sense, his ability to get right to the heart of the matter.
"What was I thinking?" speaker Ronald H. Rappaport said of his years on the Permanent Endowment Board, which nominates Creative Living recipients. "How come I didn't come up with Steve's name?" He read aloud from comments left on the Gazette website after Mr. Ewing's award was first announced.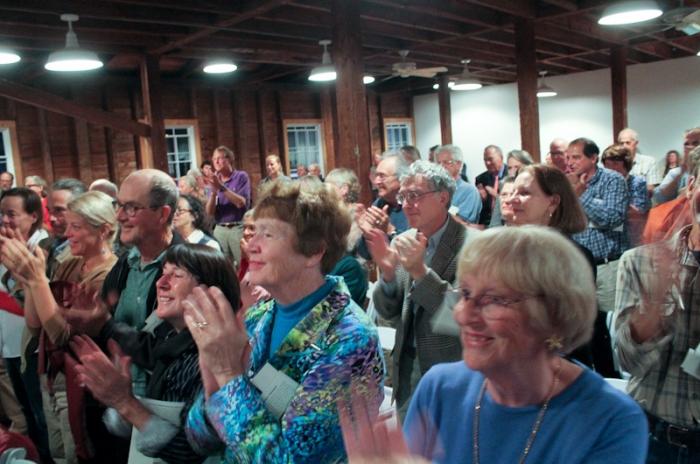 "Congrats to a true Vineyard treasure," one read. "To a king of words and a master of the seas," said another.
Mr. Ewing also received a citation from the State House of Massachusetts for "protecting and enhancing Martha's Vineyard," presented by Kaylea Moore on behalf of State Rep. Timothy Madden.
His Creative Living award featured a large gray rock as the centerpiece.
"What beach did you steal this from?" Mr. Ewing joked.
Mr. Ewing's son Niko and sister in law Elizabeth Bradley performed one of Mr. Ewing's poems, which Ms. Bradley had set to music. Mr. Ewing read the same poem, Island Song, aloud during his own remarks. The words were just as rich spoken as they were sung.
"I write a lot of crappy poetry, I really do, but every once in a while you get a good one," Mr. Ewing said. Sometimes they just came to you, he said.
The speech was filled with nods to the entire Vineyard community. Mr. Ewing's eighth grade English teacher Kerry Alley. His wife Claudia, and his mother in law Doris. Fellow dock builder John Packer. Fellow poet laureate Dan Waters. The Edgartown selectmen. Fellow Creative Living award recipients. And so it was no surprise that Mr. Ewing's poem he had prepared for the occasion was titled We Celebrate Ourselves. The award was for Steve Ewing, but like the man himself, it was of the Island.