Anticipation filled the meeting room at the Chilmark town hall for the long-awaited lottery for four affordable homesites at Nab's Corner. The standing-room-only crowd included most of the 14 applicants, along with members of the housing committee and the board of selectmen.
"The journey to bring these four properties to be awarded has been a long one and not without its challenges," housing committee chairman Jim Feiner said prior to the drawing.
The four lots on South Road became available this year following several years of negotiation and court proceedings with the previous owners.
All four lots were awarded to Chilmark residents who had been given special preference based on the town's homesite housing guidelines. The winners were Mathea and Chioke Morais, Calder Martin and Caitlin Cook, Dennis Jason Jr., and Gerald Caton.
Each lot will be leased for 99 years at a cost of about $25,000.
Former selectman Frank Fenner, who was instrumental in negotiating the land swap that eventually enabled the homesite lottery, was honored by being asked to draw the numbers.
"It was a long time coming," Mr. Fenner said, acknowledging the work of others in the community. "There is not a more noble venture, as far as I'm concerned, than to try to make affordable housing."
Many of the applicants were young families or couples.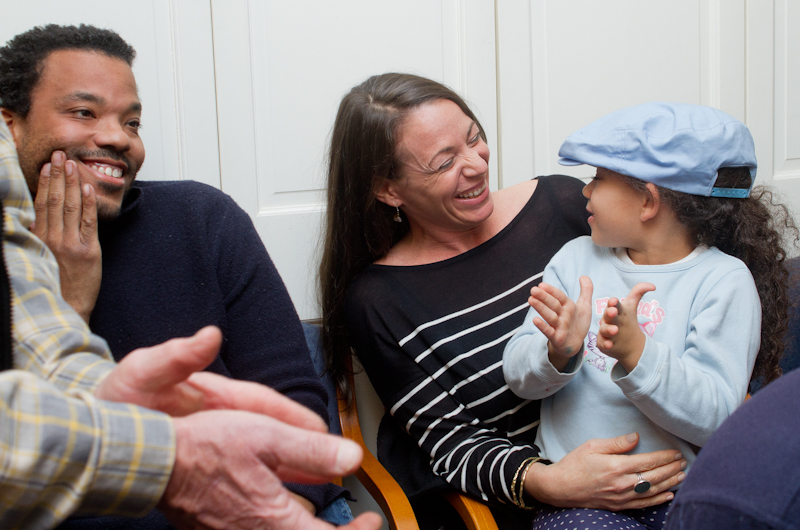 Mathea and Chioke Morais moved to Chilmark about eight years ago and have been living with their three young children in the house of Mrs. Morais's mother. "It's really in the last three or four years that we realized we really wanted to stay and that this is our community," said Mrs. Morais, a history teacher at the charter school. Mr. Morais is an artist and carpenter.
Dennis Jason Jr. has lived in Chilmark all his life but this was his first chance to purchase affordable land for a house.
Applications were submitted in October and reviewed by the housing committee. Preference was given to those who had lived or worked in Chilmark or volunteered in the town's public service sector for at least five years. Secondary preference was given to those who had lived on the Vineyard or who volunteered in public service on the Island for at least seven years.
All 14 applicants were ranked according to the order of the draw. (Those with preference had their numbers drawn first.) Any vacancies in the list will be filled by those next in line.
Town officials emphasized that there would likely be other opportunities to purchase affordable homesites in the future. Mr. Feiner wished that every qualified applicant could have been awarded a homesite, and he said the town is looking for "better ways to satisfy the obvious need."
Selectman Warren Doty pointed out that the Island's need for rental units is greater than ever. "But they are the most expensive things for the town to create, so we've moved more toward resident homesites," he said. The town has already identified a potential site on Peaked Hill where more sites could be created.
The evening ended with applause and a round of congratulations.