When Margot Weston, age 100, gave up driving not long ago, it meant she needed someone else to take her to the ferry and to doctor appointments. But she said it wasn't age that prevented her from motoring around the Island, it was height. "I'm too short," she said. "I can't see into the mirrors anymore."
For Ms. Weston and approximately 30 other elderly members of the Island community, a virtual village called Vineyard Village at Home connects them with volunteers who provide transportation and other services while they remain living at home. Members pay $475 a year and in return receive help when they call on their virtual village.
Polly Brown is the coordinator and founder of the nonprofit program, which she began in 2007. Ms. Brown recently organized a birthday party for members and volunteers. About 40 people gathered at the community room at Hillside Village and helped Ms. Weston celebrate her milestone while catching up with each other and enjoying a sing-along.
Volunteers and members at the party were quick to praise the program and its benefits.
"These people are an example of what I hope to achieve when I'm 100," said volunteer Jane Puetthoff, who spends part of her time off-Island but enjoys getting to know the members when she's on the Island.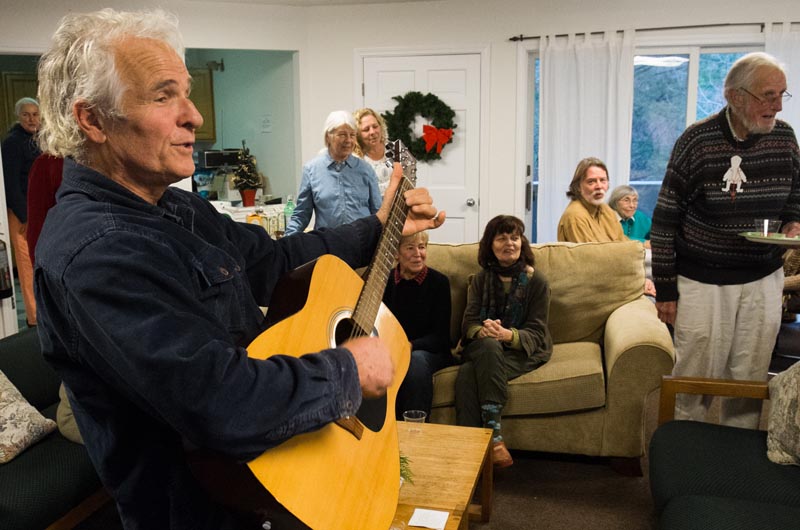 Ms. Brown said volunteers and members often form strong ties.
"One volunteer has more or less adopted one of our members who has become a surrogate grandparent for her kids, coming to all their family events — parties, graduations," she said.
Volunteer Larry DiBernardo moved to the Vineyard full time a couple of years ago after he retired. He had visited for years but was looking for something to do in his new community.
"I have a 96-year-old mother in Connecticut, so I understand what some people are going through in getting to places and remaining active," Mr. DiBernardo said.
He drives Rhoda Diamond to the discussion group at Howes House on Tuesdays and afterwards gives her a ride to the market or the post office or the bank, wherever she needs to go that day.
"She's a very interesting lady, very active for her age," he said. "She's always out doing things, she's everywhere."
Vineyard Village at Home is modeled after Beacon Hill Village, the original virtual village program in Boston. One of the founders is a good friend of Ms. Brown's and helped her when she decided to form a program on the Vineyard. with the village's benefits. The idea is to help people stay engaged in their communities for as long as possible.
Ms. Brown coordinates services between the members and volunteers via email. Members call her with the dates and times that they need help, and she plugs their request into a spreadsheet that gets emailed to the volunteers. If volunteers can help, they reply to the email and Ms. Brown sets up the rendezvous. There are no time requirements for the volunteers; they serve whenever they choose to help.
Ms. Brown said she is always looking for new volunteers, especially since the Island population shifts seasonally. Some volunteers are busy with visiting guests in the summer or go away for the holidays and then are not as available, Ms. Brown said.
She also wants to raise awareness of Vineyard Village at Home among older members of the community. Volunteers can help them with a wide range of things: a ride to the theatre or to a veterinary appointment for the cat, or navigating the internet.
"When we get older, it isn't always possible to climb onto a step ladder to change a light bulb or to change batteries," Ms. Brown said. "We can help with computers or minor household things. We want to be able to meet the needs of all our members."
For more information about Vineyard Village at Home, visit vineyardvillage.org or call 508-693-3038.