Nat's Nook really is a nook as it sits back from Main street, Vineyard Haven, in a space usually occupied by trinket carts during summer. Once discovered, a secret world opens up, one with crepes of all kinds, from reubens to s'mores. And on recent Friday evenings Nat's Nook has brought back music to the space which formerly housed Che's Lounge.
Last Friday, Nina Violet, Rose Guerin and the Fruit Flies (Elijah Berlow and Charlotte Benjamin) performed after a rare piano warm up by Mait Edey. Young kids sat around a low table while teens and twenty-somethings sipped lattes, and more than a few grandparents chatted with friends in between songs.
The Fruit Flies played first. Made up of Charlotte Benjamin and Elijah Berlow, the Fruit Flies were celebrating the release of their EP Root Cellar Songs. As the two performed, Ms. Benjamin, who is about to begin her second semester at Marymount College in Manhattan, announced that Mr. Berlow would be leaving for New York the next morning.
"Yeah, I'll be taking the mega bus," he said.
He later explained that he will join Ms. Benjamin in the New York and the two hope to play open mic nights there. Friends wished them luck, including Mr. Berlow's umpire from his little league days, who had come to the show to hear Mr. Berlow play. By the end of the night, the Fruit Flies had sold every copy of their EP.
The music continued with Ms. Guerin's acoustic set. She has long been part of the alternative folk endeavor Vandaveer. Nina Violet joined Ms. Guerin in a duet, playing viola and adding her voice for what sounded like two Patsy Clines coming together.
Nat's Nook owner and Chilmarker Natalie Grewal first opened the rustic creperie in early June with hopes of running a year-round business. She enlisted the help of Alex Karalekas, who heads up the potluck jam in Chilmark during the winter, to host occasional music events. The plan is to continue the acoustic-flavored coffee house occasionally, bringing live music back to Vineyard Haven.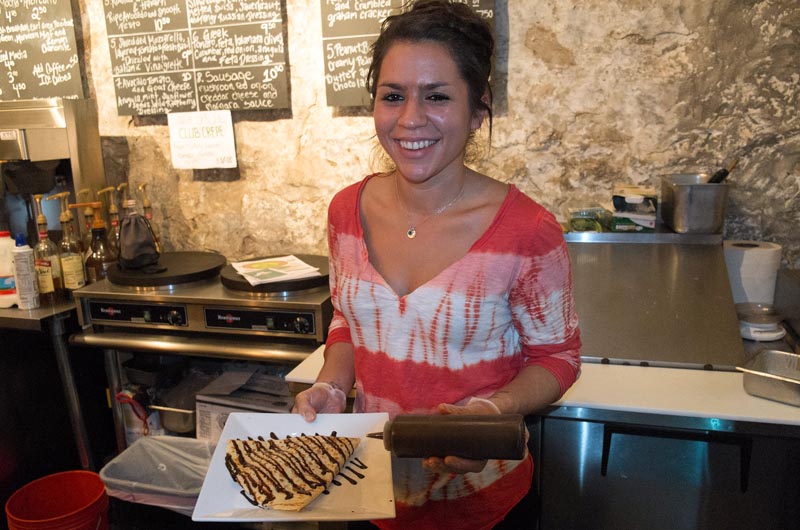 Ms. Grewal is 28 years old, and first came to the Island to work summers eight years ago. She has lived and worked here year-round for three and a half years and said it was always her dream to open a place where the coffee was good and the atmosphere felt like home. Crepes, both sweet and savory, make up the menu and they can all be made gluten free.
"I wanted to do something we don't have here," Ms. Grewal said. "Something we don't have, but that people would want to try."
On Friday, all of the round wooden tables, handmade by Ms. Grewal's husband Andrew Kahl, were filled with people enjoying the show. There was even an overflow crowd taking up residence in the chilly outdoor courtyard.
"Natalie seems to be running a pretty tight ship," Mr. Karalekas said. "She's been very careful to make the town happy and to make the community of musicians happy by opening the doors to us."
Judging by the empty coffee cups, everybody was happy.
Nat's Nook is open seven days a week, from 7 a.m. to 4 p.m. Call ahead, 508-338-2340, or check out the menu at natsnookmv.com.