An endangered Atlantic sturgeon, once common around the Vineyard but virtually unseen here for decades, washed up on the north shore on Friday.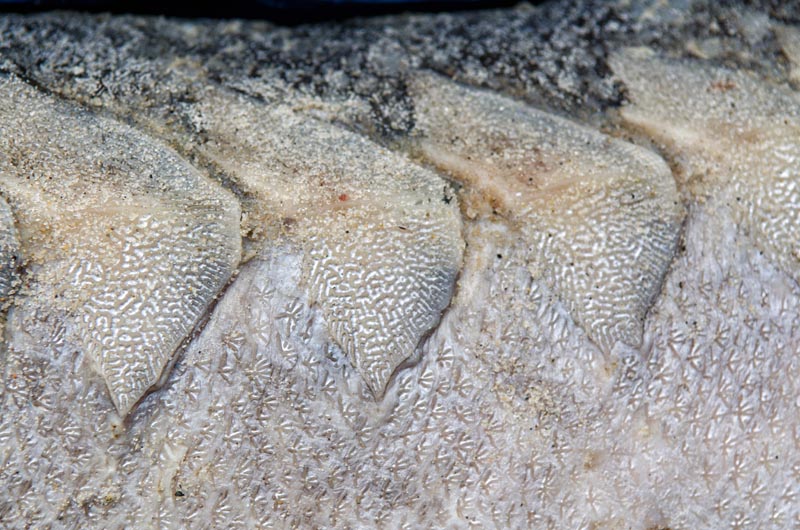 Lucy Thompson discovered the dead fish while walking with Keith Chatinover at Makonikey on Friday. On Saturday she and her brother, Oscar, along with their mother, Liz Packer, recovered the fish and brought it to BiodiversityWorks in Vineyard Haven, where Oscar is an intern.
"It was in very nice condition," BiodiversityWorks director Luanne Johnson said on Tuesday. She added that the discovery was a "pretty rare event," and that it was her first up-close encounter with a sturgeon.
An official from the Division of Marine Fisheries is expected to inspect the fish next week to see if it contains a small electronic tracker that could reveal its habitat of origin. The DMF has been tracking sturgeon for about 15 years.
Ms. Johnson is working with the DMF and the National Oceanic and Atmospheric Administration to investigate the find.
Atlantic sturgeon is a species older than the dinosaurs. Its body shape and other physical characteristics remain largely unchanged throughout the fossil record. But most of the 25 sturgeon species are now endangered due to overfishing.
Mike Bednarski, DMF stock assessment specialist, said the sturgeon that turned up Friday might have come from anywhere between the Saint John River in Canada and the Altamaha River in Georgia. Sturgeon species are widely distributed along the Atlantic coast.
"It's not uncommon for this fish to die and wash ashore," he said. "But their appearance is very unusual, so we tend to hear about them when they wash up."
Kib Bramhall, a longtime Vineyard fisherman, recalls seeing sturgeon south of Chappaquidick in the summers throughout the 1940s, '50s and '60s. "You could see them jumping from the beach," he said. "And they would jump up horizontally from the water and fall back in, making tremendous splashes. It was quite a sight to see."
But the fish eventually vanished from Vineyard waters altogether. "I haven't seen one myself in at least 40 years," Mr. Bramhall said.
He recalled Sheila Rice, a summer resident, once caught an 80-pound sturgeon off Chappaquiddick in the late 1950s or early '60s. The recent find weighed only 50 or 60 pounds. Atlantic sturgeon can reach up to 14 feet and 800 pounds.
Sturgeon are bottom feeders, using special organs near their mouths to forage for whatever invertebrates and small animals they can find. They are anadromous fish, spawning in fresh water and then migrating, usually to shallow coastal waters.
Mr. Bednarski said the recent specimen was likely drawn to the rich foraging grounds and shallow waters around the Vineyard. "It was probably just looking for a meal," he said.