The first person Shelagh Hackett met when she showed up at the Vineyard Playhouse for an audition in 1987 was Paul Munafo. The playhouse was putting on a Steven Sondheim musical, and Ms. Hackett had just arrived from New York city for a summer of theatre — her first of several before she moved to the Island full time. Mr. Munafo was on his way to becoming a playhouse regular. His first stage role had been three years earlier, during a playhouse production of My Three Angels.
In 1985, When Kenny Romero was a junior at the Martha's Vineyard Regional High School, he sang in the chorus for an Island Theatre Workshop production of Gilbert & Sullivan's Pirates of Penzance. Mr. Munafo was in that show, too. It was also Molly Conole's first show on the Island, and Mr. Romero still remembers hearing her crystal-clear soprano in that performance.
The connections from long ago keep coming. There was an Annie performance that featured Mr. Munafo and Mrs. Conole; She Loves Me, with Mrs. Conole, Ms. Hackett and Mr. Munafo.
"We've done a lot of fun things together," Mrs. Conole said, as she took a break from rehearsing the latest fun thing the fours singers are working on — a 24-song cabaret. It has been a reunion for the singers as over the decades some of the players have lived off-Island for long stretches. Somehow Mr. Romero and Ms. Hackett had never worked together, not even in the early days, but with Wicked Good Cabaret, they have been able to change that. This Saturday, Jan. 24, will be their third cabaret of the winter season.
Last weekend the quartet was rehearsing with pianist Wes Nagy, working for hours to figure out what tempo the songs should be played at, and how best to transition during medleys.
"Does this seem like a good speed for dancing?" Mrs. Conole wondered. A metronome tick-tocked a steady beat.
Mr. Munafo and Mr. Romero's voices blended in perfect harmony as they sang I Want to Be Happy from No, No, Nanette. Ms. Hackett and Mrs. Conole joined in. Then Mr. Romero burst into a tap-dancing performance, clickety-clacking across the stage. In the group's most recent cabaret, which took place in December, he was a tap-dancing Santa.
Mr. Munafo took a break to help adjust the wiring so Mr. Nagy could better hear the vocalists. His fellow performers practiced I Want it All from Baby. Mr. Romero had changed back into winter boots.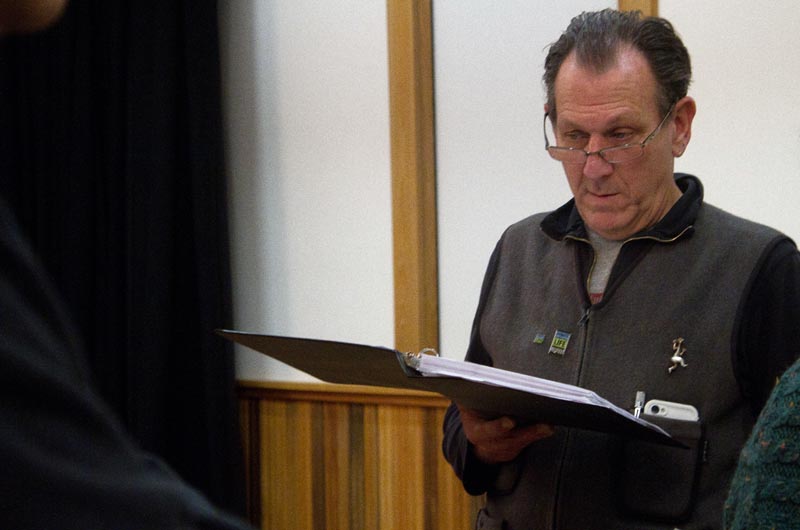 The team rehearsed a Disney medley, one that features Mrs. Conole singing Some Day My Prince Will Come. She worked as Snow White at Disney World for a time, and demonstrated a Snow White laugh for her fellow performers, which turned into an out-and-out belly laugh.
The group's collective background is a hodgepodge of performances. Mr. Munafo estimates that he's been in about 50 stage plays at the playhouse. He also founded the Fabulists childrens' summer theatre troupe. Mrs. Conole majored in music in college, wrote her own show, and did dinner theatre and choral singing in Florida. Ms. Hackett earned a theatre degree from New York University, performed in off and off-off Broadway shows, and sang in nightclubs. Mr. Romero, whose career began as a Minnesinger, sang on a cruise ship for a decade before moving to New York. He landed a role in Cats right before the Broadway show closed its run, and never even made it to the rehearsal room. Later, he worked on shows in Germany and Las Vegas.
Cabaret conversations began a couple years ago, but were put on hold while the playhouse completed its renovation project.
"It's fun to be able to do something on the Island, to bring the Island something different," Mr. Romero said. The cabarets mesh perfectly with the playhouse's new winter programming, which includes coffeehouse-style performances and movie nights.
"We've had requests from people [asking] can't you do them more often?" Mrs. Conole said.
The first Wicked Good Cabaret was held downstairs in the lobby and drew a standing-room-only crowd. The performers had planned to move around the lobby and interact with the audience, but there wasn't space for that. The next show was upstairs in the theatre space, where there are more seats. That one sold out, too, even with a row of chairs set on the stage to accommodate a larger audience.
"That was really lovely because it helped to give more of that cabaret feel," Mrs. Conole said, "but still everybody can be comfortable."
"Cabaret is loose," Mr. Munafo added. "It's loose, and it's got a great vibe to it. The point is to have fun and sell the material — that unto itself is a good time." The initial cabaret was Mr. Munafo's first time back onstage after a liver transplant. Coming through that one, he said, was unbelievable.
Ms. Hackett joined the group for the second cabaret in December. She had been directing the Oak Bluffs School fall show, and even after that show had wrapped she wasn't sure she'd have the time to fit learning songs into her already busy schedule of being a mother, wife and teacher.
"I would say, even up to the dress rehearsal. . . I was like, this is too stressful for me," she said. "I don't have time, and I can't memorize anymore. And then I had so much fun. I'm having so much fun here. I just need to remember that this fulfills me, and then that inspires me to work hard."
All of the singers have full-time jobs, and fitting in time to learn lyrics and melodies is a challenge. They sing while walking their dogs or while driving to work. Ms. Hackett's children learned some of her songs by osmosis, which helped with memorizing. The actors admitted they aren't as young as they used to be, which can make committing words to memory more difficult.
"Getting older, it takes a little more time to retain," Mr. Munafo said.
"I walk with my sheet music. I'm such a music head," Mrs. Conole said.
"Writing it out really helps," Mr. Romero added.
Sometimes they invent ways onstage to help with the lyrics. At one show they pretended they were subway musicians, working folders with the lyrics into their overall act. In the same show, Mr. Romero pasted his songs into a giant Christmas card. Ms. Hacket made up her own lines, but she still rhymed the new ones.
"I was sitting over here blown away," Mr. Romero said of the improv.
Having the freedom to roll with the punches, and having the performance experience to know how to pull it off seamlessly means the performers are having just as much fun as the audience.
"It's kind of low-tech, but people love it," Mrs. Conole said.
Wicked Good Winter Cabaret, featuring Molly Conole, Shelagh Hackett, Paul Munafo and Kenny Romero is Saturday, Jan. 24, at 7:30 p.m. at the Vineyard Playhouse. Tickets are $23.