The sound of bagpipes kicked off the Scottish Society of Martha's Vineyard's 28th annual Burns Nicht Supper as tartan-clad revelers made their way into the dining room at the Harbor View Hotel.
About 90 guests attended the Saturday night event, which celebrated the 256th anniversary of the birth of the Bard of Scotland, Robert Burns.
The celebration included toasts, music, poems, auctions, and of course, a traditional Scottish dinner complete with a Procession of the Haggis, led by Harbor View cook Tim Dutilly and followed by a parade of gentlemen in kilts. After Alan Reekie read an Ode Tae a Haggis, he shared a toast with Mr. Dutilly and Steve Ewing.
"To the haggis!" they said as cheers followed.
Following the toast, Pastor Richard Rego blessed the haggis with a Selkirk Grace followed by a performance by Scottish Society Singers, who sang a arrangement by Dorian Lopes of Mr. Ewing's Highland Song poem. It was a meaningful moment because Mr. Ewing's father and Mr. Lopes's grandfather were founding members of the society.
"The fact that it still carries on in this way, I think they'd be very pleased," Mr. Ewing said.
As the dinner began, master of ceremonies Chris Scott led the Burns Nicht Auction which included a variety of items donated by Scottish Society members as well as items made from the Martha's Vineyard District Tartan, designed by Dr. Philip Smith of Tennessee. Dr. Smith is a 12th generation descendant of early Vineyard settlers.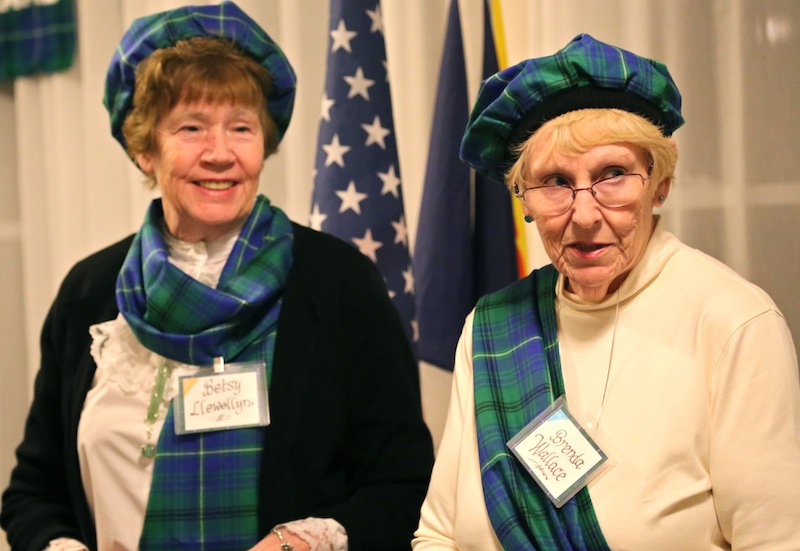 He chose the colors of the Vineyard tartan to reflect elements of the Island: green for the land, blue for the water, white for the crashing waves, and black for the men and women who have died at sea. The tartan was made at Lochcarron Mills in Scotland and is certified with the Scottish Register of Tartans.
Proceeds from the auction benefit the Scottish Society High School Scholarship Fund.
After the dinner, members continued to celebrate with a host of toasts, to the President and to the Queen, to the lassies and to the laddies, followed by parting songs including a bagpipe rendition of Amazing Grace performed by Jim Joyce.
"It's a lot of work, but it's good to pull it off," said Scottish society president Edward Pierce.