A new facility for youth mental health services and a new field for Little Leaguers received funding Tuesday night as the recently established MVYouth community fund presented its first two expansion grants, part of a $1 million yearly campaign to help the Island's youngest residents.
Martha's Vineyard Community Services received a grant of $620,780 to build the Island Wide Youth Collaborative Center on its campus. The center will provide services for youth mental health issues and substance abuse. Construction is expected to begin in May, with the center to be completed and in operation by October. More than 1,800 children and families will be serviced by the programs, MVYouth executive director Lindsey Scott said.
Martha's Vineyard Little League received $177,810 to finish construction of its flagship Penn Field project, which has been in the works for nearly eight years. Between 300 and 350 children, both boys and girls, participate in Little League each year.
The grants are part of a broader philanthropic effort launched by seasonal residents Daniel Stanton and Jim Swartz last year. MVYouth pulls together the efforts of 46 donors, each of whom have pledged $25,000 per year for at least four years. One million dollars will be given away each year; the funds not used for grants go towards full-ride scholarships to college. The $4 million campaign is entirely for the benefit of Island youth, advisory board member Ronald H. Rappaport said Tuesday.
Mr. Rappaport said that the group of donors made their commitments in a period of less than six weeks.
"It really says something about our community and the desire of our larger community," he said. "I actually haven't seen anything else like it in my years involved [in Island initiatives]."
He explained that the goal of MVYouth was to have its funding be "the last money in." The grants were not intended to be seed money but rather a final boost over the finish line.
"The goal was to let the organizations do what they do best," he said. "Not be out fundraising with a tin cup to get the money they needed."
"We half expected Ed McMahon to be on the other side," community services director Juliette Fay joked as she received the ceremonial Publishers-Clearinghouse-esque check from Ms. Scott. Ms. Fay was joined by fellow youth collaborative members Nell Coogan, Amy Lilavois, Theresa Manning and Jill Robie.
The Island Wide Youth Collaborative was formed as a response to rising rates in psychiatric care for Island kids and teens, Ms. Fay said. The group has been working to fill service gaps for kids on the Island. "And there are many," she said.
Through grants from the Tower Foundation and the state of Massachusetts, the collaborative received enough money to develop programs for the initiative. The Tower Foundation grant came through last fall, and provided $300,000 per year for two years.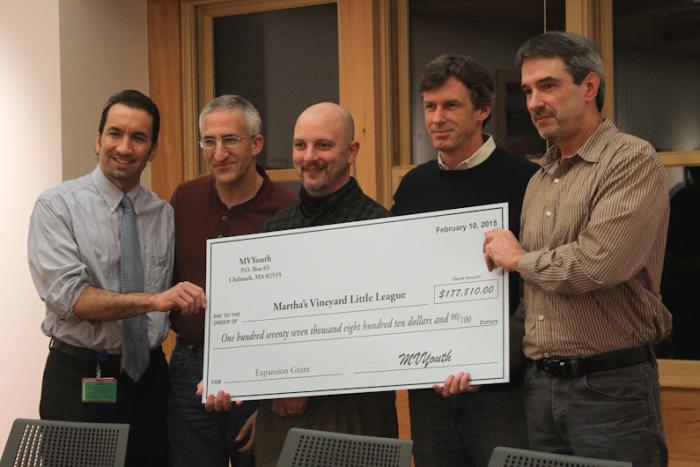 "We started saying 'Wow, this could come together,'" Ms. Fay said. When the state funding was approved, it was for $250,000 per year for 10 years.
"Then we got really excited," Ms. Fay continued. But the programs that were being developed still did not have a physical home. Thanks to the MVYouth grant, a new modular facility will built by Squash Meadow Construction on the Community Services campus.
"It's a vision we've had for over 15 years," Ms. Lilavois said. "Thank you."
Little League's Penn Field charted its own lengthy course to completion, relying heavily on the "tin cup" efforts Mr. Rappaport referenced.
"We've been chipping away at this project for a very long time," said Phil Regan, who began working on Penn Field designs in 2008, after the town of Oak Bluffs allowed Little League's to use a plot of land adjacent to the wastewater facility. The field was conceived as a place where Little Leaguers could both practice and play, and, just as important, invite other off-Island teams to come do the same. In order to host tournaments, a program must have at least two regulation-size ballfields. There is currently just one on the Island, at Veira Park.
Former Little League president Lorne Lewis praised Mr. Regan's efforts in the endeavor.
"A project like this needs to have some continuity," Mr. Lewis said. "He really took it upon himself to take this by the horns and get it done." Mr. Regan is a former Island Little Leaguer himself, and became involved again once his two sons joined.
In order to prepare the former car dump for safe play, more than $100,000 of new topsoil had to be trucked in and more than $50,000 of grounds cleaning was required. The board sought Community Preservation Act funding, ultimately receiving about $335,000, and received about $140,000 in in-kind work to usher Penn Field to its current state. John Keene Excavators alone provided $20,000 in in-kind work, building a paper road so that the topsoil could be brought in.
The expansion grant "allows us so much breathing room," Mr. Regan said. Because of the guaranteed funding, construction on the ballpark could wrap much sooner than anticipated. Mr. Regan said the park's flagpole had arrived just that day, and he invited everyone in attendance to come visit the new ballpark once the snow melted.
With the first round of grant funding completed, Mrs. Scott said MVYouth is eager to continue its efforts.
"The generosity at the core of this pursuit...is a sustained, determined effort," she said. "We are here, and in place, and eager to continue doing this."