After the curtain fell Friday night on the second performance of Into the Woods, friends and family rushed to the stage offering flowers and hugs to the 25 members of the cast of this year's musical.
Having rehearsed for three months, deterred a few times by this winter's weather, the students were finally settling into their roles.
"Now we've learned things enough so that we know the lines but we can still act," said Penelope Dutton who played Cinderella. "We had a really good audience tonight," she added. "They were laughing at all the right places."
Composed by Stephen Sondheim and written by James Lapine, Into the Woods tells the story of a baker and his wife who, cursed with infertility by an evil witch, journey into the woods to gather four items to return to the witch to reverse the curse: "the cow as white as milk, the cape as red as blood, the hair as yellow as corn, and the slipper as pure as gold." And so the journey begins, as the baker and his wife encounter characters from Grimm's fairy tales along the way, as they intertwine with each other's lives.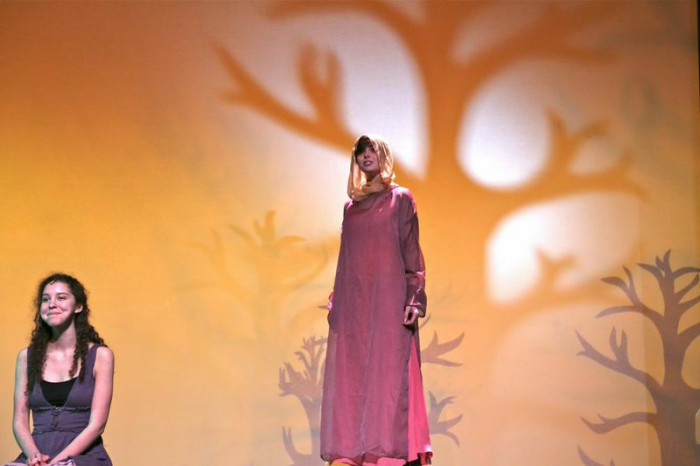 A narrator, played by Zanna Van Rooyen, guided the audience through the story, occasionally interacting with the fairy tale characters.
An orchestra composed of community members and teachers accompanied the cast through their intricate musical numbers.
"It's an incredibly challenging show, but we knew we had the talent to pull it off," said musical director and conductor Abigail Chandler. "Everybody has worked harder than any other show we've done."
For friends and families of the cast members, to see months of hard work play out on the stage was particularly special.
"She blew me away," said Margaret Mirko, commenting on her daughter Darby Patterson's performance as the witch. "It was incredible."
Into the Woods will be performed at the Performing Arts Center at the regional high school today Saturday, Feb. 14, at 2 p.m. and 7 p.m. The originally scheduled Sunday matinee has been moved to Saturday. The matinee will include both acts but Saturday night's performance will only include the first act.