For the first time since at least 2007, ice in the Edgartown harbor prevented the Chappaquiddick ferry from completing a trip across the harbor Monday morning. Capt. Jeff LaMarche was in command of the On Time II, the heavier of the two ferries and a better boat for breaking ice. He made his first trip shortly before 7 a.m. and crossed easily through the slush as far as the end of the Chappy slip. There the ferry stopped in ice three or four inches thick.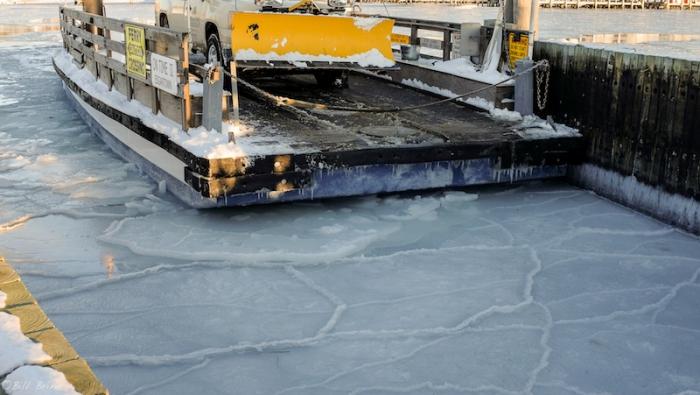 Captain LaMarche called Erik Gilley, the maintenance manager of the ferry, who came down to the slip from his home on Chappaquiddick. With Captain LaMarche and the driver of a pickup with a snowplow attached, Mr. Gilley, standing on the bow, tried to bash through the ice with a spike. But the metal end did nothing to break up the jam, and the pole stood upright in the ice when Mr. Gilley let go of it.
After taking the pickup back to Edgartown and sending Captain LaMarche on an errand, Mr. Gilley skippered the ferry back to Chappy where, in the traditional ice-breaking fashion, he drove the boat back and forth, pushing the ferry a little farther into the slip each time.
When he finally reached the ramp, he took the ferry back to Edgartown, and Mr. LaMarche resumed command. All morning Mr. LaMarche drove the ferry back and forth across the harbor entrance, whether he had passengers or cars or not — most of the time he did not — just to keep the channel open and the slips clear of insurmountable ice.