Quick action this week on the part of the Edgartown fire department saved the life of a dog caught in the water amid the iceflow at Katama Bay.
The dog, Beijo, a weimaraner, owes her life not only to firemen captain Peter Wells and deputy fire chief Andrew Kelly, who plucked her out of the water, but also to a companion dog, Barley, an Australian shepherd. It was Barley's frantic barking on the beach that drew the attention to Beijo struggling in the icy water.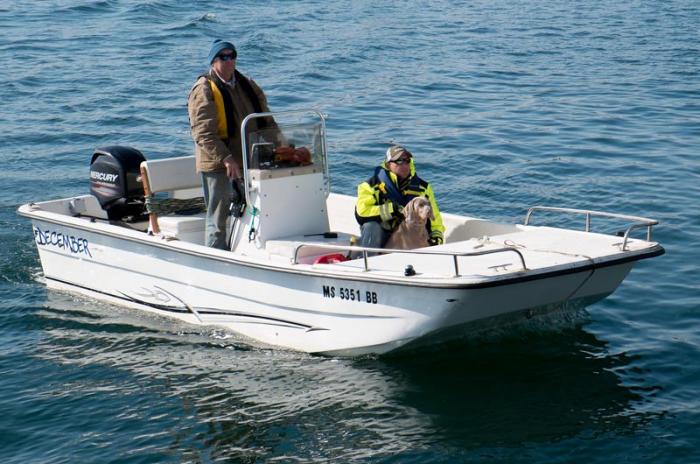 One of the bystanders who alerted authorities was Molly Gray, who was out on a walk looking for snowy owls. She said she saw the dogs on the ice between Norton Point and Chappaquiddick, almost to the Chappaquiddick side, and then noticed one of the dogs had fallen in the water. Barley was barking, standing directly in front of Beijo, who was in the water, she said.
Barbara Prada, Edgartown animal control officer, said the call for help came at 9:26 Tuesday morning. She said she got a call from the owner of Barley and that the two dogs had accidentally escaped out of the house and were missing.
"Ten minutes later, I got a call from the Communications Center, reporting that two dogs were out off Norton Point and one of them was in the water," Ms. Prada said.
Within minutes, firemen assembled in an ambulance and headed for Chappaquiddick on the Chappy ferry. Peter Wells, fireman and owner of the Chappaquiddick ferry, brought his small powerboat to Memorial Wharf and picked up deputy chief Kelly. The two then headed to Katama Bay.
Alex Schaeffer, deputy fire chief, said it was really Barley, her barking and jumping up and down on the beach, that helped firefighters find the troubled dog.
Mr. Kelly said they found Beijo 150 yards from the Katama Beach. "I couldn't believe how far out the dog was from the beach," he said. "Peter had to break through the ice to get closer to the dog."
Mr. Kelly added that when they first saw the dog, she had her front legs up on the ice, which was about two to three inches thick. Once onboard the Carolina skiff, they wrapped the dog in a coat.
Beijo belongs to Zack White, who is away on vacation, and so is being cared for by a neighbor. Barley's owners are Tom and Sarah Walsh. Mr. Kelly added that the firemen were prepared. "We did a practice of this a month ago," he said.
Beijo did not offer comment on the event but seemed calm and healthy in the arms of her rescuers.