Another transformation has taken place at Dreamland MV, an entertainment venue in downtown Oak Bluffs. Late last week, the space opened as Loft at Dreamland, an adult game room and bar.
Owner J.B. Blau said the new use of the historic Dreamland ballroom will entertain Islanders year round.
"We wanted to create a 21-plus community center with games, food, drink, and fun," he said.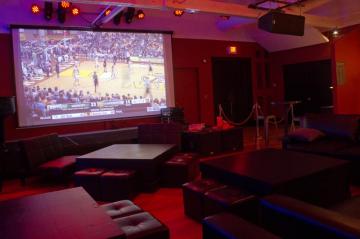 For the past three years, the 5,300-square-foot space has been used for sporadic events and band concerts. But Mr. Blau said that model wasn't working. "It was a waste of a room, and it couldn't pay for itself," he said.
Often, he and his business partner, chef Alex Nagi, had to make all their money in the span of a few hours. This summer, they plan to be open 85 hours a week. Even in the off-season, Loft will be open seven nights a week.
Over the winter, the owners repainted the space, and equipped it with pool tables, shuffleboard tables, dart boards and a foosball table. Soon, they'll also have pinball, ping pong and arcade games. A grand opening party is planned for the evening of Tuesday, March 17.
Home to the Dreamland ballroom in the early 1900s, the building has enjoyed a variety of uses over the years, including an automobile garage, skating rink and Navy recreation center during World War II. The pool hall plan is a return to the past of sorts. Years ago, the space served as the Oak Bluffs Game Room, a popular kid-friendly arcade. That business relocated to Circuit avenue in 2005, where it remains in operation today as Ryan Amusements.
Mr. Blau said the new space will complement the new year-round bowling alley going in on Uncas avenue.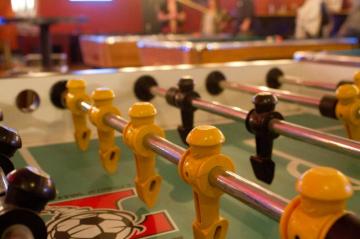 "We want to be a partner in town with them on the other end to bookend the town with entertainment," he said.
He plans to continue renting the space for parties and to hire local bands to play, though there won't be a cover charge. Pub food will be prepared in a new kitchen, under the auspices of the Martha's Vineyard Chowder Company, which shares the same building.
"We don't expect anyone to dine up at Loft, you're just going to eat," he said.
If all goes according to plan, and the Strand Cinema reopens next door, Oak Bluffs avenue will be a busy place this summer.
"There is really something for literally everybody, which is what Oak Bluffs needs to be," he said. "That is the kind of town it is and it needs to get back to that."