Participants at last week's final winter walk at the Polly Hill Arboretum got an unexpected treat: a chance to view the completed installation of a traveling exhibit, Vanishing Acts: Trees Under Threat. Curator Tom Clark took walkers on a tour of the exhibit, which consists of 17 sturdy tree-shaped information panels installed throughout the arboretum grounds, one panel each for 15 threatened trees species and two additional informational panels.
The 15 species were chosen to highlight the various sources of threat and the possible consequences of species loss for both humans and the ecosystems that the trees inhabit. Most threats are related, either directly or indirectly, to human activities: deforestation for timber, clearing for agriculture, climate change (affecting vulnerability to pests), invasive plants competing with native species and exploitation of the tree as a resource. The trees in the exhibit represent six of the seven continents.
The exhibit was initiated by the Morton Arboretum, a large arboretum in Lisle, Ill.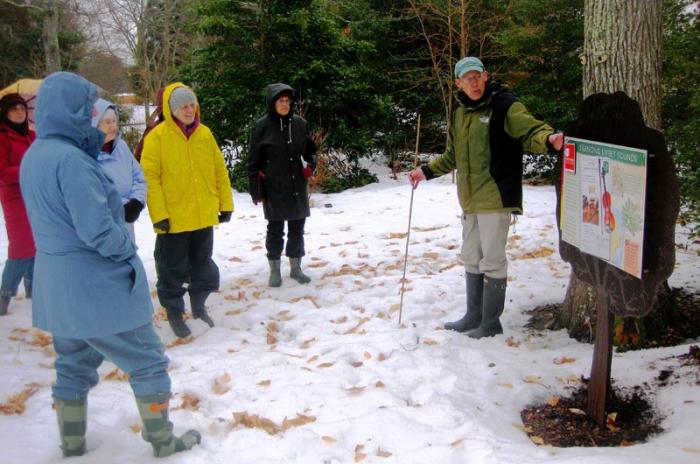 "Our mission in creating the exhibit was, first, to raise awareness and spread the word that trees are endangered, and with them the ecosystems that they are part of, and, second, to move people to action, to become champions of trees," said Anamari Dorgan, director of education at the Morton.
The Morton collaborated with Botanic Gardens Conservation International (BGCI) and the Global Trees Campaign to plan and create the exhibit. "Nowadays, all conservation work is collaborative," said Ms. Dorgan. The project was funded by a grant from the Institute of Museum and Library Services.
The effort to bring the exhibit to Polly Hill was spearheaded by Karin Stanley, education and outreach coordinator at the arboretum.
"This is like a high-quality museum show," she said. "The exhibit has been traveling since 2011 and this was the earliest we could get it. The biggest expense for us was transport, and in this our efforts were supported by the Massachusetts Cultural Council."
The panels are placed strategically throughout the arboretum. Of particular interest are four of the species that are represented by established specimens at Polly Hill: dawn redwood (Metasequoia glyptostroboides; "critically endangered"); common magnolia (Magnolia officinalis; "near threatened"); monkey puzzle tree (Araucaria araucana; "vulnerable"); and Franklin tree (Franklinia alatamaha Bartram ex. Marsh; "extinct in the wild").
The Franklin tree, named for Ben Franklin, would have died out in obscurity if seedlings had not been grown in cultivation. This highlights another important aspect of the exhibit, said Ms. Stanley. "Many people view botanical gardens mostly as parks," she said. "They don't realize their important conservation and education role."
By saving seeds, growing seedlings and doing basic laboratory science, arboreta and botanical gardens preserve available genetic material to meet future challenges such as climate change. "We are doing all of that here," said Ms. Stanley. "Supporting this arboretum helps trees everywhere."
Populations of two of the 15 species are threatened by "medical exploitation." Pacific yew (Taxus brevifolia; "near threatened") is the source of paclitaxel, used in the treatment of various types of cancer. And the bark of pygeum (Prunus africana; "vulnerable") yields extracts that are used in the treatment of two prostate conditions. Plans to preserve these stately canopy trees hinge on using sustainable techniques for harvesting some bark without girdling the tree.
Ms. Dorgan emphasized the importance of smaller arboreta in educating the public on issues relating to threatened tree species.
"The Morton Arboretum is very large, 1,700 acres, with thousands and thousands of visitors, but we don't know much about them," she said. "Part of our mission is to help smaller arboreta get the message out. Of course, smaller arboreta lack the resources to create such an exhibit, yet they are actually better positioned to get out the message than big institutions such as the Morton. Smaller arboreta know their communities."
Vanishing Acts includes an extensive menu of educational resources such as teacher's guides and children's activity booklets, and Ms. Stanley has planned a full range of exhibit-related activities and projects for the 500 elementary-school kids already in the PHA's educational program. Youth education coordinators Betsy Dripps and Jill Bouck are alerting teachers to opportunities to integrate Vanishing Acts into their spring lesson plans.
Ms. Dorgan emphasized that the exhibit is not definitive. "It is meant to function as a model or template to create similar panels for communicating the message, focusing on threatened trees in your locality."
On the Vanishing Acts website there are suggestions for planning walking tours and for follow-up programming. For example, on Arbor Day, April 24, Mr. Clark will plant a Serbian spruce (Picea omorika; "vulnerable") at the arboretum. Originally found on the banks of the Drina River, it is a valuable landscape tree. The first 50 attendees will get their own seedling to plant at home. There will also be a tour of the exhibit led by arboretum staff.
Additional scheduled events include Hope for Threatened Trees, and Vanishing Acts Revealed, both with Rob Nicolson of Smith College, on May 30. Pamphlets for a self-guided tour of Vanishing Acts are available at the stand outside the visitor center. (The visitor center opens in May.)
"We are the only New England arboretum to host Vanishing Acts," said Ms. Stanley. "So don't miss it while it is here."
Vanishing Acts will continue through the end of June. For more information call 508-693-9426 or visit pollyhillarboretum.org.