It was a sprawling affair on Saturday afternoon at the Harbor View Hotel for the memorial service of Bob Carroll. Every room on the first floor was dedicated to all things Mr. Carroll. There were photographs of him ranging from his boyhood to young adulthood, to the prime of his life and to his 90th birthday party held last summer. In one picture he holds up a giant crustacean. In a montage of what looked like hundreds of photos were the words: "I once had a dog named Rover. When he died, he was dead all over."
It was an apt metaphor for the tone of the service itself, an irreverent celebration of the man who defined Edgartown for nearly a century. The official part of the ceremony was held in the Edgartown Room, naturally, to a standing room only crowd.
Mr. Carroll's grandson Zachary Bray began by saying, "I'm going to start this off with a brief but disgusting story." He did not disappoint, and the ice was broken. This would not be a sad, buttoned-up affair. This was a tribute to Bob Carroll after all, the man Mr. Bray said "taught him the sacred art of creative swearing, and how to swear from the heart."
Mr. Bray finished his talk by recounting some advice his grandfather had given him. "Never count your wealth in dollars but in friends."
By this yardstick, Mr. Bray said, "Bob Carroll was one of the wealthiest men in the world."
Rob Morrison, another grandson, admitted that he understood as a boy that "his grandfather was a lot different than most grandfathers."
"He had shock value, but it was for a greater purpose," Mr. Morrison added, saying that his grandfather's main pleasure was in helping people.
Tommy Teller agreed, a friend who had grown up across the street from Mr. Carroll. Mr. Teller remembered how as a young boy, Mr. Carroll used to wheel Mr. Teller around in a toy wagon because Mr. Teller's asthma prevented him from running around with the other kids. And later in life, after a lunch or trip to the barber shop together, Mr. Carroll would take hours to walk back to the office because he kept stopping along the way to check on the seniors confined to their homes. "He'd slip them a few bucks, too, and pay the barber to give haircuts to those who needed one," Mr. Teller said.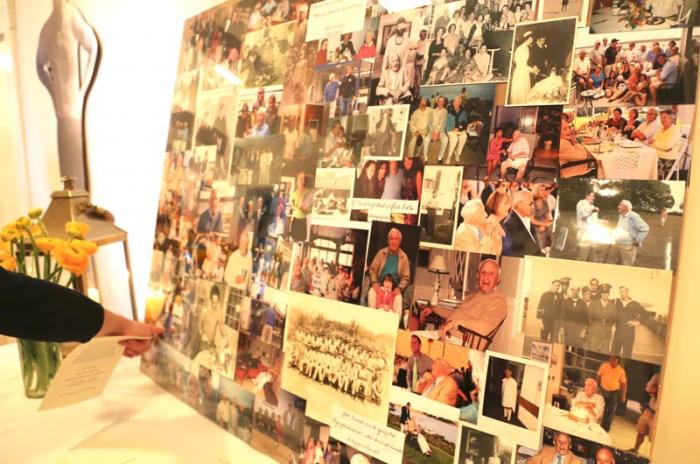 Rohan Goodsir, one of his sons in law, (Mr. Carroll has four daughters), spoke about meeting the legendary figure six years ago when he joined the family. At the time he had heard stories but did not understand the full extent of Mr. Carroll's influence in town. While on a drive, just after meeting him, he said Mr. Carroll leaned out the window of the car and began cursing out a policeman standing in the middle of the street, and telling him to get out of the way.
"Hello, Mr. Carroll," the cop said, doffing his cap and then getting out of the way.
The two kept driving, Mr. Goodsir continued, and then Mr. Carroll said he wanted to introduce him to all his friends. "And he drove me to the cemetery and started with row A. He did the entire town, one person at a time."
Sue Carroll, his eldest daughter, divulged that her father loved poetry, which may have come as a surprise to some. But then again, all would agree the man was a poet of the four-letter word, raising profanity to an art form. She recited The Road Not Taken by Robert Frost, one of Mr. Carroll's favorite poems.
I shall be telling this with a sigh, Somewhere ages and ages hence: Two roads diverged in a wood, and I, I took the one less traveled by, And that has made all the difference.
At the end of the official ceremony, friends and relatives gathered in groups large and small to continue reminiscing. And although the Harbor View was packed, the hotel seemed a bit quieter without the presence of Mr. Carroll. And later, while walking back through town, Edgartown too felt different, a bit adrift even, without its long time captain at the steering wheel.