Jack Yuen's room is more of an art gallery than a bedroom. When he sits at his angled drawing table, pencil in hand, he is surrounded by his original art work, ranging from graphite portraits of Steve Jobs, Jean-Michel Basquiat and Taylor Swift to animal sketches and Egyptian figures. Jack is only 17, but already his recognition is growing. This year he won three gold keys in the statewide Scholastic art contest, the highest honor, and two silver keys at the national level. Closer to home, his friends are already talking about his future artistic career.
"They always talk about me getting famous or something," Jack said with a laugh during an interview at his family's Oak Bluffs home.
Recently, he has been asked to paint a mural of an astronaut for the YMCA, and for the Oak Bluffs School, where he got his start, a child playing an instrument.
"My friends and I, when we were young, we'd always hang out and draw," Jack said. "It was always something that came naturally to me from the beginning."
When he was younger, Jack drew what he now calls "kid stuff," knights and fantasy scenes. But in high school, he began to take art more seriously. "That's when I knew I wanted to do this as a career," he said.
At first, he focused on portrait technique and developing his technical skill set. But during his sophomore year, he put down his pencil and picked up a paintbrush. "I got tired of everything having to be realistic and accurate and so I just changed it up."
In an effort to define his personal style, he began blending urban art forms like graffiti with portraiture. For the most part, he paints with acrylic, which dries quickly and can be dripped, splattered and layered on the canvas. He also uses digital platforms like Adobe Photoshop and Adobe Illustrator. Some of his ideas come from books and everyday life, but mostly they come from the internet.
"The internet is just amazing, because whatever you think of, you can find an image right there," he said. "You feed your mind like you would your stomach, you feed it with visual things, so if you look at just a bunch of different things, then out of it some of those things come back days later."
When inspiration strikes before bed, Jack writes things down on his phone.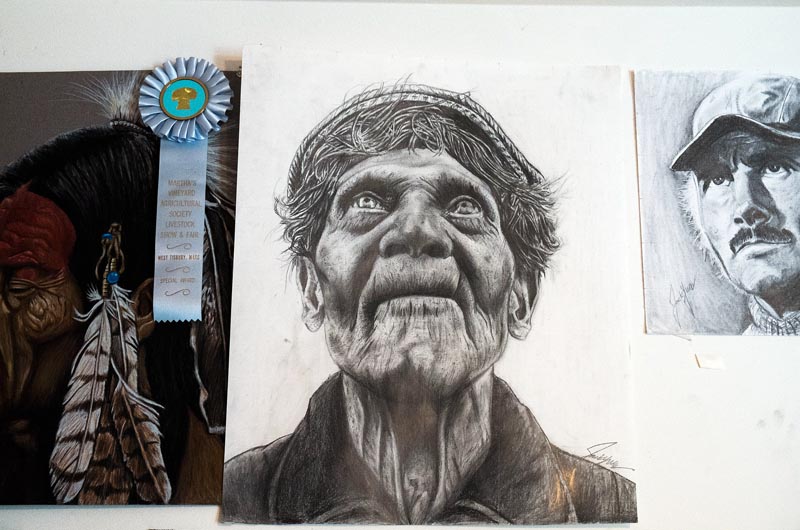 Much of his art is influenced by Voka, an Austrian artist who developed a technique called spontaneous realism. In Jack's words, it's a realistic painting style that "takes the formal structure of something and then applies spontaneous colors to it." His influences also include Greg "Craola" Simkins, who creates surrealist animal scenes, Frank Shepard Fairey, a street artist known best for his "hope" poster of then-presidential hopeful Barack Obama, and C215, a French street artist.
Last summer, Jack created a series of street art-inspired animal portraits, including an African wild dog and an elephant portrait. Both were commissioned pieces. For his senior project, (a semester-long independent study), Jack is exploring the interactions between tribal cultures and their environment through a series of paintings.
But on a recent Monday, he stood in his basement surveying a nearly finished painting of boldly colored peonies that had been propped up against an easel. Back upstairs, he flipped through iPhone photos of his latest stuff. Last year, he set up a website and an artist's Facebook page, were he posts his latest work. He paused at a piece he's particularly proud of — a lively, colorful portrait of rap artist Chancelor Bennett. While painting it, he listened to Acid Rap, Mr. Bennett's melodic hip-hop album.
"The sound he produced inspired me to do a portrait of him," he said. He has also painted guitarist Jimi Hendrix and reggae artist Damian Marley, while listening to their music.
"I just do it to get into the theme of it," he said.
Someday he'd like to be famous, but he knows there's a lot of hard work involved. "It's really just about not giving up, you just keep painting, you just keep making art. Eventually you'll succeed."
When the Rhode Island School of Design asked him to draw a bicycle as part his college application, Jack put a creative spin on it. The resulting image has all the elements of a bicycle, but they're jumbled together and stuck to a man's chin like a mechanical beard. The man wears a chain-ring for an ear and handlebars as a moustache. A single chain hangs down from his wheel-eye like a tear.
His Facebook fans weren't the only ones impressed by his interpretation. Recently, The Rhode Island School of Design recently offered him admission to their art school.