Jodi Bailey jokes that when she gets lost, the whole world knows it before she does.
Ms. Bailey, 46, was born and raised in Vineyard Haven but now lives a continent away from her Island roots. She's a professional dog musher based out of Chatanika, Alaska, about an hour north of Fairbanks. She completed her fourth Iditarod race last month — a race of more than 1,000 miles that was followed by viewers around the world, who tracked each dog team over the Internet via GPS tracking. Ms. Bailey and her dogs finished 30th in the field of 77.
"Like so many people, I don't necessarily do it for the place, I do it for the experience," Ms. Bailey said in a phone conversation. Her best finish was 23rd, in 2012.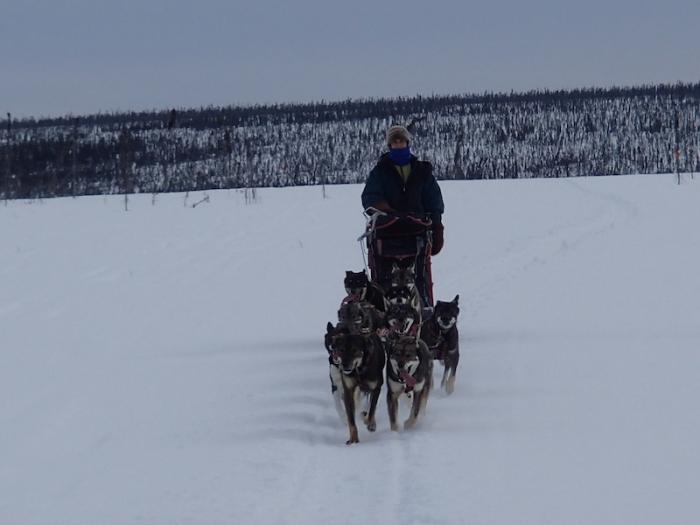 Growing up in Vineyard Haven, Ms. Bailey didn't know about the Iditarod, or the Yukon Quest, another long-distance race that she competed in back in 2011. She was the first rookie musher to run both races in the same year.
Her family had a dog ("the mandatory family pet," she said), but as a young girl horses captured her attention. Ms. Bailey rode at Scrubby Neck Farm in West Tisbury.
"I spent quite a lot of time there," she said. "Now it's kind of a joke, that I was going to grow up and be a penniless horse trainer."
In college at Emory University, Ms. Bailey studied theatre and anthropology, neither one the "most employable" of fields. She went to Fairbanks after her first summer to participate in a storytelling project.
"When I got to Alaska, I actually really fell in love with the place," she said. "It was a beautiful place that was so different from anywhere else...from that first summer that I got here, I knew I was going to live here."
She returned to Alaska each summer, and after graduating from college moved there permanently. Ms. Bailey took up skijoring, a Nordic sport in which dogs (or horses) wear a special harness to pull their humans while the humans cross-country ski. That's how she met her husband Dan Kaduce.
Skijoring, as it turns out, is a gateway into dogsledding. And from there, to competitive mushing. Mr. Kaduce helped a friend compete in the Yukon Quest, and decided to give it a shot on his own. He has since done the Quest eight times. Ms. Bailey started competing some years after her husband. It's not a lucrative profession. As with other professional athletes, sponsors and supporters are key to sustaining the endeavor. It also involves long days and little sleep, and a lot of time spent alone in the remote Alaskan wilderness. But the couple can't imagine doing anything else. And that, too, is key to sustainability.
"I love this race," Ms. Bailey said. "I love being a part of it, the time I get to spend out there with my dogs."
"You start out small," she said with a laugh. "And next thing you know, you have a kennel."
Dew Claw Kennels has about 40 dogs, which Ms. Bailey says is small by kennel standards. The dogs are Alaskan huskies, a breed that specializes in distance running. They don't look like the Disney version of sled dogs (big, fluffy animals), because they are bred to be endurance athletes.
Mushing also depends on building trust with a dog team.
"It's very much a team sport," Ms. Bailey said. "The dogs aren't machines, and we're dealing with their individual personalities and what they're interested in."
Distance races have checkpoints and mandatory rest built in, and veterinarians check on the team throughout the competition. Each race has a set number of dogs that mushers start with, but if a dog is "not having fun, or its stomach doesn't feel right," it can be dropped off at a checkpoint and brought to the finish line to stay with friends. Knowing that the dogs are well taken care of in this way is comforting, Ms. Bailey said.
In order to qualify for the thousand-mile races, mushers must complete a number of qualifying races. Race organizers fill out a report card to determine readiness for the longer hauls.
"Basically saying that you can handle distance racing, the cold, and that you know how to take care of your team," Ms. Bailey said.
Most of these qualifying races are about 200 miles long. Ms. Bailey ran a 440-mile race before tackling the long courses, but there are no mid-distance races. It's not quite zero to 100, but it's pretty close.
"A thousand-mile journey is literally a thousand tiny decisions, and not all of them work out well," Ms. Bailey said. "Some work out great, but Mother Nature ultimately runs the show, so you make all these great plans and high hopes and expectations, and the reality is, so much is responding to what's put in front of you."
"You get one shot at it," Ms. Bailey added. "Not only are you making all these decisions, but you've got hours and hours to think about what you could have done differently. Obviously, I'm going to study and learn from it, but I have to wait a whole year [first]."
But it's that unpredictability that proves so compelling for dog mushers.
"The funniest thing is you'll be going along the trail, thinking about the last checkpoint, and then you look up and the Northern Lights will be glowing" Ms. Bailey said.
She said one of the best things about the sport is that it is accessible to people of just about any age. You can start mushing at 18 and keep it up until you're 70. And you're constantly learning. It is a sport of constant unexpected moments, a trait that Ms. Bailey, the former budding equestrian from the Vineyard, appreciates.
"It's really easy to grow up on the little Island, and think that's going to define the limits of possibility for you, and really, nothing could be farther from the truth," she said. "The whole world is still out there."