W ith spring sunshine slanting through the windows of the Old Whaling Church in Edgartown Sunday afternoon, director Peter Boak stepped to the podium with a reassuring smile. He announced the 90-strong Island Community Chorus would take a (mostly) Scandinavian musical journey honoring folkloric themes and showcasing several new works of Ola Gjeilo (born in Norway in 1978 and pronounced Yay-lo).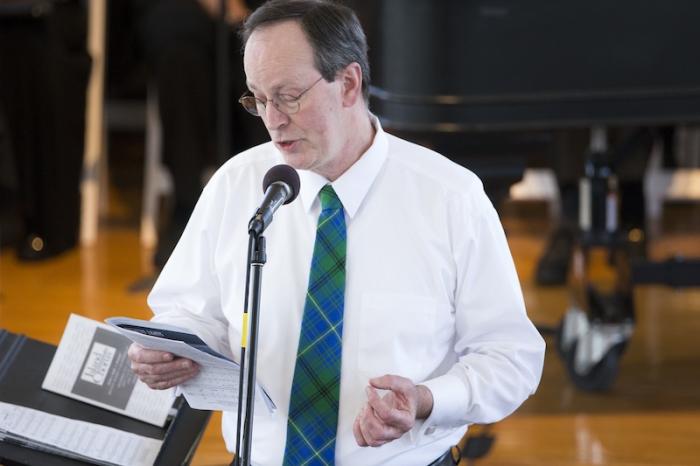 Maestro Boak then turned and began the enchantment. With several flicks of his white baton, he swept both chorus and audience into an exquisitely shared dream that — in a gorgeous, perfectly paced hour — effectively exorcised the frustrations of winter and claimed spring once again for our own spiritual rebirth. This was music to nourish the soul.
Though brand new, Ola Gjeilo's compositions are deliciously tonal and accessible, sometimes rooted in the ancient. Northern Lights borrows from The Song of Solomon; Evening Prayer takes text from St. Augustine. The composer acknowledges inspiration from the tradition of Gregorian chants.
Mr. Boak's splendid choristers voiced and sustained these strong harmonies with reverence, reflecting Ola Gjeilo's belief (stated in a recent BBC interview) that choral music mysteriously speaks to our deeper nature. The marvelous effect in the hushed Whaling Church was of stillness, light and faith.
The program also featured Grieg's Ave Maris Stella, American composer Morten Lauridsen's Sure on this Shining Night, and a plaintive archaic Finnish Folk Song Who Can Sail? arranged for women's voices by Carl-Bertil Agnestig. The power and precision of the Community Chorus manifested this assortment of folkloric melodies as mystical, triumphant, refreshing.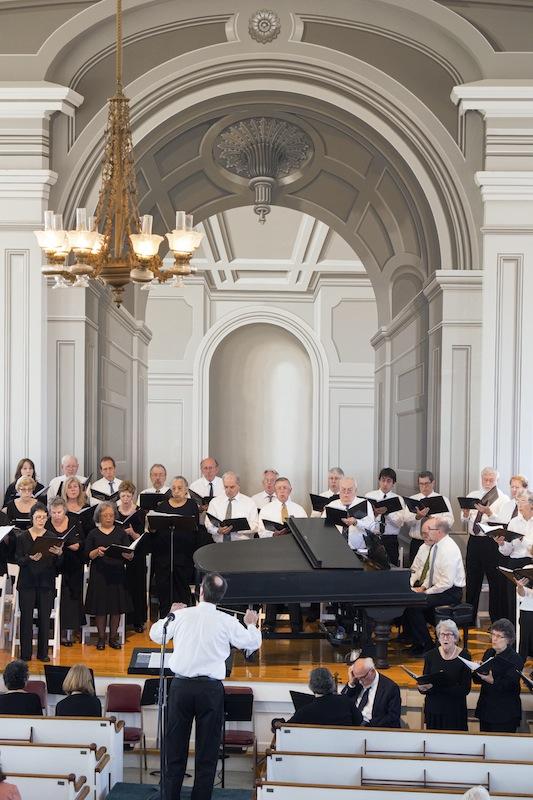 Near the close of the concert, Mr. Boak paused to introduce Goin' Home, the song from Dvorak's New World Symphony, with text and arrangement by William Arms Fisher in the style of Negro Spirituals. As a haunting footnote, the director mentioned that the song had been popular at the time of Franklin Delano Roosevelt's funeral, and by coincidence, the Sunday performance coincided with the 70th anniversary of President Roosevelt's death.
The redoubtable keyboardist Garrett Brown supported superbly, as always, on the Whaling Church Steinway. Guest musicians Susan McGhee and Niki Matsoukas on violins, Rachel Teplow on viola and Steven McGhee on cello also accompanied the chorus, adding a subtle but substantial under voicing that gave a full and nuanced texture to the Gjeilo. Tenor saxophone virtuoso Steve Tully joined Mr. Brown for the introduction to the St. Augustine Evening Prayer, riffing reflectively with the choir and Mr. Brown through a transcending climax and resonant Amen.
As portrayed by this talented Island choir, these works of Ola Gjeilo seemed at once new and strangely familiar — the hallmark of quickly recognized masterpieces. The audience in turn felt grateful, their standing ovation perhaps insufficient to express the amazement and delight. One imagines that this long Vineyard winter may have been a bit easier to bear for these 90 committed and stalwart singers, who rehearsed tirelessly through the blizzards, and were now feasting on savory and sublime musical fare, led by their intrepid director.
Appropriate to a concert celebrating Nordic folklore, it should be remembered that the Norwegian culture has a long and glorious tradition of sagas about giants. This choir and the Island can be proud of our own giant — the one on the podium with the reassuring smile and the white baton.
Maestro Boak, bravo.