Edgartown will be sporting its signature colors, pink and green, on May 9 and we hope dog owners will bring their suitably attired animals. The annual dog show will be held from noon until 1 p.m. in the Mini Park off Main street. Everyone will convene at the little lighthouse in the park, which is appropriate as Lighthouse Properties is sponsoring the festivities. They will be handing out lighthouse-shaped dog biscuits, of course. Someone will be on site to take photographs of you and your pet in pink and green finery. All the pet attendees will receive a ribbon in addition to the lighthouse dog cookie.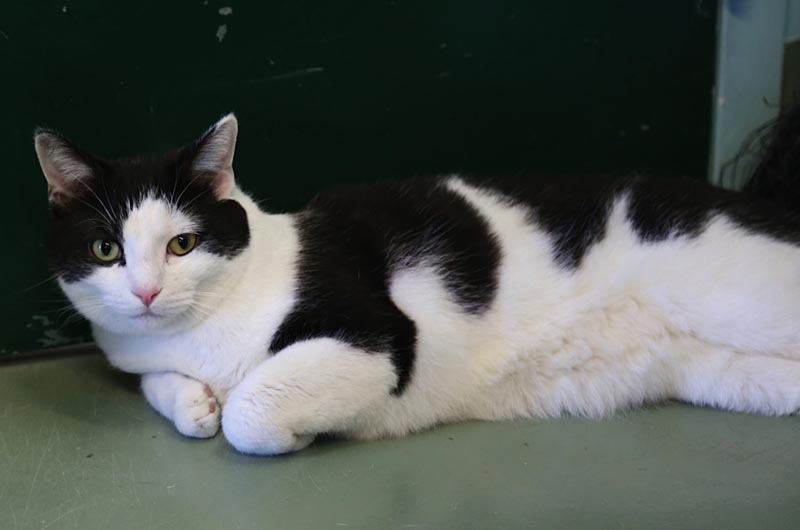 Our newest stray, Loco, has been renamed Logo by director Lisa Hayes. We mentioned last week that she was microchipped, but we are unable to track down the person listed as her owner. She is a long-haired black and white spayed female. Two other tuxedo boys chase each other around the cat room. Mickey has been waiting patiently for a forever home for many weeks now. Tui is quite the adventurer and makes a break for it every time we open the door.
Skipper, who was known as Max before he was adopted from the shelter some years ago, has emerged from his hidey-hole. He secreted himself to do his grieving in private after his owner died and he was returned to the shelter. Now he is in the cat room, still quiet, but enjoying the company of his fellow felines.
Unfortunately the Jack Russell who was out on a trial re-homing has been returned to his original owner. He proved to be aggressive with other dogs so will have to be adopted by someone without any other pets. We hope such a person exists on this animal-loving Island. The two Chihuahuas whose owner died are still occupying temporary quarters until a permanent home can be found for them. They are a male and a female, seven and 11 years old. Coco, the gentle beautiful black Saluki cross will be going on a home visit this weekend. She is the dog who brought us to tears last week when her current owner brought her in. This will be her fourth placement. Keep your fingers crossed that her angel will appear before May 4 when her owner must leave the Island.
Shelter hours are Tuesdays and Wednesdays, 8:30 a.m. to 2:30 p.m., Thursdays and Fridays, 8:30 a.m. to 6:30 p.m. and Saturdays, 8:30 a.m. to 4:30 p.m. The shelter is closed Sunday and Monday. The telephone number is 508-627-8662.
Contributions are always gratefully accepted; the shelter is funded solely by donations. Please make checks out to The Animal Shelter of Martha's Vineyard; the mailing address is P.O. Box 1829, Edgartown, MA 02539 or visit animalshelterofmv.org.