Sandy Stone-Benjamin fell in love with dance in the third grade, when she was a student at Miss Gertrude's basement studio outside of Hartford, Conn.
"She didn't have that many students, so she gave us a lot of attention," the dancer recalled this week.
Mrs. Stone-Benjamin went on to dance in high school and college, and, at age 22, she joined the Paul Taylor modern dance company in New York city. And now, after dancing and teaching worldwide for three decades, Mrs. Stone-Benjamin is back to community dance. In April, she opened the Spindrift dance studio at the Edgartown Triangle, where she offers classes in modern dance, jazz, ballet and tap to dancers of all ages.
"I am ready to do my own thing," she said.
Mrs. Stone-Benjamin has lived on the Island for 18 years, but her professional life has largely taken place elsewhere. After touring with Paul Taylor for 12 years, she staged his dances, taught and directed in Canada, Africa, Miami and at the Boston Conservatory.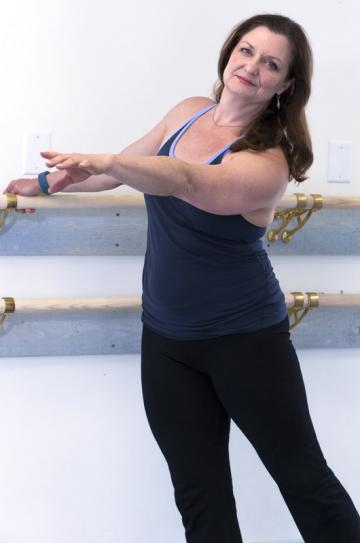 "I was living here but I wasn't really working here," she said. "I didn't really have a community here."
The dance school is chance to build that community and train a new crop of dancers.
"I am finally getting more of a connection to the Island through my work," she said.
Spindrift, the name she chose for her studio, is a dance Paul Taylor choreographed when Mrs. Stone-Benjamin was a member of his ensemble. When it was performed in 1993, the New York Times called it an "ambiguous but haunting exercise in free association." Mrs. Stone-Benjamin liked the sound of the word, and found it inspired a beachy, whimsical design scheme for the studio.
One afternoon this week, five preschoolers in pink leotards spun and drifted around the light-filled studio off Vineyard Haven Road. Mrs. Stone-Benjamin, dressed in a purple camisole and black yoga pants, brought order to the chaos.
"Time to jump in the pool," she announced, as an assistant rolled out blue yoga mats for the dancers to "swim" in.
At first, Mrs. Stone-Benjamin pronounced the water frigid, and the dancers dipped their toes in cautiously, before pulling them away. When Mrs. Stone-Benjamin turned up the heat, their bodies took on slow swimming movements. Over the next 15 minutes, the studio became a chicken coop, a garden and, finally, a river teeming with alligators.
"It's just a way for them to experiment with their bodies and see what they can do," she said. "Use your imagination, dig into it and think outside the box."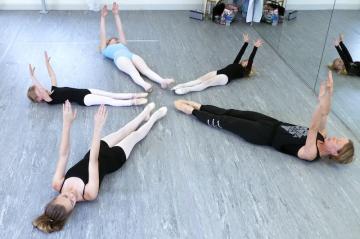 Mrs. Stone-Benjamin is building a business, but her main focus, she said, is to have a positive impact on young dancers' lives.
"I want there to be a sense of community, and for them to feel safe here," she said.
Preparing dancers for professional careers, though possible with Mrs. Stone-Benjamin's skill set, is not a primary goal of the new studio.
"It's a tough field," she said. "So few people get to make any money at it. Unless you have all the goods, it's really hard."
Her big break came in 1983 when she auditioned for Paul Taylor's Dance Company. She was one of 350 women who tried for the spot, and says she was chosen in part because of her looks.
"I looked like the girl who was leaving," she said. "So I was really super lucky."
Formerly a food market, her Edgartown studio only has one dancing space, a wide-open rectangle rimmed with ballet barres, mirrors and windows. But when renovations are complete in the basement, that too will become a studio. Mrs. Stone-Benjamin plans to add ukulele classes, a capella singing and other musical instruction to the schedule.
"Other places have a school of rock, and it really gives kids a place to go," she said. "I'd like to give it a try."
On July 1, she'll put on the dance school's first show at the regional high school. The show, which she is calling A Night of Wonder, will feature music from singer-songwriter Stevie Wonder. Her husband, Mike Benjamin, and his band will play alongside the dancers.
"Everything is working out so far," Mrs. Stone-Benjamin said. "It's a lot more fun than I expected."
Visit spindriftmv.com for more information.