He had only officially led the Edgartown police department for about 16 hours, but David Rossi was already in full stride.
Tuesday, on his first morning in the corner office, the newly-appointed chief had taken care of minutia like updating the department's post office information, ordering new business cards and organizing his desk. He also had begun the long, complex process of getting his department accredited with the Massachusetts Police Accreditation Commission, signed up for three new training courses and begun to beef up the department's command structure.
One day earlier the Edgartown selectmen voted formally to appoint him as police chief. With steady blue eyes, neatly clipped salt and pepper hair and four shiny new stars on his collar, the 55-year-old career law enforcement officer paused to reflect on the philosophy of police work that got him here.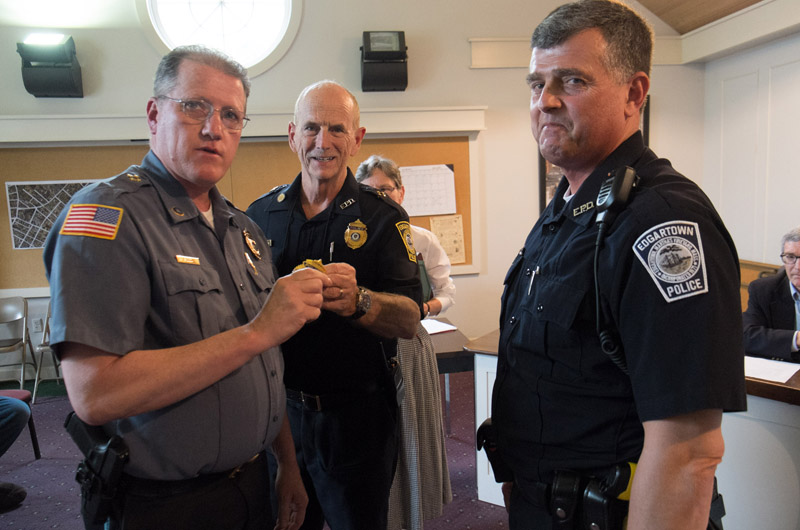 "For me, it has always been about treating people with respect," he said. "People here, I think they like knowing their police, who they are, what they're about. I think it gives them a feeling of security. It's not always fun. There is the enforcement side of it. Sometimes you go into situations where you know the parents or the kids, things happen, you have to do your job. Sometimes arrests have to be made. That's the double-edged sword, living in a small town. Like everything else in life, you have to have a balance. We deal with serious things, serious injuries. It affects you, it affects all police officers. You need to be positive. You last longer. If you let things get to you, it will eat you up."
He labels himself as a washashore. He landed here as an eighth grader in 1972, when his mother picked up the whole family and migrated across Buzzards Bay from New Bedford to settle in Chilmark.
After graduation from the Martha's Vineyard Regional High School, he enrolled at Springfield College, where he received a bachelor's degree with a minor in business and a major in recreational services. He was intent on becoming an administrator in an organization like the YMCA, or a Boys & Girls Club.
After a stint as an oil delivery truck driver, he answered an ad in the newspaper, and was hired as a Tisbury police officer. After about a year and half there, he joined the Edgartown police force.
"I really wanted to be in Edgartown," he recalled. "That's where my wife is from, that's where we live. Been here ever since. It was a good move."
He describes himself as a hands-on dad, raising three children with his wife Ann, while coaching baseball and football. His daughter Meagan now works for the New York State Department of Environmental Protection. His son Alex is a forensic accountant with the firm Ernst & Young, also in New York. Son Matthew works on the Island as a cabinetry carpenter.
Along the way, Chief Rossi was elected and reelected to the Edgartown school committee for four terms, and served on the Dukes County retirement board.
While working full time as a police officer, he earned a master's degree from Curry College in criminal justice.
When he's not on the job, he likes to work out with his wife at the YMCA, explore Island walking trails, and travel.
He takes the department's top job at a challenging time for police officers. High-profile civilian deaths involving police officers in Ferguson, Mo., Baltimore, Md., and Staten Island, N.Y., have sparked a new national debate on community policing and the use of force. Equally unsettling are a number of high-profile cases where police officers appear to have been ambushed and killed by criminals.
"Right now is not a high point for being a police officer," Chief Rossi said. "It's probably the lowest I've seen. It does have its ups and downs. After 9/11, people came up to me all the time, thanking me for doing what I do. Then it swings back down again. After the Boston Marathon bombing, same thing. Sometimes cops are wrong. We just shake our heads. You don't like to see those things happen, but you don't want the public to believe that's what cops do, because it's not. Edgartown is no Ferguson. But the training for us all is the same. We're not suffering from a lack of training, but we can always use more training. Nobody knows all they need to know. I certainly don't."
Training will be a top priority for Chief Rossi. He agrees with the recent department evaluation by interim police chief Jack Collins that the department's training budget is underfunded.
"If money is going anywhere, I would like to see more money in the training budget," he said. "Our percentage of the budget (for training) is lower than average."
He will also focus on replacing himself as one of the department's school resource officers, work with business owners on crime prevention strategies, and hire or promote new sergeants for the force.
"I'm really happy the selectmen have confidence in me," Chief Rossi said. "I'm really looking forward to it. I'm proud. I'm a lucky guy."