It is hard not to wonder, while walking through the Martha's Vineyard Agricultural Society Hall this weekend, and gazing at an extraordinary display of art at the annual Friends of Family Planning art show, where this Island ranks on the scale of creativity. Then it is hard not to wonder also, where we rank on the scale of generosity. Surely it is close to the top in both categories.
More than 90 local artists and artisans contributed work to this year's show, supported by dozens of volunteers and many local businesses. Each contributor donates at least 40 per cent of the price of the art sold, and some opt to donate all of it. Proceeds help support the Family Planning Clinic of Martha's Vineyard. The clinic provides confidential reproductive health care, prevention and educations services for women, men and teenagers.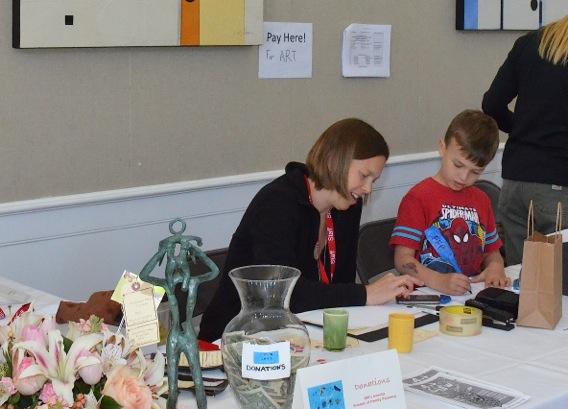 Last year, the organization began a fund raising push to retire the mortgage on its clinic facility at 517 State Road in Tisbury. This year it has high hopes that the art show will help make that goal attainable.
"Our sales are up 38 per cent, despite the fact that our show is one day shorter this year," said board president Jennifer Knight, shortly after the show closed Sunday afternoon. "It has been steady, both with people looking and purchasing."
Some of the Island's best known artists participated.
Photographer Alison Shaw's study of the new fishing pier in Oak Bluffs was the first thing to catch the eye of visitors entering the hall.
Bob Avakian displayed photographs of iconic Island buildings photographed at night. The extremely long exposures and meticulous printing revealed all the rich detail of the Ag Hall, The Grange Hall in West Tisbury, and the old Marine Hospital in Tisbury in unusual light.
Painter Jeanne Staples offered evocative landscapes of Island marshes and dunes. Sculptor Jay Lageman had the biggest heart. Literally. He offered two works, both with large red hearts in whimsical poses.
Drew Kinsman displayed an aerial photograph of the eroding cliffs at Lucy Vincent Beach, and another of a snowbound Gay Head Light. William O'Callaghan contributed a magical castle vase right out of a fairy tale.
Jack Yuen, a talented Martha's Vineyard Regional High School senior who will attend the Rhode Island School of Design next year, hit an artist daily double of sorts. He won the art show poster contest, and sold a piece of art the first evening of the show.