Photographer Brandon Stanton has many fans. His online portrait gallery, Humans of New York, has more than 13 million likes on Facebook. But few have taken their admiration to the level of Vineyard teenagers Amber Medeiros and Olivia Pate, who this spring adapted his idea for a local audience.
Humans of Martha's Vineyard, the Facebook page they launched in April, is a repository of portraits and captions intended to "capture the diversity of the people of Martha's Vineyard."
Amber, 15, was inspired to create her own page after following the New York blog for two years. She took the idea to photography teacher Chris Baer, and with his blessing asked her close friend Olivia, 16, to get involved. Amber found her first subject in Post Office Square, Oak Bluffs: a white-haired man who was reading a book. Equipped with a digital camera and a recorder, she approached the man.
"I was like, hey, can I take your photo?" she recalled this week during an interview at the regional high school.
She recorded a snippet of their conversation on the page and posted it above his portrait:
"What is your greatest struggle right now in life?"
"Well, age and I have Parkinson's disease. So that's a struggle. It's the age more than the Parkinson's disease. I'm doing very well with it though."
Since then, she and Olivia have photographed young children, pets, business owners and pedestrians. In the tradition of Humans of New York, they don't ask people to identify themselves. Anonymity makes the stories more relatable to a general audience, Olivia said.
"Without their names, they could be anyone," she said.
Talking to strangers doesn't come easily to Amber or Olivia, who both said they have struggled with social skills.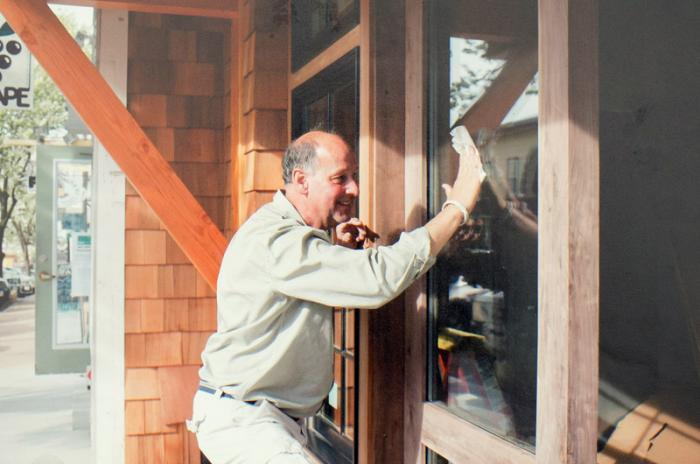 "During middle school, I was so shy, I wouldn't talk to anyone," Amber said.
The Humans of Martha's Vineyard project is a way for them to be more social, Olivia said. "Overall, it's really good because it opens us up to new people and to doing new things and to expand our social abilities," she said.
While many people have been eager to be photographed, not every interaction they've had with strangers has been easy.
"I've already been rejected many times," Amber said. "It hurts a little, but you know . . . you kind of just have to expect that."
They have tried not to take these rebuffs to heart. "I take things personally when I shouldn't, so then if they say no, I feel bad," Olivia said.
This summer, they plan to fill the page with more content, get more likes (they have 414 right now), and increase the amount of participation between their followers — getting more people to like their posts, comment on them and share them in a wider social network.
"Success would be if we had a bunch of people interacting with it," Amber said.
Photography is just a hobby for the two friends, although the Facebook page says Humans of Martha's Vineyard will last "many, many months, maybe even a year, or maybe even many years!"
As a career, Olivia is leaning towards cosmetology. Amber says she will probably pursue science. But for now, they are working on honing the questions they put to their subjects. They look to Mr. Stanton, the Humans of New York photographer, for inspiration.
"He asks simple questions and people end up telling their life story," Amber marveled.
In the interviews she has conducted, Amber has asked people about their greatest struggles, happiest moments and the advice they might give to a group of people. And what advice do the young photographers have?
"Do what you want to do and don't second guess yourself about something, just go for it," Olivia said.
"Don't let society's views change your own," Amber said. "If you think something and society says differently, don't pay attention to that. Do what you want."