The very first time Andrew and Sarah Aliberti met all that stood between them was a sunglasses counter. "I was looking at glasses right in this case and he was standing behind the case," said Sarah. The year was 1991, and Sarah had just left New York city and followed a friend to Martha's Vineyard.
"I decided I wasn't going to pursue an acting career and I was ready for a major life change," she said. She happened to walk into Andrew's store, Summer Shades, to have her Ray-Ban Wayfarer sunglasses adjusted.
"They were stretched out so he had to work hard on them," she said. "He didn't have his little heating machine and they are really hard to adjust if you can't heat them. So he worked on them for a long time to make them fit, and that was our first meeting."
Andrew remembers their first encounter differently. "I kept her around for awhile saying, oh they aren't quite right yet. I was trying to find out where she worked and get the inside scoop on her. I had a plan."
They quickly became friends and later, when Sarah's job fell through, she approached Andrew for work.
"The plan wasn't to hire her, but that worked out pretty well, too," said Andrew.
The store is celebrating its 30th anniversary this summer. Andrew and Sarah celebrated their 22nd wedding anniversary this May.
The first day the couple worked together, Summer Shades sold a record-breaking number of sunglasses. "It was a really busy day in the shop and I had so much fun working with Andrew. I worked there for a month before we started dating. Now we are married and I have been there ever since."
Sarah still has the pair of Persol sunglasses Andrew bought for her birthday, 10 days after they started working together.
Andrew opened Summer Shades in 1985 when he was 21 years old and had no business experience. During college he had held a part-time job at a seasonal sunglass cart at Quincy Market in Boston, while also taking passport photos in Boston's John F. Kennedy Federal Building. But he had been bored studying English and philosophy in college, and after that summer he decided not to return to school.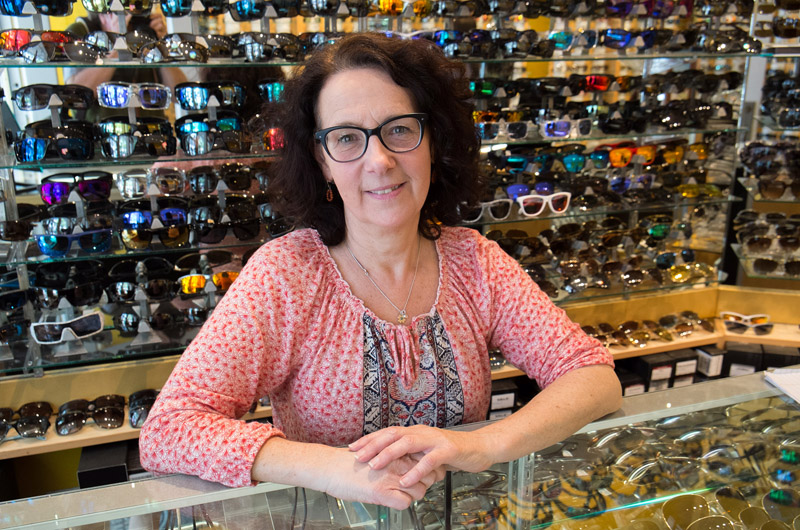 "Since sunglasses were something I knew and really enjoyed selling, I decided I would try and open a sunglass business instead," he said. He had visited Martha's Vineyard as a teenager, and thought the Island would be a good location for his business. He opened his first store in the Colonial Inn off Winter street in Edgartown with a $7,000 loan from his former boss at the Kennedy building.
"I started Summer Shades with a loan from a guy I had worked for for two months," he said. "It was shocking that he loaned me the money. I came from a working class town and thought, I am rich."
The shop, however, was in a tucked away location and drew few customers. "No one went back there," Andrew said. It lost $10,000 in its first season. Andrew attributed the store's losses to its undesirable location, and secured a second loan from his mother to re-open on Main street, near the building Summer Shades now occupies.
"At first she said, 'you don't look like a businessman. You are always hanging out with your friends and going out,'" Andrew said. "But then she said she would get a second mortgage on her house, and she got $20,000."
In 1986, Summer Shades opened up in the back of a T-shirt store at 44 Main street. In a single season, Andrew made triple what he had in his first year, and was able to repay his former boss and his mother. Later that year, with a loan from the Edgartown National Bank, he relocated to 36 Main street, and doubled his sales. Summer Shades began to evolve from a place to buy cheap sunglasses to a store that sold high end products. It carried brands that were popular at the time such as Vuarnet, Laura Biagiotti and l.a. Eyeworks. Business has been good ever since, and the Aliberti's now operate three stores — one in Edgartown, one in Nantucket (which Andrew's mother manages), and one in Steamboat, Colo.
But don't be misled by the store's name. Summer Shades is one of few retail stores in Edgartown that stays open year-round, selling versatile eyewear that is suitable for a variety of seasons and outdoor activities.
"We have $15 sunglasses for kids and adults, Sunclouds that start at $50, all the way up to Chanel," said Andrew. Sales slow down in the wintertime, but the Alibertis and their manager of 17 years, Sarah McDonnell, like to stay open for locals who might be looking for a place to shop in town.
"People who live here don't have a lot of options in the winter and I think it's nice that when they come into town we're open in the off-season," said Andrew. "We also service a lot of customers with repairs and stuff like that, so it's nice to be here year-round so we can help them out." Locals also receive a 20 per cent discount, a policy that has been in place since the store's inception.
Summer Shades will use its 30th anniversary as an occasion to thank its customers for their support over the years. Oakley, Salt and Oliver Peoples are among the brands of sunglasses that will be given away leading up to the big celebration on Sunday, June 21. There will be food at the store from 5 to 7 p.m., and cocktails and music until closing time at 11 p.m.
In anticipation of the anniversary, the team behind the store reflected on 30 years of engaging with customers and selling sunglasses. Sarah Aliberti came to Summer Shades with prior retail experience, but she enjoys selling sunglasses more than she did clothing. "It's a fun, intimate product to sell because you are working with people's faces," she said. "And because most of our sunglasses are in showcases, people can't help themselves. So the showcase actually invites people to talk to you."
Andrew took out a photo of a man wearing Persol sunglasses that Sarah Aliberti had sold him. "I mentioned his glasses and he told me he had never received so many compliments. That is the cool thing about what we do. If you sell someone a pair of sunglasses that are just right, they come up and tell you how happy they are," he said.
Sarah McDonnell echoes this sentiment. "I really love seeing people that I sell glasses to out in the community and hearing them say, 'you know what, Sarah, I really love these glasses.' That just brings it all home for me."